Ladies and gentlemen, allow me to introduce to you the lovechild of several really delicious things. Chocolate cake, strawberries, fresh whipped cream, and chocolate peanut butter. I can't even begin to describe the amazingness of this massive, very decadent cake. I also can't even begin to describe the amazingness of KitchenAid stand mixers. If you happen to receive one as a birthday gift from your manfriend, by all means, rush to make this cake as soon as humanly possible when you are finished squealing and hugging the cardboard box. One thing you don't want to do is underestimate the sheer power of this glorious, shiny mixer that has been known to make dreams come true. You might end up covered in flour and open your now-powdery eyes to find Christmas all over your kitchen counters and floor. But that's ok – you'll have cake in an hour. Really good cake.
One day last week, I was watching the Food Network (I confess no addictive behavior towards this channel), when I saw the lovely and charming Ree Drummond make a gorgeous four-layer version of this cake. It looked stunning, like the perfect dessert for the end of summer, and I knew I had to make it. I used a different chocolate cake recipe – instead of melting butter, I went with the more classic cake batter that begins with beating softened butter and sugar; I also added sour cream. While the sight and smell of sour cream are enough to make me gag, I cannot tell you how incredible the stuff makes baked goods. And instead of Nutella between all the layers, I melted up some chocolate peanut butter that I impulse-bought while grocery shopping the other day. I'm sure, though, that Nutella would be spectacular. The whole point of this is, take an idea and run with it! Make it your own – it's a lot of fun, and you are guaranteed to enjoy it, especially if you're a control freak like me .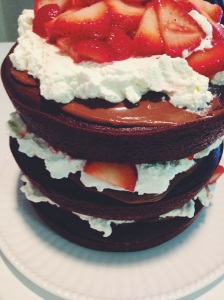 This tastes like someone smothered a PB&J sandwich with chocolate and topped it with light clouds of whipped cream to cut through the sweetness and fudginess of it all. This cake will make your day a little happier as you usher in the fall season with sweaters, busy schedules, and pumpkin things. Also, and you could choose to view this as a wonderful thing, as I did, it's best to make the whipped cream right before you want to use it and eat this cake the day it is made, as fresh whipped cream will not hold up too well. A wonderful thing.
chocolate-strawberry three-layer cake recipe
chocolate cake (makes 3 9-inch layers)
ingredients
2 sticks unsalted butter, softened
3 cups brown sugar
4 eggs
2 teaspoons vanilla extract
1 Tablespoon baking soda
½ teaspoon salt
¾ cup unsweetened cocoa powder
3 cups cake flour
1 ½ cups sour cream (Greek yogurt would do well, too)
1 ½ cups hot water
directions
1. Preheat oven to 350º. Either butter or nonstick-spray three 9-inch round cake pans, and line each with a circle of parchment paper cut to size. Spray or butter the paper as well.
2. Cream the butter and sugar together until fluffy.
3. In a small bowl, lightly beat the eggs with the vanilla extract, and add to the butter and sugar, mixing until incorporated.
4. In another bowl, sift the cocoa powder with the baking soda and salt. Add this mixture to your mixing bowl and beat, scraping down the sides well.
5. Alternate adding the flour in batches with the sour cream, beginning and ending with flour.
6. With the mixer running on low speed, slowly drizzle in the hot water and mix. Scrape down the sides and bottom of the bowl, and beat for just a minute more.
7. Evenly divide the batter into your three cake pans and bake for 30-35 minutes. Cool in the pans for 20 minutes and then transfer to a wire rack to let them cool completely.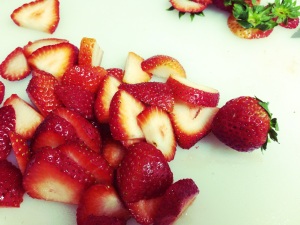 strawberry mixture
ingredients
1 ½ pints of fresh strawberries
⅛ to ¼ cup granulated sugar (I used ⅛, but if you like sweeter berries, you can use more)
1 teaspoon vanilla extract
directions
1. Hull and slice the strawberries.
2. Mix the berries with sugar and vanilla extract in a medium bowl, and let them sit for 10-15 minutes. I let them hang out while I made the whipped cream.
3. Drain the excess juice in a colander.
whipped cream
ingredients
1 ½ cups heavy whipping cream
⅓ cup powdered sugar
directions
1. Using the wire attachment of an electric mixer, beat the cream and sugar together until firm peaks form. (You can absolutely do this by hand with a whisk, but it will just take a few minutes longer.)
Time to assemble your cake! Lay down your first layer on a serving platter. Top with softened chocolate peanut butter (pop a bowlful in the microwave for 30 seconds), spread a thick dollop of whipped cream on top, and layer some strawberries. Do this twice more, cut yourself an unreasonably large slice, and enjoy every bite!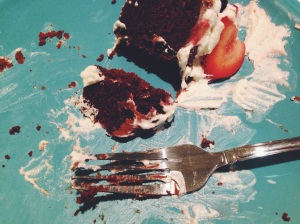 R
Advertisement
Share this:
Like this:
Related