I've heard that people wear and eat green things on St. Patrick's day. I guess that's why I felt compelled to dust last year's chocolate-Irish stout and baileys cupcakes with green sugar. And why I felt compelled to do the whole chocolate-mint situation this year with these brownies. I doubt these brownies are culturally or historically meaningful in any way, but I am a woman on a Monday who has no more Thin Mints left. I need this chocolate-mint combo.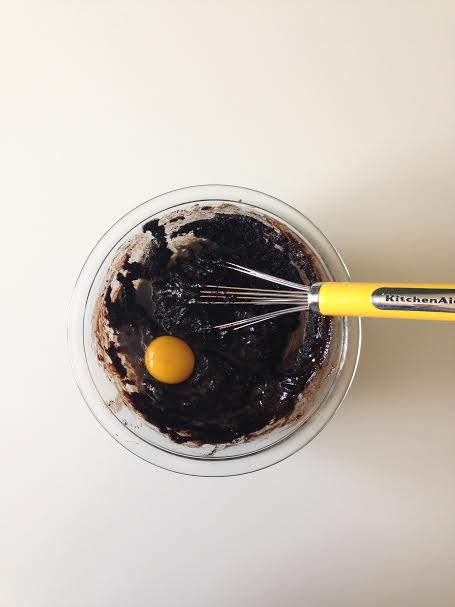 This recipe is a one-bowl, no-electric mixer kind of deal. You're welcome. These incredibly fudgy brownies start off with an incredibly simple, cocoa-based batter. All you need is butter, sugar, cocoa powder, a pinch of salt, and a microwave. Stir in a couple of eggs and some vanilla, and just a touch of flour, and you are in business. I highly recommend adult supervision while you make these so that at least some of the raw batter ends up getting baked.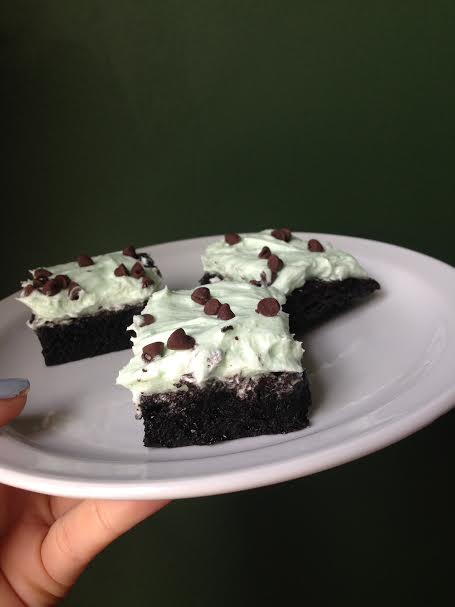 Just look at how dense they are. Seriously, it's the thickest, chewiest, fudgy brownie ever–and such humble beginnings. I love the refreshing contrast of the peppermint paired with all that chocolate. This frosting is fluffy, creamy, and sweet, and just begs to be slathered all over these brownies. You are more than free to eat what's left with a spoon in front of some Netflix. That's what Sundays are for, after all. Happy St. Patrick's Day!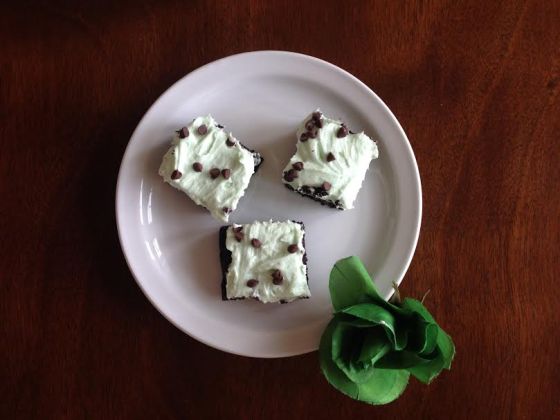 fudgy brownies with mint frosting
yields one 8×8 pan; 12-16 brownies, depending how you cut them
(adapted from various sally's baking addiction recipes)ingredients
for the brownies:
10 Tablespoons unsalted butter
1 ¼ cups granulated sugar
¾ cup + 2 Tablespoons unsweetened cocoa powder
¼ teaspoon salt
1 teaspoon vanilla extract
2 large eggs
½ cup all-purpose flour for the frosting:
½ cup (1 stick) unsalted butter, at room temperature
2 cups powdered sugar
2 Tablespoons milk
1 ¼ teaspoon peppermint extract
1-2 drops of green food coloring (start with 1 and see if you need more)directions:
1. Line an 8×8 baking pan with aluminum foil, leaving some overhang so you can easily lift the brownies out. Set aside. Preheat oven to 325 F.
2. In a large microwave-safe bowl, place the butter, sugar, cocoa powder, and salt. Microwave at 30-second increments, whisking after each, until everything is incorporated and mixed well. Set aside and let cool for a minute.
3. Whisk in the vanilla extract, and then the eggs, whisking until everything is smooth. The batter will be on the thicker side. Add the flour and whisk well; it will get even thicker at this point.
4. Smooth the batter into the prepared pan and bake 25 minutes (if still very undone in the center, bake an additional 3 minutes or so–do not bake the brownies for over 30 minutes). Allow the pan to cool completely on a wire rack.
5. When the brownies are cool, make the frosting. Using an electric mixer, beat together the butter and powdered sugar until smooth. Add the milk, peppermint extract, and food coloring, beating until combined.
6. Remove the brownies from the pan by lifting the aluminum foil. Slather frosting all over the brownies, then cut. You can sprinkle mini chocolate chips on top, as I did!
Enjoy!