Is there anything better in life than a sprinkle-topped cupcake on your birthday?
I mean…children's laughter, fulfilling jobs, and hugs are way up there, too. But cupcakes–they take you back to when you were a kid and everything was good. It was a new friend's birthday this week, and since he is vegan, I wanted to make him a classic birthday treat that he could enjoy without thinking twice. Vegan vanilla cupcakes, yes please!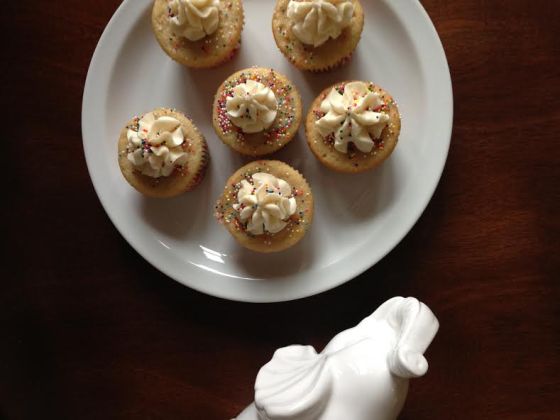 I have tried my hand at vegan sweets a few times (like this pumpkin pecan granola and these no-bake quinoa oatmeal cookie bars), but never at vegan cupcakes. I was surprised at how fluffy and (m-word alert, eww!) moist they were. The crumb on these babies was incredible. And the flavor was like classic birthday cake–super vanilla-y and buttery and just perfect. These cupcakes require one bowl, and you can whip up the batter in a matter of minutes. Bonus? You can eat the raw batter and not hear your mother's voice telling you that you're going to die of salmonella poisoning. As for the frosting, it is just as quick and easy to make and tastes just like your favorite fluffy buttercream. Make these cupcakes and find a way to take them to a birthday/Christmas drag brunch.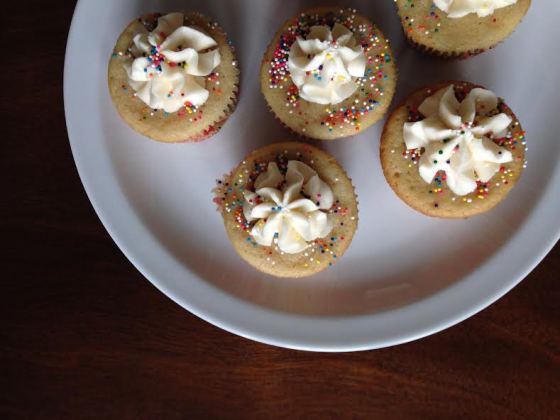 vegan vanilla cupcakes
(yields 12; recipe doubles well)
adapted from the minimalist baker
ingredients
for cupcakes:
1 cup non-dairy milk + 1 teaspoon apple cider vinegar
1 ½ cups all-purpose flour
1 ½ teaspoons baking powder
½ teaspoon baking soda
¼ teaspoon salt
½ cup (1 stick) vegan butter, softened to room temperature
scant 1 cup granulated sugar
1 teaspoon vanilla extract
for frosting:
½ cup vegan butter, softened to room temperature
2 ½ – 3 cups powdered sugar
¼ teaspoon vanilla extract
splash of non-dairy milk
sprinkles, if desired
directions
1. Preheat oven to 350°F with a rack in the center. Line a standard-size muffin tin with cupcake liners and set aside.
2. In a liquid measuring cup, stir together the milk and vinegar and set aside for a few minutes until curdled.
3. In a medium bowl, whisk together the flour, baking powder, baking soda, and salt. Set aside.
4. In the stand of your electric mixer, beat the butter until creamy and then add the sugar, beating until combined and fluffy. With your mixer running on low-medium, slowly add the flour mixture and milk, alternating between each, beginning and ending with the flour mixture. Scrape down the sides and bottom of your bowl as needed and increase the speed until the mixture is combined with no large lumps.
5. Fill muffin cups ¾ of the way full and bake for 20-24 minutes, until a toothpick comes out clean from the center. The cupcakes will be barely golden. Allow to cool in the pan for a few minutes, then remove and allow to cool completely on a wire rack.
6. While cupcakes are cooling, make the frosting. In the bowl of an electric mixer, beat the butter until creamy. Slowly add in the powdered sugar, ½ cup at a time, along with the vanilla, and beat until combined. Add in a few drops of milk at a time until desired consistency is reached. Don't add in too much, since you want to keep it thick and fluffy.
7. Spread or pipe the frosting on top of the cupcakes once completely cooled, and top with sprinkles. Cupcakes can be stored tightly covered at either room temperature or in the refrigerator.
Enjoy!
R xoxo
Advertisement
Share this:
Like this:
Related