It's the most wonderful time of the year! It took me a little longer than usual, but I am fully in the holiday spirit. Most of my Christmas shopping is done, I have a wreath on my door, I'm heading to Lebanon in two weeks, and I'm eating peppermint everything. That last one isn't unusual for me, but now I feel justified in my love for all things chocolate and peppermint. I can't tell you how many Starbucks baristas have made comments about my getting a peppermint hot chocolate in March. December, though? I feel validated, let me tell you.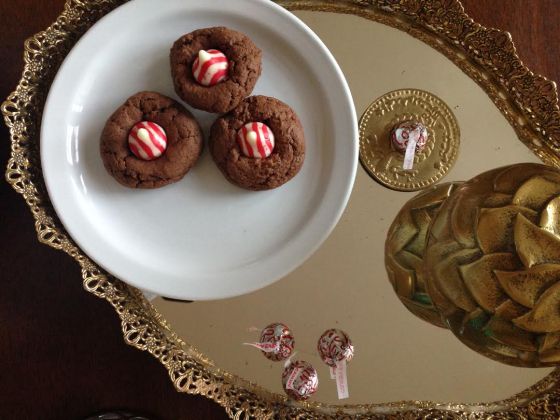 The last few weeks have been pretty stressful at work, and the simplest thing like having a bowl of Hershey's candy cane kisses in my office has put a smile on so many of my coworker's faces. We do so much for other people, that when I looked at the (yes…second) bowl of these delicious chocolates at my house last night, I knew I wanted to whip up some hump day treats for my coworkers. How adorable are these cookies? They are simple to make, and you can top them with any flavor Hershey kiss you like, or swap them for some chocolate chips in the cookie dough. They'll be perfect at your next cookie exchange.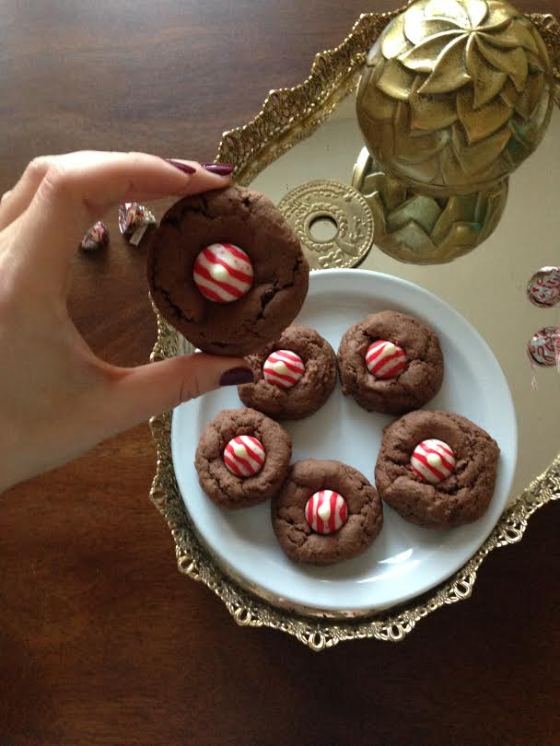 chocolate candy cane kiss cookies
(adapted from the classic Hershey's recipe)
makes about 30 cookies
ingredients
2 ¼ cups all-purpose flour
⅓ cup unsweetened cocoa powder
1 teaspoon baking soda
½ teaspoon salt
½ cup (1 stick) unsalted butter, softened to room temperature
¾ cup brown sugar
¾ cup granulated sugar
1 teaspoon vanilla extract
2 eggs
1 Tablespoon milk (any kind will do)
Hershey's candy cane kisses – it helps to unwrap them before you start baking (or 1 cup chocolate chips)
directions
1. Preheat oven to 350°F. Set aside ungreased nonstick baking sheets.
2. In a medium bowl, whisk together the flour, cocoa powder, baking soda, and salt. Set aside.
3. In the bowl of your stand mixer, beat together the butter, both kinds of sugar, and vanilla extract for a few minutes until creamy and fluffy. Add in the eggs and milk, beating until incorporated. (If using chocolate chips, mix them in with a wooden spoon at this point.)
4. Scoop out one-inch cookie dough balls and stagger them on your baking sheets. Bake for 10-11 minutes. As soon as the cookies come out of the oven, press an unwrapped Hershey kiss into the center of each.
5. Transfer cookies to a wire wrack and allow to cool completely.
Enjoy!
R
Advertisement
Share this:
Like this:
Related