Hello, hello, old friends! I do apologize for my absence. I have just been running around nonstop getting settled and into a routine – getting my couch delivered to my new place was a full-time job in and of itself (seriously…good lord). But, I am sitting on it as I type, and it is glorious and charcoal gray and perfect. I have been, of course, cooking and eating delicious things – but I've not had the time to share. Will this egg bake make up for lost time? Think of it as your breakfast for the week. Or an easy-peasy brunch dish for next Sunday.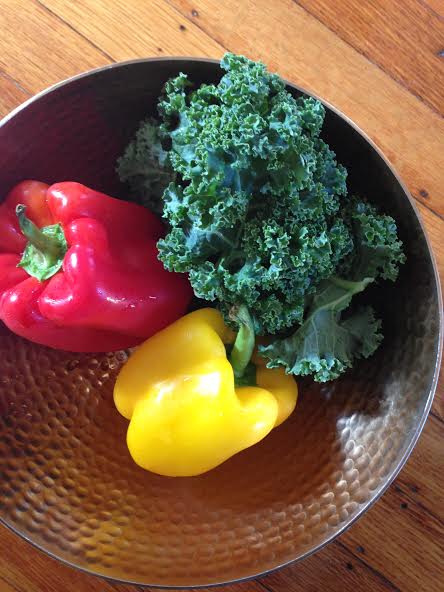 The local heavenly grocery store (I will always love you, Publix, but Rouses has got game) always has house-made or locally-made sausage. I would not normally care about this sort of thing, but when a girl sees fresh chorizo, she jumps on that boat. It is spicy and full of good flavor – the fat it renders is practically bright orange-red – and it pairs wonderfully with earthy kale and sweet bell peppers. To make the dish vegetarian, you can absolutely leave out the chorizo; and you can also use any veggies you want. Spinach, tomatoes, and mushrooms would be great substitutes!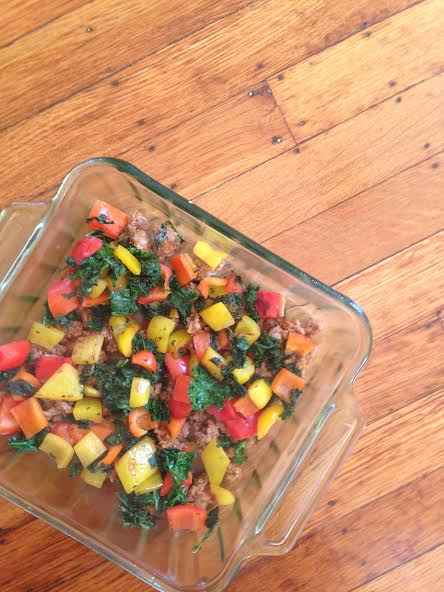 After crisping up the chorizo, wilting the kale, and getting a scorch on some softened bell peppers, you just throw it all into a baking dish and top it with a mixture of beaten eggs and a little milk. You can use a combination of whole eggs and egg whites, if you like, and any kind of milk will do. Just slide the baking dish into the oven and you'll have a delicious, healthy breakfast ready in no time. I let the whole dish cool and then cut it in slices – it made a phenomenal breakfast this morning, and I plan on wrapping up tomorrow's in a tortilla and spiking it with Cholula. This egg bake is satisfying, full of protein and veggies, and a total no-brainer.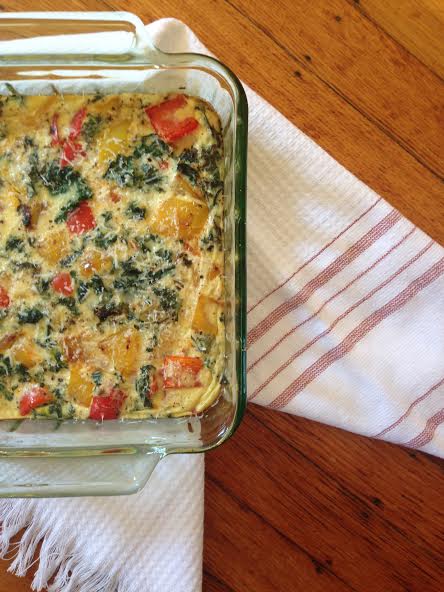 chorizo, kale, and pepper egg bake
serves 6 (can easily be doubled; use a 9×13 baking dish)
Note: You can prepare this the night before a brunch – just do everything up until step 4, cover tightly, and refrigerate! Then you can pop it in the oven in the morning and have a fresh egg bake in no time.
ingredients
¼ lb. fresh chorizo, casings removed
½ yellow bell pepper, diced large
½ red bell pepper, diced large
5 kale leaves, chopped
6 eggs
½ cup milk (I used unsweetened almond milk; dairy milk is fine!)
½ teaspoon salt
¼ teaspoon black pepper
¼ teaspoon dried basil
¼ teaspoon garlic powder (not garlic salt)
directions
1. Preheat oven to 375°. Coat an 8×8 baking dish with nonstick spray and set aside.
2. Over medium heat, cook the chorizo, breaking it up with a wooden spoon, until cooked through and starting to brown and crisp. Drain over a paper-towel lined plate and set aside. In the same pan, cook the bell peppers and kale until soft.
3. Distribute the chorizo in an even layer at the bottom of your baking dish, and top with the cooked veggies. In a large mixing bowl, whisk together the eggs, milk, and spices, and then pour this mixture over the top of the chorizo and veggies.
4. Bake for about 35 minutes, or until the edges are lightly browned and the middle is just set. Allow to cool for 10 minutes before cutting!
Enjoy!
R
Advertisement
Share this:
Like this:
Related