I am in the midst of getting settled into a new place, in a new city, and love that we got a burst of cool fall weather for a couple mornings. And amongst all the craziness, I ran into a new coworker while running errands and he invited me to a lovely potluck brunch that he was hosting. I had yet to finish unpacking, but if anyone reading this knows me at all, you know that I had finished organizing the kitchen the night I arrived. So, in my new oven and old bundt pan, I whipped up this delicious pumpkin cake with a surprise in the middle.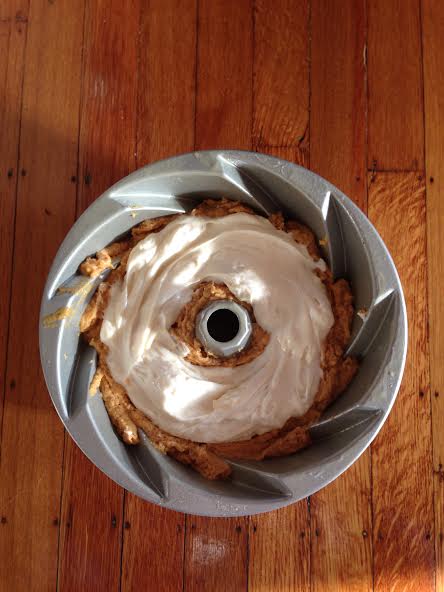 The batter of this cake is incredibly thick and fluffy. You will find yourself scooping and pressing it into the pan rather than pouring – and this makes for a beautifully textured cake. Dense yet fluffy all at the same time. The pumpkin cake is spiced with all the beautiful flavors of fall: plenty of cinnamon, nutmeg, ginger, allspice, and cloves. As for the thick, creamy cheesecake filling, it is perfectly lightly sweet and has a touch of cinnamon that plays off the cake really well. Divine.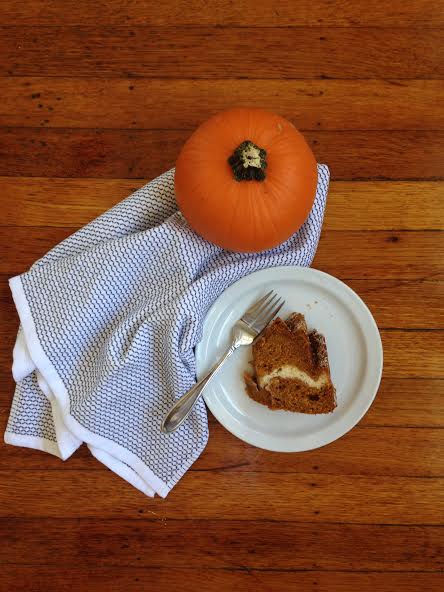 Despite how decadent this cake may seem, it isn't overpoweringly sweet at all. In fact, it was perfect for a brunch table and would be equally at home for dessert. The cake is velvety and tastes like every pumpkin dessert you love, and the filling looks gorgeous and tastes like a couple bites of cheesecake. Happy fall!
cinnamon cheesecake-filled pumpkin bundt cake
yields one cake
(adapted from chew out loud)
ingredients
for the filling:
8 oz softened cream cheese, cubed
½ cup white sugar
1 large egg, room temperature
¼ teaspoon ground cinnamon
½ teaspoon vanilla extract
for the cake:
3 cups all-purpose flour
1 ½ teaspoons baking powder
1 ½ teaspoons baking soda
½ teaspoon salt
3 teaspoons ground cinnamon
½ teaspoon ground all spice
½ teaspoon ground cloves
½ teaspoon ground ginger
¼ teaspoon ground nutmeg
¼ cup unsalted butter, softened
⅔ cup packed brown sugar
½ cup granulated sugar
2 large eggs, room temperature
½ cup canola oil
1 can (15 oz) pure pumpkin puree
½ cup plain Greek yogurt (or sour cream)
2 teaspoons vanilla extract
directions:
1. Preheat oven to 350°, with a rack in the bottom or middle position. Thoroughly grease a Bundt pan and set it aside.
2. Make the filling: Using an electric beater, cream together the cream cheese and sugar until smooth. Add in the egg, cinnamon, and vanilla extract, beating until combined. Cover and store in the fridge until ready to use.
3. Make the cake: In a large bowl, combine the flour, baking soda, baking powder, salt, and all the spices. Set aside.
4. In the bowl of your stand mixer, beat together the butter and both sugars on medium high until fluffy and combined. Add in the eggs, oil, pumpkin, yogurt, and vanilla and beat until incorporated.
5. Using a rubber spatula, fold the dry ingredients into the bowl of wet ingredients – don't use your mixer for this step!
6. Fill the prepared Bundt pan with half of the batter, pressing it into all the crevices. Using a wooden spoon, create a groove through the batter and pour in all of the cream cheese mixture. It's ok if some of it spills over the groove you have created, but just try to keep a border of batter around the edge (see picture above for clarification). Spread the remaining cake batter over the top of the cream cheese.
7. Bake for 55-60 minutes, until a toothpick comes out clean. Let the cake cool in the pan for 15-20 minutes before turning it out onto a wire rack to cool completely. Dust with powdered sugar, if desired! Store cake, tightly covered, at room temperature for a few days.
Enjoy!
R xoxo
Advertisement
Share this:
Like this:
Related