I walked out of my apartment early yesterday morning to go for a run…and it was breezy. And cool. In the most autumn-like way possible. It was fantastic. I had just spent an amazing weekend in upstate New York for my best friend Sara's wedding to her amazing now-husband Chad. It was most definitely sweater-weather there, and I was excited to see a hint of fall here in Louisiana when I got back.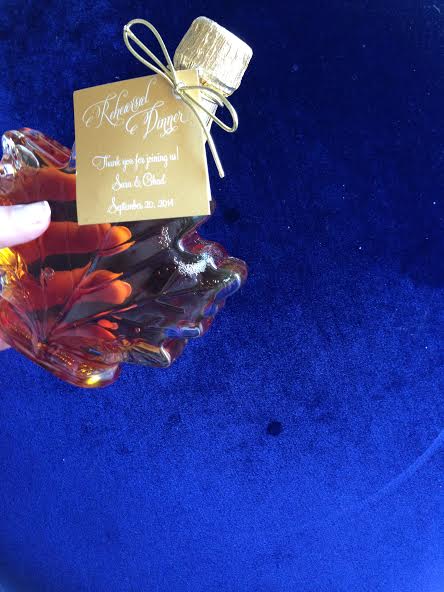 The wedding was beautiful – every event leading up to it was just as classy. The groom's family is from Vermont, so our rehearsal dinner party favor was a gorgeous glass bottle of pure maple syrup. I am addicted to the stuff, and I must say this is some of the best I have ever had. I put it to use in this delicious recipe for crunchy, spiced pumpkin pecan granola. The batch is big enough to last me through the next week of packing – did you hear I'm moving from Baton Rouge to New Orleans next week? I know…fabulous.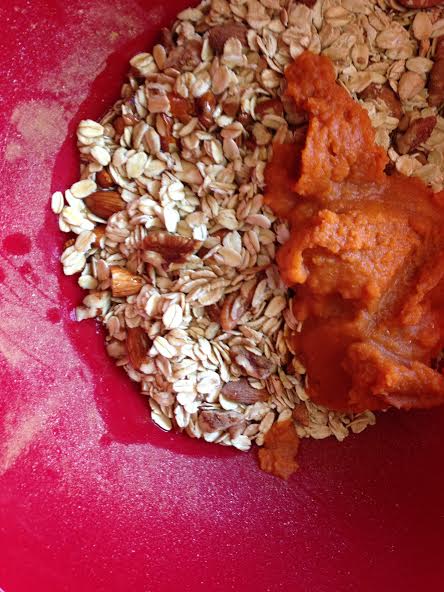 Store bought granola is, of course, delicious. And it's a good option when you're looking for a healthier mid-morning snack. But making granola is ridiculously easy–and what's even better, you can control how much and what kind of sugar goes in. This recipe calls for just a quarter-cup of maple syrup. It's a much healthier alternative to processed granulated sugar, and the smoky-sweet flavor pairs up beautifully with the pumpkin, cinnamon, and nuts.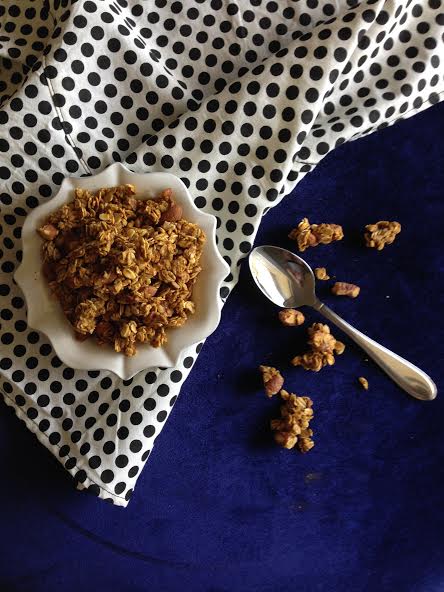 I used a mixture of pecans and almonds, since I had both on hand. You could use all almonds, all pecans, or even throw in some dried cranberries if you like! The oats clump together and make these crunchy-sweet little bunches that are full of fall's favorite flavor: pumpkin pie. All you need is a food processor (or a Ziploc bag and a rolling pin!) and one bowl. Toss everything together, bake, and enjoy a healthy and delicious breakfast all week!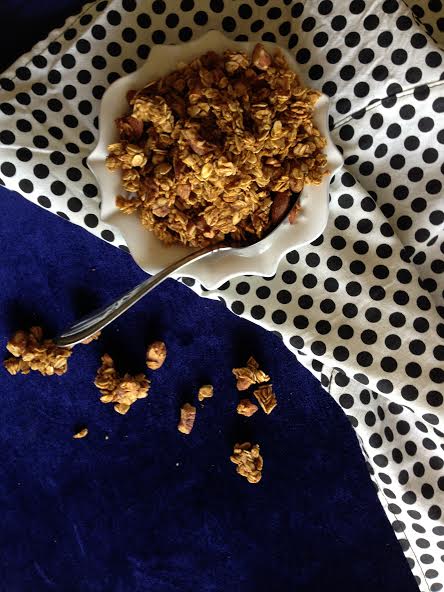 pumpkin pecan granola
yields about 3 cups, or 6 half-cup servings
ingredients
½ cup almonds
½ cup pecans
2 cups rolled oats (not the quick-cooking kind; use certified gluten-free if you are sensitive to gluten)
1 ½ teaspoons ground cinnamon
½ teaspoon ground ginger
dash of nutmeg
dash of cloves
½ cup pumpkin puree
¼ cup water
¼ cup maple syrup (can substitute agave, or honey if you aren't concerned about keeping it vegan)
1 Tablespoon canola oil (or any kind you like–just probably not olive oil, its flavor is too strong)
directions
1. Preheat oven to 350 F. Line a baking sheet with parchment paper and set aside.
2. In a food processor (or using a Ziploc bag and rolling pin), very coarsely grind the nuts. It's perfectly fine if a few are left whole, you want the granola to have chunks.
3. In a large bowl, toss together the nuts, oats, and all the spices. Add in the pumpkin, water, maple syrup, and oil, stirring well.
4. Spread mixture into an even layer on the prepared baking sheet. Bake for 40 minutes, stirring every 10 minutes or so to prevent burning. When the granola has dried up and feels crisp, take out the pan and let cool completely. Store in an airtight container at room temperature for up to a week.
Enjoy!
R
Advertisement
Share this:
Like this:
Related