I know, I know. It's like as soon as July ends, people get fall fever. Don't get me wrong – there is nothing I love more than crisp weather (crisp. NEVER cold.) and a good pair of boots. But let me enjoy August while it's here! I was in Target at the end of July and they already had pumpkin spice everything. And I have joined the pumpkin spice madness with these waffles. In all fairness, it is September now. And these waffles are flipping delicious.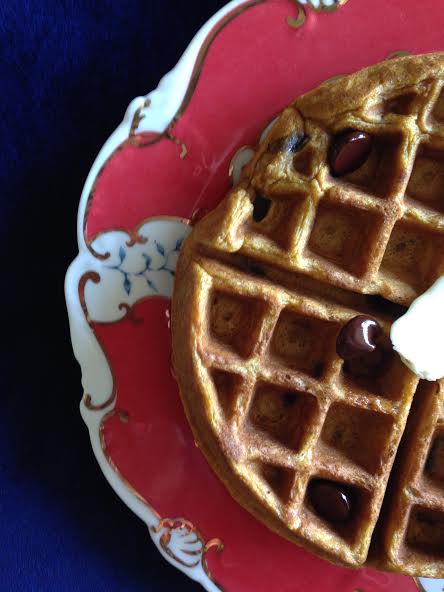 Is it wrong that I made them for an afternoon snack? It felt so right.
These waffles are full of all the pumpkin you love and crave this time of year. Lots of cinnamon, lots of other warm spice goodness – it's pumpkin spice in waffle form. If you are a pumpkin purist, just leave out the chocolate chips. It's that easy! Swap in pecans, or even white chocolate chips for a different twist. Just make these crispy-fluffy-pumpkiny waffles and give fall a big welcome back hug!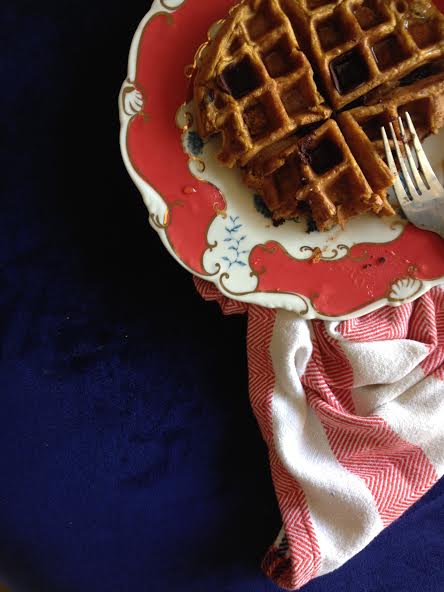 chocolate chip pumpkin waffles
yields 6 large waffles (can easily be halved; or make the whole batch and freeze them!)
(adapted from Epicurious)
ingredients:
2 ½ cups all-purpose flour
⅓ cup packed brown sugar
2 ¼ teaspoons baking powder
1 teaspoon baking soda
½ teaspoon salt
2 teaspoons ground cinnamon
½ teaspoon ground ginger
¼ teaspoon ground nutmeg
¼ teaspoon ground cloves
4 large eggs, beaten
2 cups milk (buttermilk is best, but any kind will work)
3 Tablespoons melted and cooled butter (or canola/vegetable oil)
1 teaspoon vanilla extract
1 cup canned pumpkin puree (not pumpkin pie filling)
½ cup chocolate chips (more if desired, but you don't want to overpower the pumpkin)
directions:
1. In a medium mixing bowl, toss together the flour, brown sugar, baking powder, baking soda, salt, and spices, making sure to break up any brown sugar clumps. Set aside.
2. In a larger bowl, whisk together the eggs, milk, melted butter, vanilla extract, and pumpkin. Whisk in the dry ingredients just until smooth. Fold in chocolate chips.
3. Spray a hot waffle iron with cooking spray and cook according to your manufacturer's instructions.
Serve with butter and warm maple syrup, and enjoy!
R
Advertisement
Share this:
Like this:
Related