When life hands you lemons, grab a jar of poppy seeds and make these pancakes. Sometimes, life can get stressful and hectic. And sometimes, it can rain for twelve hours…nonstop. Non. Stop. When this happens, you need breakfast that is delicious – and that can be eaten at any old time of day (*cough*3 pm*cough*). I love lemon poppy seed anything. When I see lemon poppy seed muffins in a bread basket, I gravitate towards them because that is one flavor combination I've never made at home. But all that changed when I found a massive jar of poppy seeds on a ridiculous sale at Williams-Sonoma.
When the weather was just not cooperating yesterday, I saw the bright yellow lemons on my counter and got to work. See how bubbly and thick the batter is? That is thanks to the lemon juice, leavening agents, and buttermilk. Yum. This recipe is so simple: in five minutes, you will have incredible pancake batter ready to be fried up. It is so fragrant and full of fresh lemon zest. You can definitely taste the lemon in these pancakes. It's so sweet and floral and divine.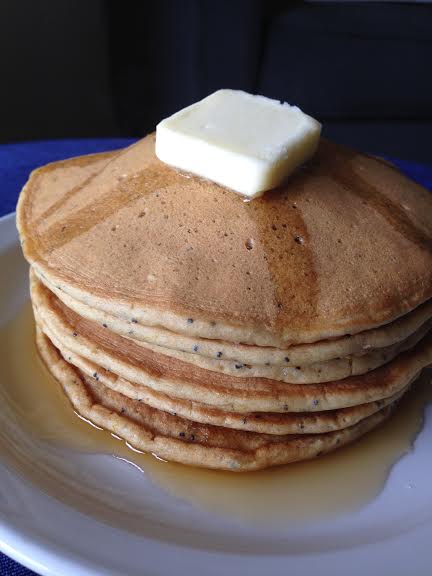 The poppy seeds add such a beautiful visual touch to these pancakes. I love the little black flecks throughout. And what they add to the flavor is a slight earthiness to balance out the fresh lemony zing. The edges of these pancakes were so crisp and golden brown, and the insides super fluffy. For tips on how to get the perfect pancake every time, check out my recipe for fluffy pumpkin pancakes. That's another recipe that will soon be in heavy rotation again – come on, fall! P.S. The glaze recipe in that post would be perfect with these pancakes. It'll make them taste exactly like a glazed lemon poppy seed muffin!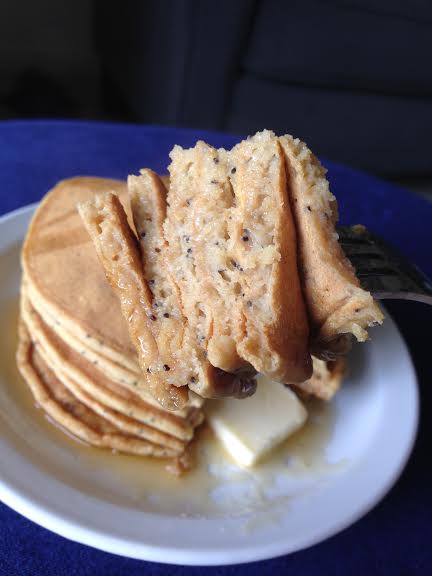 lemon poppy seed pancakes
(recipe adapted from Joy the Baker)
yields 8 pancakes (using a ¼-cup measure) – can be doubled easily
ingredients:
1 Tablespoon granulated sugar
1 Tablespoon lemon zest
1 cup all-purpose flour
1 teaspoon baking powder
½ teaspoon baking soda
½ teaspoon salt
1 cup buttermilk
1 large egg
1 Tablespoon lemon juice
1 teaspoon vanilla extract 
4 Tablespoons canola oil or melted and cooled unsalted butter
1 Tablespoon poppy seeds 
directions:
1. In a small bowl, rub together the sugar and lemon zest until fragrant. Set aside.
2. In a medium bowl, whisk together the flour, baking powder, baking soda, and salt. Set aside.
3. In a liquid measuring cup, whisk together the buttermilk, egg, lemon juice, vanilla extract, and oil. Pour this mixture into the bowl of dry ingredients and stir just until combined. Add in the poppy seeds, stirring gently. Set aside.
4. Preheat your pan or griddle over medium-low heat with a pat of butter. Pour ¼ cup of batter per pancake, flipping once the tops are bubbly and sides start to dry out a little.
5. Serve with butter and maple syrup! 
Enjoy!
R
Advertisement
Share this:
Like this:
Related