I love a good doughnut, and I love a good baked one. With a doughnut pan, you can have fresh, hot doughnuts at home in 20 minutes and don't have to worry about splattering the kitchen in hot frying oil. Save the work and grease for Krispy Kreme. These doughnuts were a fantastic little mid-week breakfast treat and a fair rival to my healthy baked oat and peanut butter doughnuts. When I texted her, my best friend, Sara, took one look at this picture and said, "Oh my god, I thought those were blown-up Cheerios." They certainly look like blown-up Cheerios, but these bad boys are soft, fluffy, and sweet!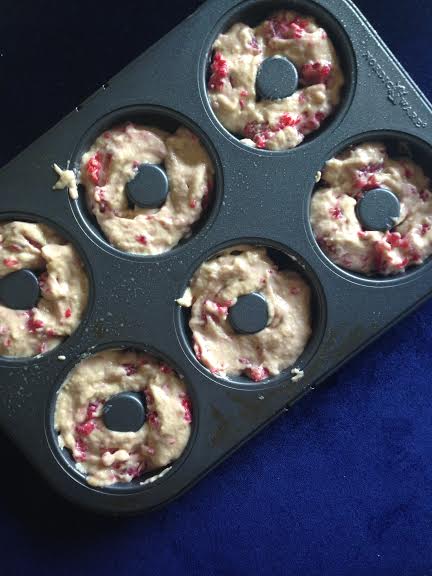 I used pastry flour to make these, making them incomparably fluffy and light. If you don't have or don't want to buy pastry flour, do this: put two Tablespoons of cornstarch in your 1-cup measuring cup, and fill the rest with all-purpose flour. Done! Another thing that makes these doughnuts so soft and…m-word…is Greek yogurt. You could use sour cream as well, either would work beautifully.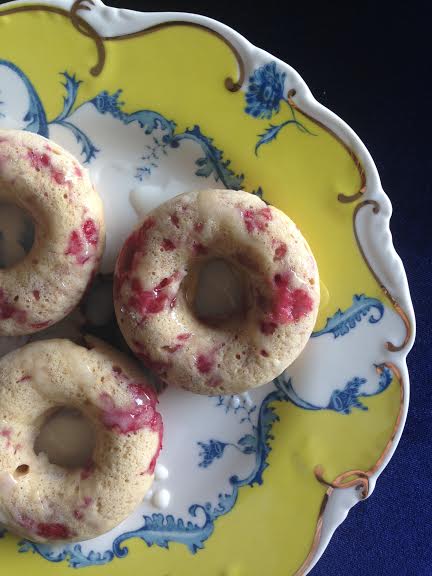 These doughnuts were full of fresh raspberries in every bite – so good with the little flecks of vanilla bean! (Side note: For birthdays and holidays, I accept cookie butter and/or vanilla beans as gifts.) I had lots of raspberries on hand, but you could use blueberries, strawberries, or even blackberries. It's up to you! For the glaze, I was torn between using lime juice or orange juice, but I ended up going with the big fat orange in my fruit bowl just staring back at me. Lemon would be amazing, too, especially with those berries! Basically, what I'm saying is, there is a way for you to make these doughnuts work with whatever you've got on hand. Make these doughnuts, take a bite, and smile!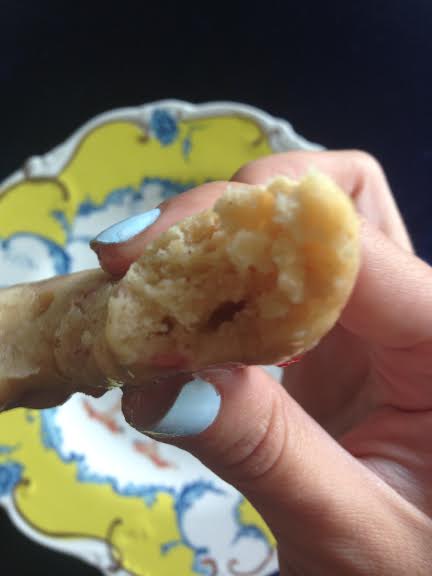 vanilla bean-raspberry baked doughnuts with orange glaze
yields six doughnuts
ingredients
for the doughnuts:
1 cup pastry flour (see text above for substitutions)
½ cup granulated sugar
1 teaspoon baking powder
1 large egg
¼ cup Greek yogurt or sour cream
2 Tablespoons milk (any kind will work)
1.5 Tablespoons applesauce
1 teaspoon vanilla beans scraped from a pod
1 cup raspberries, halved or roughly chopped
for the glaze
a couple heaping spoonfuls of powdered sugar
half an orange
directions
1. Preheat oven to 325°. Coat a doughnut pan with baking spray and set aside.
2. In a medium bowl, toss together the flour, sugar, and baking powder. In a separate bowl, whisk together the egg, Greek yogurt, milk, applesauce, and vanilla bean paste. 
3. Pour the wet ingredients into the bowl of dry ingredients and whisk them all together. Using a spatula, fold in the berries.
4. Divide the batter evenly among the doughnut holders. Bake for 10-15 minutes, until a toothpick used as a tester comes out clean. 
5. While the doughnuts cool in the pan for a couple minutes, mix the powdered sugar and just enough orange juice to make a glaze. Take out the doughnuts, and while still warm, dip or drizzle with the glaze.
Enjoy!
R
Advertisement
Share this:
Like this:
Related