I'm not a big red meat eater. I don't do steak, or beef fajitas, or anything like that. But every once in a while, I will get the most insatiable craving for a burger. With bacon, cheddar, and a massive basket of fries. In Baton Rouge, I've found two incredible places to get these cravings satisfied: Fat Cow Burgers (duck fat parmesan fries for the win) and Burgersmith (why, yes, I'll add fried green tomatoes and an egg to my burger). But more often than not, I want something veggie-based. And not a gross cardboard-like premade veggie burger; no, thank you. I'm talking something like these eggplant burgers with honey-beer-glazed leeks. For real, though, I cannot imagine life without these burgers.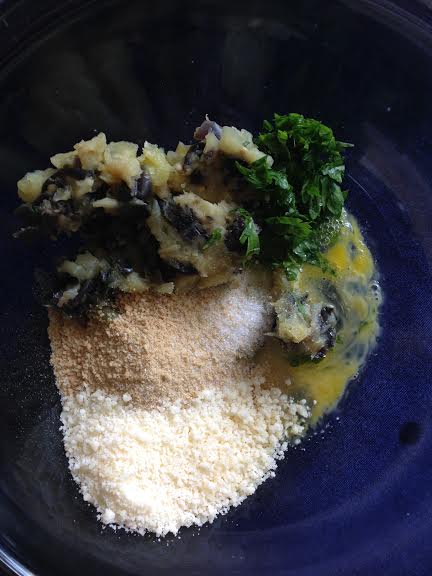 These burgers have to be the most flavorful burger I have ever had – and I've had some good burgers in my day. Eggplants are so meaty that even the carnivores in your house are going to love these. The eggplant is the sole veggie in this burger, and it needs nothing else. You'll use egg, parmesan cheese, breadcrumbs, and parsley to bind it all together and add in an extra layer of flavor. But the true gem in this burger is the divine creation that is honey beer-caramelized leeks. I don't like beer. At all. But again…life without these burgers would be tragic. Using leeks was one of the best ideas I've had in a while. Caramelizing them in honey and beer is just epic, and using them and some creamy white cheddar to top the eggplant burgers meant I couldn't stop at just one. I had these burgers with a green salad and sweet potato fries (which never made it into the picture, poor things). PLEASE make these burgers.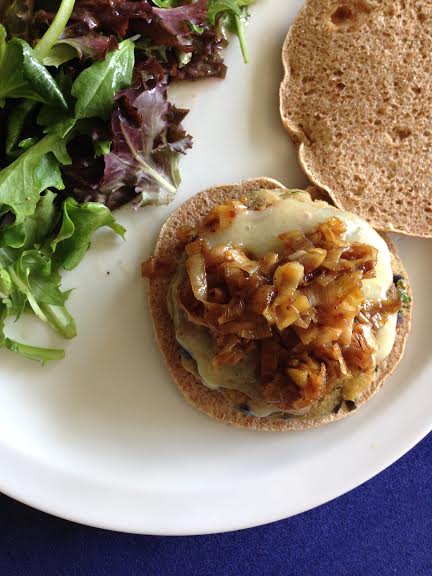 eggplant burgers with honey beer-caramelized leeks
(adapted from an old Cooking Light)
yields 4 burgers
ingredients:
for the burgers:
1 very large eggplant, cut into cubes
1 cup bread crumbs (I used plain, you could use seasoned if that's all you have)
¼ cup Parmesan cheese, grated
2 Tablespoons chopped parsley
1 egg, beaten
4 ounces white cheddar 
salt and pepper
for the leek topping:
2 Tablespoons olive oil
1 and a half leeks, thoroughly cleaned and sliced up
½ cup beer
1 Tablespoon soy sauce
1 Tablespoon Dijon mustard
2 Tablespoons honey
directions:
1. To a large pot of boiling salted water, add the eggplant cubes and cook for 10 minutes. Drain well and allow to cool. Squeeze out as much water as possible from the eggplant. I found that using a towel was a bad idea, as the eggplant just stuck to it. Use your hands and wring carefully!
2. In a mixing bowl, to the eggplant, add the bread crumbs, Parmesan, parsley, egg, and salt and pepper to taste. Divide the mixture into four and make into patties. Preheat oven to 350 F (you'll need it after you fry up the burgers).
3. Over medium heat (you may need to lower the heat at some point to allow the burgers to cook through without burning), shallow-fry the burgers in olive oil, about 3-4 minutes on each side, until golden-brown and crispy. Let drain on some paper towels. 
4. Now, make the leek topping. Heat a skillet over medium-high heat, adding the two Tablespoons of olive oil. Add the leeks and cook for a few minutes, just until they start to brown. Add the beer, soy sauce, mustard, and honey, and bring to a boil. Lower the heat and let the mixture simmer for several minutes (about 8), stirring frequently.
5. A few minutes before the leeks are done, place the burgers on a baking sheet and top with cheddar. Pop them in the oven until the cheese has melted. Put each patty on a bun, and top with some of the leeks. Enjoy!
R
Advertisement
Share this:
Like this:
Related