I just had these for lunch. Like…I haven't even done the dishes yet and I am already writing this post. They were that good. I've been on a taco kick lately – maybe it's the hot weather, maybe it's the fact that I live dangerously close to The Rum House (get the scallop taco and the chopped shrimp – and don't you dare walk out without having tried the sweet potato conch fritters), but whatever the reason, I am loving it. Is there anything better than delicious flavors wrapped up in a little tortilla? I thought not.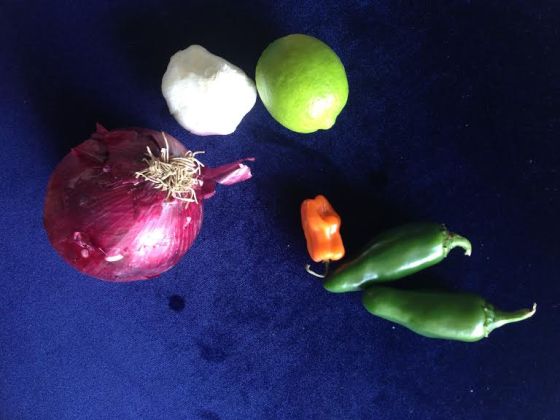 I bought the most gorgeous mahi mahi filet yesterday and knew that I wanted to eat it in taco form. See those peppers up there? Yum. Over the past year or two, I've slowly started to like a little heat in my food. Not too much, but enough for a satisfying little kick. (Clearly, then, that little habanero went unused today.) Anyway, I started by marinating the filet in the most glorious, thick, garlic-chipotle marinade.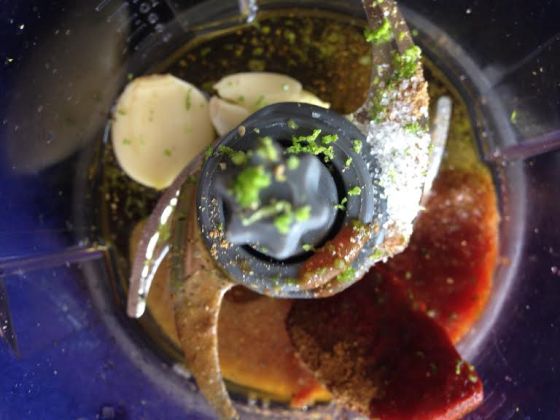 That large hunk of red at the bottom right is a chipotle pepper. Basically, a chipotle pepper is a smoke-dried jalapeno. You'll find them canned in adobo sauce, and that is what you want for this recipe. That adobo sauce is delish. Whir together some garlic, chipotle peppers, lime zest, olive oil, lime juice, cumin, coriander, and good old salt and pepper. Bam. Delicious marinade. I can't think of a protein this wouldn't be good on. It made the mahi mahi spicy, crispy, and full of incredible flavor. A perfect contrast to the sweet peach-basil salsa I put on top of these tacos. Juicy summer peaches, fresh basil, and a little jalapeno and red onion tossed in a bit of lime and olive oil. Can't get enough.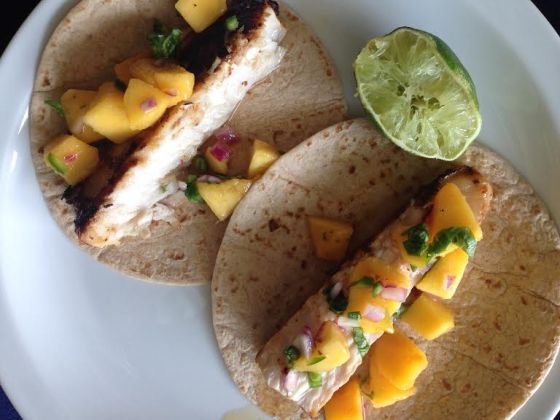 garlic-chipotle mahi mahi tacos with peach-basil salsa
yields 4 tacos (can easily be doubled)
(adapted from feasting at home)
ingredients:
for the tacos:
a ½ pound mahi mahi filet (you can use any fish that holds up, like halibut or cod)
2 cloves of garlic
2 chipotle peppers
½ Tablespoon of adobo sauce (from the can of chipotles)
2 Tablespoons olive oil
zest from half a lime
juice from half a lime
½ teaspoon ground coriander
½ Tablespoon ground cumin
salt and pepper, to taste
4 tortillas
for the salsa:
1 ripe peach
½ a jalapeno, minced
4 leaves of basil, cut into a chiffonade
¼ of a red onion, diced finely
juice of half a lime
drizzle of olive oil
salt and pepper, to taste
directions:
1. In a food processor, blend together the garlic, chipotles, adobo sauce, olive oil, lime zest and juice, coriander, cumin, and salt and pepper until a smooth paste forms. Massage the mahi mahi filet with the mixture and let sit refrigerated for at least an hour but no longer than overnight.
2. When ready to eat, heat an oiled skillet over medium heat. Sear the mahi mahi until crisp on both sides, then lower heat and cover, cooking until desired done-ness. Let rest for a couple minutes while you prep the salsa.
3. Peel and dice the peach. Toss with the minced jalapeno, basil, red onion, lime juice, and olive oil. Season with salt and pepper, to taste.
4. Toast the tortillas briefly on a dry skillet. At this point, you can slice off thick chunks/slices of the mahi mahi and place one in each tortilla, topping with the peach salsa. Or, you can cut the fish into large cubes and place those into your tacos. Serve with extra lime!
Enjoy!
R
Advertisement
Share this:
Like this:
Related