As summer starts to wind down, I get s'mores on my mind. A toasted, warm, and gooey marshmallow atop some chocolate and sandwiched between two crunchy graham crackers? Yes, please. But for those of us who prefer their chocolate to get a little gooier, too – and for those of us without access to an open flame, here is the next best thing: a s'mores brownie pie. It has all the classic flavors you love!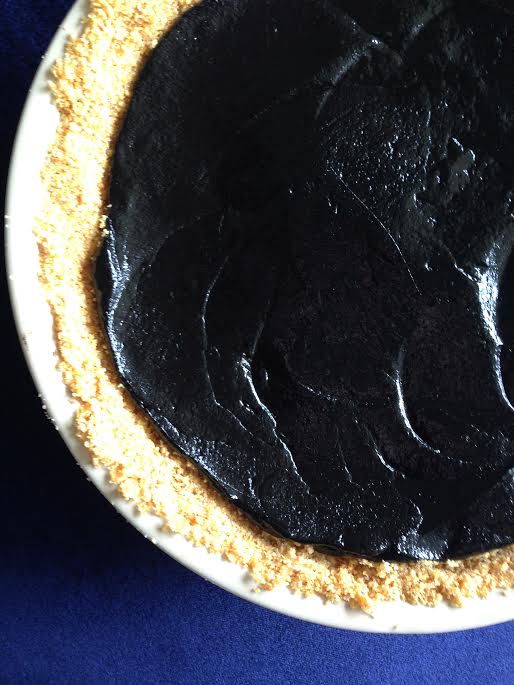 There is no shortage of delicious chocolatey, fudgy goo in this pie. Look at how thick that raw brownie batter is. It's not one you can pour out of the mixing bowl – no, you have to scoop this one out and pat it down into your crust. And speaking of the crust, it is so simple to make, with just three ingredients: graham cracker crumbs, melted butter, and sugar. I could eat the brownie layer on its own, and could very well eat the crust as an afternoon snack, but it was a good idea to let them play together.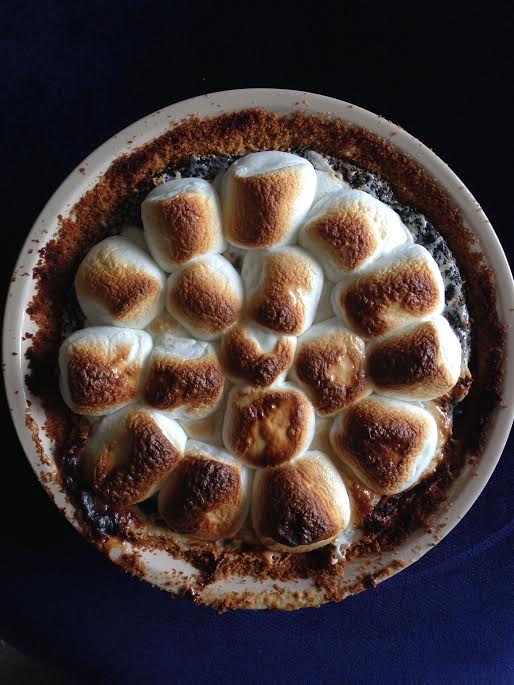 Look at how gorgeous those marshmallows are. All it takes is a couple minutes under your oven broiler and a watchful eye! You'll first bake the brownie/crust combo, and as soon as it's done, top the pie with a single layer of puffy white marshmallows. They get that delectable little crust and are perfectly gooey and melty on the inside. Divine. The only problem is, you have to exercise patience and wait for the pie to cool completely before tucking in. Otherwise, you'll end up with more of a crumble…I don't think that's necessarily a bad thing. Warm, melted s'mores brownie crumble with ice cream? Sign me up. Happy August 🙂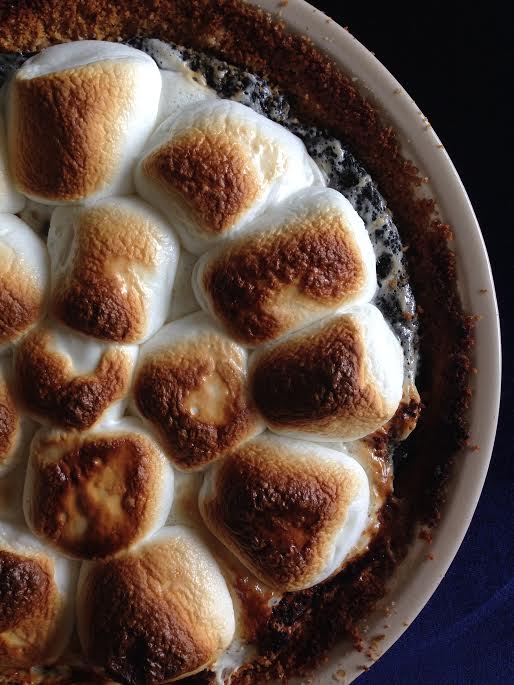 s'mores brownie pie
yields one 9-inch pie
(recipe via sally's baking addiction)
ingredients:
for the crust:
1 ½ cups graham cracker crumbs (or 12 full-sheet graham crackers, crushed)
6 Tablespoons unsalted butter, melted
⅓ cup granulated sugar
for the brownie layer:
10 Tablespoons unsalted butter
1 ¼ cups granulated sugar
¾ cup + 2 Tablespoons unsweetened cocoa powder (I used dark, you may use either dark or regular)
¼ teaspoon salt
½ teaspoons vanilla extract
2 large eggs, cold
½ cup all-purpose flour
for topping:
17 large marshmallows (can use more depending on preference, but not too many, as they expand!)
directions:
1. Preheat oven to 325°. In a bowl, mix all ingredients for crust. Press the mixture into an ungreased 9-inch pie pan, making sure it's an even layer that goes up the sides a bit. Set aside.
2. Into a microwave-safe large bowl, put the butter, sugar, cocoa powder, and salt. Melt in 30-second intervals, stirring after each round, until the mixture is uniform. It's ok if it seems gritty. Let it cool for a couple minutes.
3. Stir in the vanilla extract. Then add in the eggs, one at a time, stirring thoroughly between each addition. Finally, add the flour. Stir until incorporated. Smooth the brownie batter into the crust. Bake for 28 minutes.
4. As soon as you take the pie out of the oven, top with marshmallows. Leave a bit of space (just a few centimeters) between each marshmallow. Set the broiler on, and broil just until the tops of the marshmallows are browned.
5. Remove pie from oven and allow to cool completely before cutting. It helps to use a knife that you've run under hot water and wiped clean between each slice. Store pie at room temperature up to 5 days, and heat leftover slices in the microwave for 20-30 seconds.
Enjoy!
R
Advertisement
Share this:
Like this:
Related