Double chocolate zucchini muffins? Whaaaat. I had always seen sweet zucchini breads and muffins at office parties and bakeries, but never felt like they were something I wanted to try. Don't get me wrong – I love zucchini, but usually in savory things like a quiche with cheesy goodness, or in fluffy biscuits like I made last week. But when you buy tons of the green veggies and are at a loss for what to do with them, you hit up other food bloggers' pages and do some research.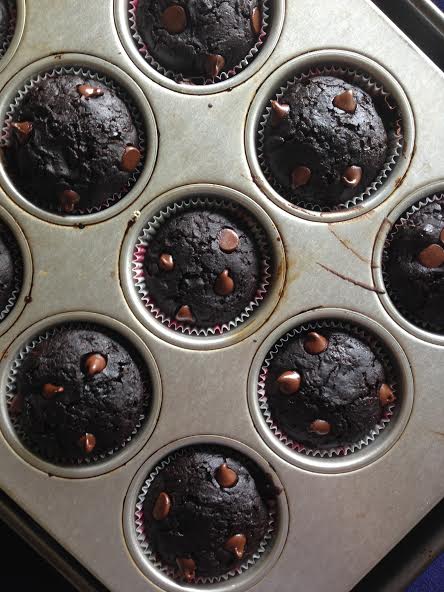 You also get very pleasantly surprised when the muffins end up tasting so darn fudgy and delicious. Made with almond milk, applesauce instead of oil, and plenty of chocolate chips and dark cocoa powder, they are crazy good. Almost like brownies, they're so moist. And that is quite the achievement when the batter has a full cup of shredded zucchini in there. Like…a vegetable. I'm not a fan of tricking kids into eating their vegetables (I think if you present veggies early on in a matter-of-fact way, they'll surprise you), but this could be an excellent way to do it.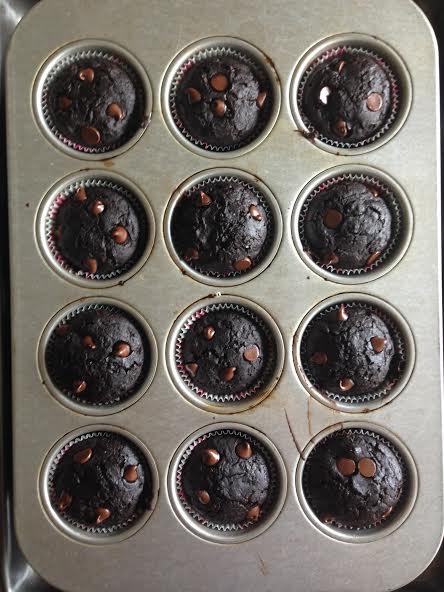 The muffins are sweet, thanks to the chocolate chips and the addition of agave. But they're not too sweet, so they make a good breakfast or healthy snack. No oil and no refined sugar? You'll feel really good about eating these. A word of caution, though – spray the ever-living heck out of your paper liners. Because there's no oil, the muffins will want to stick to them. Some spray makes eating these a cinch. If you're looking for something fun to do this Sunday, whip up a batch of these delicious chocolate muffins for the week. You'll love 'em.
healthy, fudgy chocolate zucchini muffins
yields 12 muffins
(recipe via ambitious kitchen)
ingredients
1 ¼ cup all-purpose or whole wheat pastry flour
⅓ cup unsweetened cocoa powder
1 teaspoon baking soda
¼ teaspoon salt
2 Tablespoons coconut oil
⅓ cup agave nectar (can use honey)
1 teaspoon vanilla extract
1 egg
1 egg white
1 cup shredded zucchini (about one medium zucchini)
¼ cup unsweetened applesauce
½ cup unsweetened almond milk
½ cup chocolate chips
directions
1. Preheat oven to 350°F. Line a 12-cup muffin tin with paper liners, and thoroughly spray the inside of each paper liner with cooking spray. Set aside.
2. Using a paper towel or tea towel (which I would recommend), squeeze out all the excess water from the shredded zucchini. (Don't skip this step!)
3. In a medium bowl, toss together the flour, cocoa powder, baking powder, and salt. Set aside.
4. In the bowl of an electric mixer on medium-low speed, mix together the coconut oil, honey/agave, vanilla, egg, and egg white until combined. Add in zucchini, applesauce, and almond milk, mixing until combined. Slowly add in the dry ingredients and mix until combined, scraping sides and bottom of bowl as needed. Fold in the chocolate chips.
5. Evenly divide the batter among the muffin cups. Bake for 22-25 minutes, until a toothpick inserted into the center of the muffins comes out clean. Let cool in the pan for 5 minutes, then remove muffins and let come to room temperature on a wire rack. (Muffins should keep for 4 days at room temperature.)
Enjoy!
R
Advertisement
Share this:
Like this:
Related