During most weekend evenings, I look back on my day and all I can remember is washing dishes. I feel like all I do is wash dishes.
I wonder why. *sarcasm*
I certainly know why that was the case today. I had so many extra zucchinis that were about to get sad on me, and I refused to let them go to waste. I baked some double chocolate zucchini muffins (recipe coming soon!), and some of these lovely summer vegetable buttermilk drop biscuits. With diced tomatoes, shredded zucchini, parmesan cheese, and buttermilk, these biscuits are anything but dry. I threw in some dried basil and garlic powder for plenty of flavor. Loved, loved these biscuits – so much so that I used one as the bread to a late-afternoon BLT. Good lord.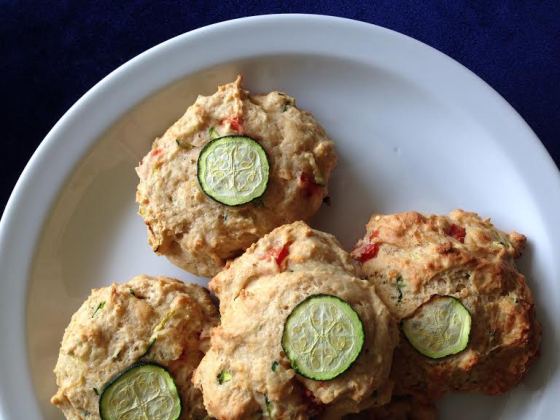 summer vegetable buttermilk drop biscuits
yields a baker's dozen
ingredients:
3 cups all-purpose flour
1 Tablespoon baking powder
½ teaspoon baking soda
1 teaspoon salt
½ teaspoon pepper
½ teaspoon dried basil (or oregano)
½ teaspoon garlic powder (or onion powder)
1 cup shredded zucchini (use a tea towel to squeeze out the liquid!)
1 tomato, seeds and pulp removed, diced
½ cup shredded Parmesan cheese
1 cup buttermilk
2 eggs
3 Tablespoons canola oil
1 Tablespoon red wine vinegar
extra slices of zucchini or tomato for garnish (optional)
directions:

1. Preheat oven to 400°F. Line two baking sheets with parchment paper and set aside.
2. In a large bowl, toss together the flour, baking powder, baking soda, salt, pepper, dried basil, and garlic powder. Use a spatula to fold in the zucchini, tomato, and Parmesan cheese.
3. In a medium bowl, whisk together the buttermilk, eggs, oil, and vinegar. Pour this mixture into the dry ingredients and mix well.
4. Drop about ¼ cup per biscuit on the prepared baking sheets, leaving a few inches between each biscuit (they will expand!). Top with zucchini or tomato slices, if desired. Bake for 25-35 minutes, until the biscuits are golden brown and a toothpick comes out clean from the center. Let cool for a few minutes and dig in!
Enjoy!
R
Advertisement
Share this:
Like this:
Related