Yum. I don't know how this happened, but yum.
I came home from work on Monday craving something sweet and cold. After dinner, I opened my fridge again and saw heavy whipping cream and pineapple. Bingo.
One of my favorite ways to eat pineapple is to coat it in a brown sugar/cayenne mixture and grill it. But alas, I am without a grill over here. So I did the next best thing and lightly dusted some fresh pineapple spears with cayenne and cinnamon, threw that on a skillet, and proceeded to whip some cream – cream with a hint of sugar and vanilla. Yum. And then I warmed up a little maple syrup and a drop of rum, you know, keeping things all tropical and whatnot. The basil leaves on top were heaven. The hot/cold combination and sheer contrast in flavors were to die for.
I don't know how this happened…but yum.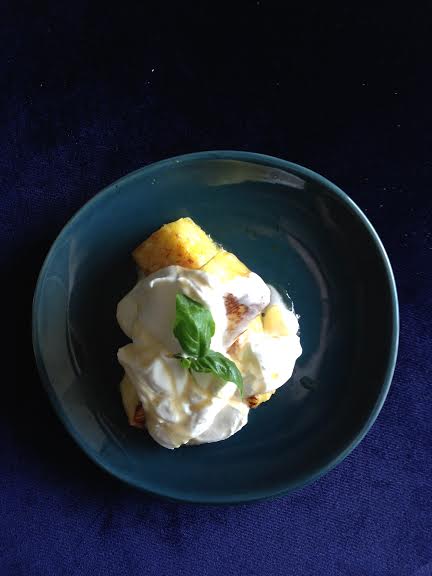 cinnamon-cayenne caramelized pineapple with whipped cream and rum-maple syrup
serves 1; can easily be doubled, or quadrupled, or whatever!
ingredients:
¼ cup cold heavy cream
2 teaspoons of sugar, more to taste
a few drops of vanilla extract
a teaspoon of butter or coconut oil
2 fresh pineapple spears or rings
small pinch of cayenne
pinch of cinnamon
2 Tablespoons maple syrup
a tiny splash of rum
basil leaves (optional)
directions:
1. To make the whipping cream, use a whisk or a hand/stand mixer to beat the heavy cream, sugar, and vanilla extract until medium peaks form. Set aside.
2. Preheat a skillet on medium, letting your butter melt. Lightly dust the pineapple with cayenne and cinnamon, and sear it on both sides until it gets nice and golden-brown.
3. Meanwhile, warm up the maple syrup and rum in a small bowl, mug or ramekin in your microwave. Just a few seconds will do!
4. Place the pineapple on a plate, topping with whipped cream and rum-maple syrup. Garnish with basil, if desired.
Enjoy!
R
Advertisement
Share this:
Like this:
Related