Happy Sunday, people! The weather here has been much lovelier than anticipated, which has made me a happy girl. But it has also been h-o-t outside, so I was more than delighted to make this coming week's breakfast without so much as blinking toward my oven. These oatmeal cookie bars are vegan (well…except for the dark chocolate drizzle), gluten-free (if you ensure your oats are certified gluten-free), and full of good-for-you ingredients.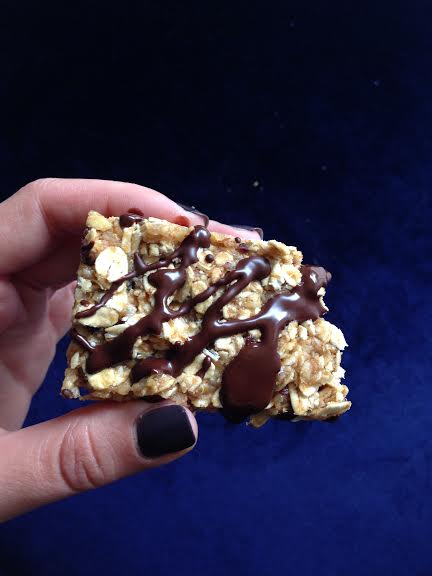 These chewy, perfectly sweet and wholesome bars are also free of refined sugar. The only thing sweetening them? Dates! Yes, dates – nothing else! If you aren't a fan of dates, I promise that you will love these bars anyway. I'm not a fan of dates unless they are stuffed with chorizo and wrapped in bacon, but I couldn't get enough of these bars. I can neither confirm nor deny that I had three for lunch. No matter, they are so good for you!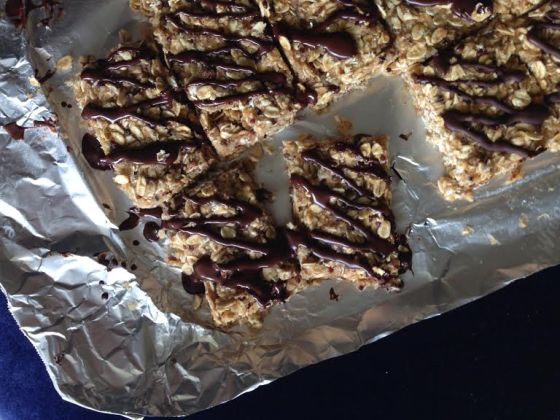 With the buttery flavor of cashews and oats, the sweetness of dates and vanilla extract, and the subtle nuttiness of the quinoa, these no-bake bars are perfection. All you need is your food processor and a big bowl, and you're good to go. I already can't wait for breakfast!
no-bake quinoa-oatmeal cookie bars
yields 18 bars
(recipe adapted from half-baked harvest)
ingredients
1 ½ cups roasted cashews
1 cup pitted Medjool dates
4 Tablespoons coconut oil
2 Tablespoons almond/coconut milk
1 Tablespoon vanilla extract
¼ teaspoon salt
3 cups old-fashioned rolled oats
1 cup cooked and cooled plain quinoa
2 Tablespoons ground almonds
melted dark chocolate (can use vegan chocolate chips)
directions
1. Line a 9×13 pan with non-stick aluminum foil or parchment paper. Set aside.
2. In your food processor, whirl together the cashews and dates for about 3 minutes, until they form a thick paste. Add the coconut oil, almond/coconut milk, vanilla, and salt. Process for several minutes, until a smooth and creamy mixture forms.
3. In a large mixing bowl, combine the oats, quinoa, and ground almonds. Stir in the mixture from your food processor until everything is combined.
4. Press this into an even layer in your prepared baking dish, and drizzle with melted dark chocolate. Cover and refrigerate for at least one hour. Cut into bars and enjoy! Can be eaten cold or at room temperature.
R
Advertisement
Share this:
Like this:
Related