Are you at all surprised that I have yet another chocolate-peanut butter recipe on this blog? If you know me at all, you wouldn't blink twice at this. My obsession with the combination of chocolate and peanut butter dates as far back as I can remember. This weekend, I had some new friends over for dinner. We had a blast, and we finished off a meal of spinach-sausage risotto, eggplant and sun-dried tomato salad, and prosciutto-wrapped asparagus with massive slices of this bad boy.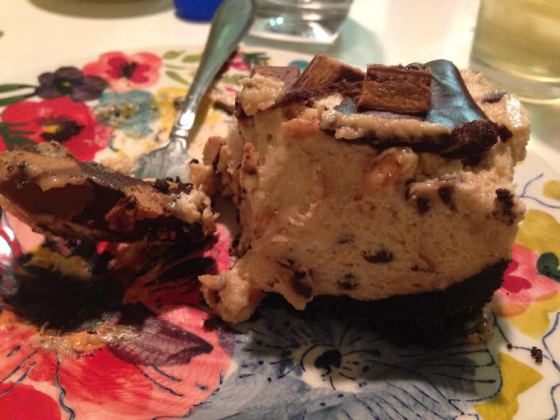 You'll have to excuse these photos – I absolutely refused to slice into this torte before my guests arrived, so long gone was the natural light. No matter – just one look at the smooth, creamy filling and you'll be drooling. The amazing thing is, the only part you have to bake is the crust. Lots of crushed Oreos and butter go into the simple crust. As for the filling, it is made of fresh whipped cream that you'll fold into a decadent mixture of peanut butter and cream cheese. It then gets to hang out in the fridge for a few hours and basically bake itself. I'm telling you. Seriously.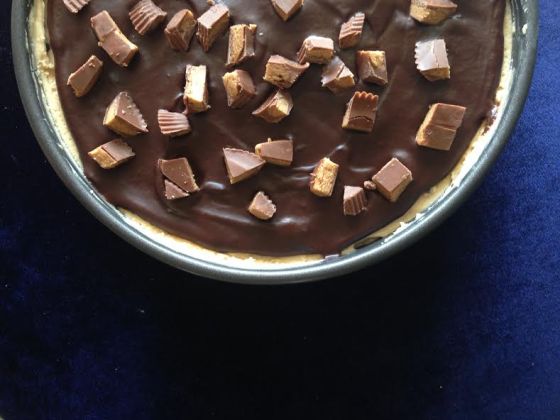 As if the crust and filling didn't offer enough chocolate-peanut butter flavor, studded throughout is a mixture of mini chocolate chips, chopped peanuts, and a hint of espresso and cinnamon. These little bits offer just the right amount of slight crunch amidst the fluffy creaminess of the filling. Top the whole thing with a simple chocolate ganache and chopped Reese's peanut butter cups, and you've got a winner. For more incredible chocolate-peanut butter desserts, check out my peanut butter cheesecake swirled brownies, reese's-stuffed dark chocolate cupcakes, and peanut butter chocolate dream bars. And for a guiltless treat, check out my healthy baked oat and peanut butter doughnuts.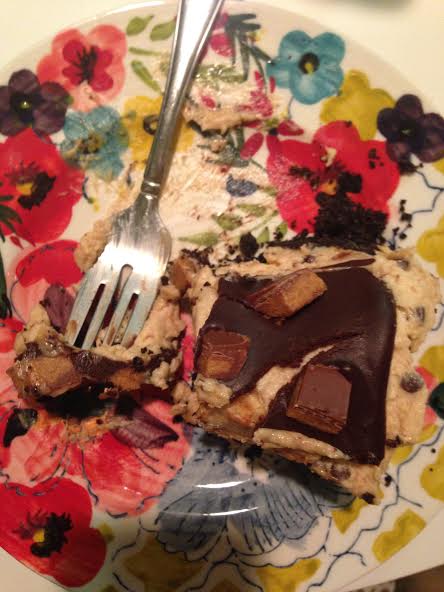 chocolate peanut butter mousse torte
(recipe adapted from annie's eats)
yields one 9-inch torte; serves 8-10
ingredients
for the crust:
32 Oreos, finely processed into crumbs
5 ⅓ Tablespoons unsalted butter, melted and cooled
pinch of salt
for the crunch:
½ cup salted peanuts, finely chopped
½ cup mini chocolate chips
2 teaspoons sugar
½ teaspoon espresso powder
scant ½ teaspoon ground cinnamon
for the filling:
2 cups heavy cream
1 ¼ cups confectioner's sugar, sifted (do not skip the sifting)
12 ounces full-fat cream cheese, at room temperature
1 ½ cups creamy peanut butter (use a commercial brand, like Jif, not an all-natural kind)
2 Tablespoons whole milk
¼ cup salted peanuts, finely chopped
for the ganache and topping:
½ cup heavy cream
4 ounces semi-sweet chocolate, finely chopped
4 Reese's peanut butter cups, diced
directions:
1. To make the crust, preheat your oven to 350°F and butter the bottom and sides of a 9-inch springform pan; set aside. In a small bowl and using a fork, toss together all crust ingredients. Use your hands to press the mixture into an even layer on the bottom and up the sides of the springform pan. Freeze for 10 minutes, then place on a baking sheet and bake for 10 minutes. Set on a wire rack to cool completely.
2. Make the crunch by tossing together with a fork all the crunch ingredients in a small bowl. Set aside.
3. To make the filling, use the whisk attachment on your stand mixer to whip the heavy cream until it is able to hold medium peaks. Beat in ¼ cup of the confectioner's sugar until medium-firm peaks form. Scrape the cream into a medium bowl and refrigerate until ready to use in step 5.
4. Wipe your mixing bowl clean (don't wash it!) and use the paddle attachment to whip the cream cheese and remaining 1 cup of powdered sugar until smooth. Beat in the peanut butter, milk, and ¼ cup chopped peanuts.
5. Use a rubber spatula to fold a fourth of the whipped cream into this peanut butter-cream cheese mixture. Use the spatula to stir in the crunch mixture, and then gently fold in the rest of the whipped cream until the mixture is uniform. Spoon the filling into the cooled crust and smooth the top. Cover with plastic wrap and refrigerate for at least 4 hours.
6. When the torte is completely chilled, make the ganache by placing the chopped chocolate into a glass bowl over a pot of water simmering on medium heat. Let it reach a point when it's soft and just starting to melt. Remove bowl from heat and set aside. Dump out the water from the pot and pour in the heavy cream, cranking up the heat to let it come to a full boil. Pour the heavy cream over the chocolate and stir slowly until a smooth ganache forms.
7. Pour the ganache over the chilled torte, smoothing it over the top with an offset spatula. Decorate with chopped Reese's cups and chill for another 20 minutes.
8. When ready to serve, remove sides of springform pan, and enjoy!
R
Advertisement
Share this:
Like this:
Related