Guess who picked 3.47 pounds of Louisiana blueberries last week? It was like I didn't know that I didn't have to fill the entire basket. Blueberries for days, people. But think of all the delicious things one could make with fresh, hand-picked blueberries! I turned to a recipe I have been dying to try for a year now: the Pioneer Woman's famous blueberry-lemon sweet rolls. And let me tell you, this is one of those times where my creativity slash improvisation slash let's-experiment-and-see-what-happens attitude were absolutely not necessary. This recipe is to die for.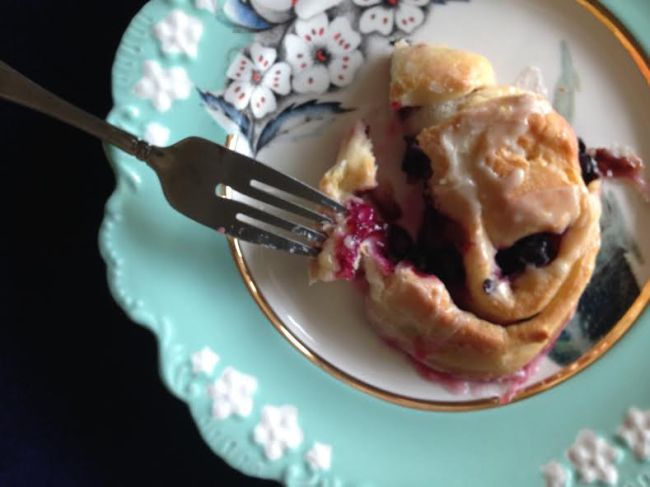 The sweet roll dough is by far the softest, most pillowy dough I have ever made. It is so simple to make and bakes up beautifully. All you do is simmer sugar into some whole milk and oil, and let the yeast party around in that while you add flour and other leaveners. After just an hour of rising, the dough is ready to be made into perfection. I did find the dough sticky to work with, but throwing down plenty of flour helped immensely.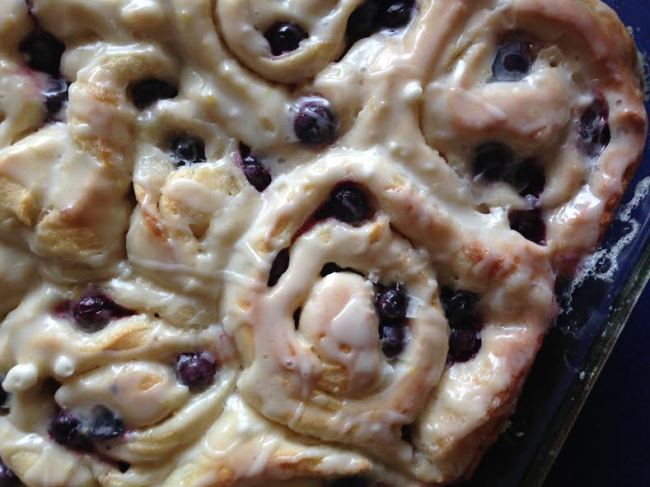 The blueberry filling? Forget it. It's amazing. I am usually a chocolate-peanut butter dessert lover, but this fruity, blueberry-lemon combination completely won me over. Mixing the lemon zest, sugar, and fresh blueberries made my kitchen (and hands!) smell divine. The blueberries will burst in the oven and coat the inside of these soft, buttery, gooey rolls with glorious blue syrup. Once they're done baking, you will all but smother the rolls with a fresh lemon glaze that is so lemony, no one at work could stop talking about these rolls. I tried them fresh out of the oven (dinner of freaking champions, I tell you) and nearly passed out from happiness. The next day? Still amazing. Make these rolls and smile a little – summer is here!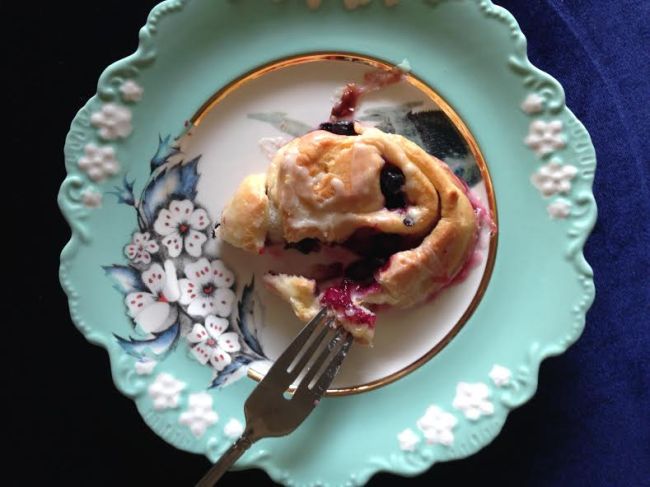 blueberry-lemon sweet rolls
(yields about 20 rolls; I halved The Pioneer Woman's recipe)

ingredients:
for the dough:
2 cups whole milk
½ cup granulated sugar
½ cup canola oil
1 (0.25 ounce) packet active dry yeast
4 cups all-purpose flour
½ cup (additional) all-purpose four plus more for dusting
½ heaping Tbsp salt
½ scant tsp baking soda
1 heaping tsp baking powderfor the filling:
1 stick butter, melted
¾ cups granulated sugar
the zest of 2 whole lemons
1 heaping cup fresh blueberriesfor the glaze:
the juice of 2 whole lemons
the zest of one lemon
3 cups powdered sugar
2 Tbsp milk, or as needed
1 dash salt
2 Tbsp melted butter
directions:
1. In a large pot, mix milk, sugar, and canola oil. Heat over medium heat until very warm but not boiling. Remove from heat and allow to cool until warmer than lukewarm but not hot. (Trust yourself! 🙂 )2. Pour the liquid into the bowl of your stand mixer, and using the dough hook on the stir/slowest speed, add in 4 cups of flour until totally combined. The dough will be wet and sticky, so don't worry. Cover the bowl with a tea towel and keep in a draft-free place for one hour.
3. Once the dough has risen, add in the additional ½ cup of flour, as well as the salt, baking soda, and baking powder. Mix until combined and refrigerate the dough until you need it. Even if you plan on baking the rolls immediately, it helps to let it sit in the fridge for a little bit – it becomes easier to work with.
4. Preheat oven to 375°. Butter a 9×13 pan (I found I had extra rolls, so I also buttered an additional 9-inch round pan) and set aside. Make the filling by tossing together the sugar, lemon zest, and blueberries in a bowl.
5. Roll out your dough until it is thin, and about 30×10 inches. Drizzle the melted stick of butter all over the dough, and spread it evenly with your hands. Scatter the filling all over the dough. Starting with the edge of dough farthest from you, roll it towards you while trying to keep it tight. It's ok if blueberries start rolling away – just throw them back on there! Seal the edges of the roll once you've completely rolled it.
6. Cut the dough log in slices about 1.5 inches thick and place them pretty close together in your baking dish(es). Let rest for 20 minutes.
7. Bake for 20-25 minutes, until the tops are golden brown. In the meantime, prepare the glaze by whisking together all of the glaze ingredients, adding a few drops of milk at a time if necessary to achieve a drizzle-able consistency. Once the rolls are out of the oven, pour the glaze all over the tops. Serve warm or at room temperature – enjoy!
R xoxo
Advertisement
Share this:
Like this:
Related