When I was a lot younger, I used to dislike pastry cream.
I know.
I am still cream-cheese-sour-cream-yogurt-mayonnaise-etc-phobic. But pastry cream? What was WRONG with me? One of the best food sensations has to be biting into a buttery pastry filled with thick, cold pastry cream – it's so delicious and vanilla-y and custard-y. As today is Father's Day in the States (I'll be wishing my daddy a happy one in another week, still), I decided to make something to share with the dads at the office. Stay tuned for the adorable little Father's Day touch on top of these cupcakes!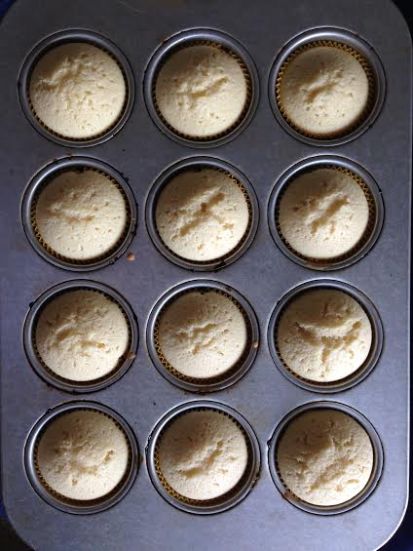 Because these treats start with a light and airy butter cupcake, they are much lighter than a Boston cream pie doughnut would be. But they are still perfectly portioned and adorable. I found this cupcake recipe interesting because of how the ingredients are mixed together – you'll toss together the flour and sugar, along with the leavening agent, and then vaguely like with a pie crust, cut cubes of butter in using a mixer. Three whole eggs, lots of butter, and some milk equal tons of moisture. The recipe made a few more than a dozen, and the plain cupcakes are delicious. Very buttery and vanilla-fragrant, moist crumb, the works.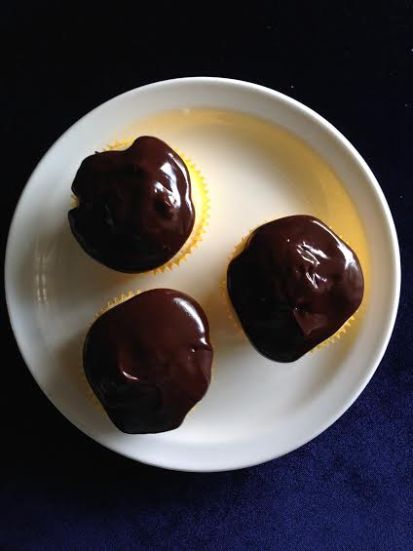 I unfortunately don't have pictures of the insides, but they are stuffed with a glorious pastry cream full of egg yolks, sugar, and heavy cream. The pastry cream is thick and glossy, and absolutely decadent. It works perfectly with the vanilla cupcakes in holding up to the even more decadent chocolate ganache with which you will smother these cupcakes.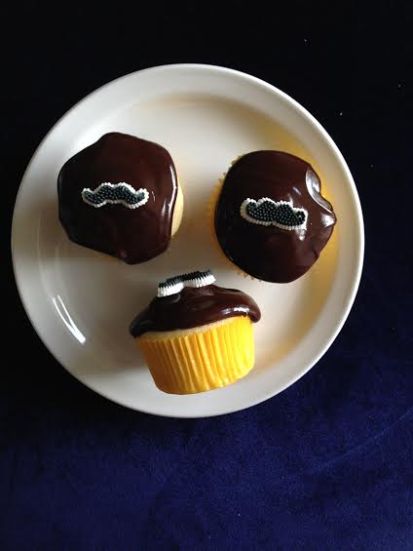 (How cute are those mustache candies? I found them at JoAnn's last fall and was so excited to use them for Father's Day!) The chocolate ganache could not be more simple. It is silky, shiny, thick, and gloriously chocolatey. Be warned. You will find yourself spooning this onto your mid-morning peanut-buttered English muffin. These Boston cream pie cupcakes are incredible and worth the extra (simple!) steps. Do it!
boston cream pie cupcakes
yields 12 (says the recipe; I got 15 out of it)
recipe barely adapted from cook's illustrated via brown eyed baker
ingredients
for the pastry cream:
1⅓ cups heavy cream
3 egg yolks (at room temperature; save the whites for an omelette or something!)
⅓ cup granulated sugar
pinch of salt
4 teaspoons cornstarch
2 Tablespoons unsalted butter, chilled and cubed
1½ teaspoons vanilla extract
for the cupcakes:
1¾ cups all-purpose flour
1 cup granulated sugar
1½ teaspoons baking powder
¾ teaspoon salt
12 Tablespoons unsalted butter, softened but still cool, cut into 12 pieces
3 eggs at room temperature
¾ cup milk (I used 2%; recipe says whole)
1½ teaspoons vanilla extract
for the chocolate ganache:
¾ cup heavy cream
¼ cup light corn syrup
8 ounces bittersweet or semisweet chocolate, finely chopped
½ teaspoon vanilla extract
directions
1. Make the pastry cream:
a. Heat the heavy cream in a medium saucepan over medium heat until simmering, stirring occasionally. Meanwhile, whisk together the egg yolks, sugar, and salt together in a medium bowl. Add the cornstarch and whisk until the mixture is pale yellow and thick. 
b. When the cream reaches a full simmer, very slowly drizzle it into the yolk mixture, whisking the entire time until incorporated. Return the mixture to the saucepan and cook over medium heat, whisking constantly, until thick and glossy (like hot pudding). Remove the pan from the heat and whisk in the butter and vanilla extract until the butter is completely melted. Transfer the pastry cream to a small bowl and press plastic wrap directly on the surface. Refrigerate until set, at least 2 hours or up to 2 days.
2. Make the cupcakes:
a. Preheat oven to 350°. Line a standard-size muffin tin with paper liners and set aside. (As I said before, the recipe states it yields 12. I got 15 cupcakes – feel free to bake them plain or just make more Boston cream ones. There is plenty of filling and ganache to go around!)
b. In the bowl of your stand mixer and on low speed, mix together the flour, sugar, baking powder, and salt. With the mixer still running, add one Tablespoon of butter at a time and mix until it looks like coarse sand. Add in the eggs, one at a time, and make sure to scrape down the sides and bottom of the bowl in between each addition.
c. Add the milk and vanilla extract, and increase the speed to medium. Beat everything together until light, fluffy, and incorporated, and make sure to scrape down the bottom of the bowl again.
d. Fill the muffin cups ¾ of the way and bake for 18-20 minutes, until a tester inserted into the middle comes out clean. Let the cupcakes cool in the tin for 5 minutes and then transfer them to a wire rack to cool completely.
3. Make the chocolate ganache:
a. In a small saucepan over medium heat, whisk together all of the chocolate ganache ingredients until smooth, thick and glossy. Remove from heat and let cool for 30 minutes.
4. Assemble the cupcakes:
a. Using a butter knife, cut out about a ½-inch circle from the top of each cake, tilting the knife toward the center of the cupcake so that you get an easily removable 'cone' of cake. Cut off a thin 'lid' from each of these cones and set aside. (Just snack on the fluffy middles!)
b. Place a heaping measuring teaspoon-full of pastry cream into each cupcake, and top with the reserved 'lids.' Spoon chocolate ganache over the tops and let the cupcakes sit in the refrigerator for 10 minutes before serving. (Cupcakes keep in an airtight container in the fridge for up to 2 days. Let them come to room temperature before devouring!)
Enjoy!
R xoxo
Advertisement
Share this:
Like this:
Related