Hello dah-lings! It's been a while. I was in Italy with mother queen and sister queen, eating our weight in spectacular pasta and Ferrero Rocher gelato. It's the stuff of food intolerance dreams, really. Continuing the discussion of things that are spectacularly delicious are these cookies. I made these for a friend's party several weeks ago and have been dying to share the recipe: soft, gooey cookies stuffed with chocolate-covered potato chips and chunks of English toffee. Call me crazy, it's ok.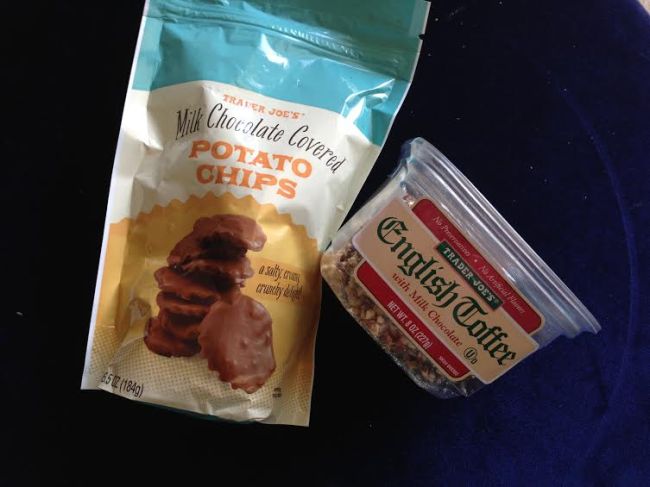 My friend Garrett adores my chocolate chip cookies, so my plan was to make those for his party. But I was walking around Trader Joe's in search of sugar (P.S. They had run out. ??) and got lost amidst all the delicious munchies they had on display. I remembered my white chocolate chunk macadamia pretzel cookies and picked up a bag of their chocolate-covered potato chips and a box of English toffee bars for the same salty-sweet kick I love so much.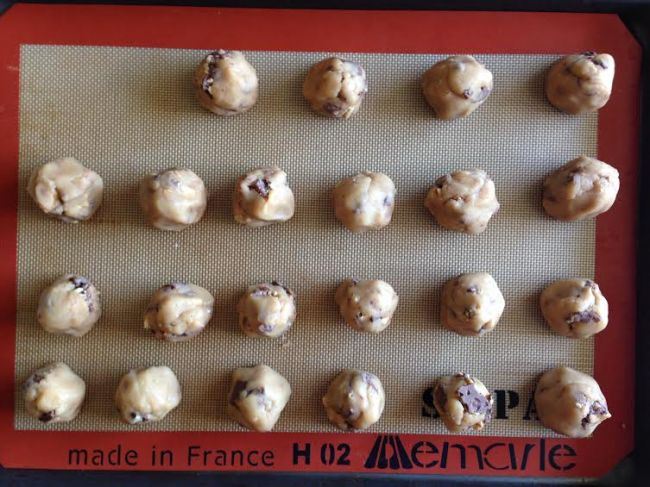 I used the same cookie dough base as my chewy chocolate chip cookie cake (thanks, America's Test Kitchen, for being so geeky and wonderful) and threw in some chopped English toffee and plenty of chopped chocolate-covered potato chips. (Side note – when baking your cookies, they are not supposed to be this close together on your sheet. That picture is just post-rolling the dough balls and pre-lining them up appropriately.) The key to these cookies' deliciously chewy texture is melted butter and an extra egg yolk, and they stay super thick and soft because you will chill the raw dough before baking it. So worth the extra couple hours!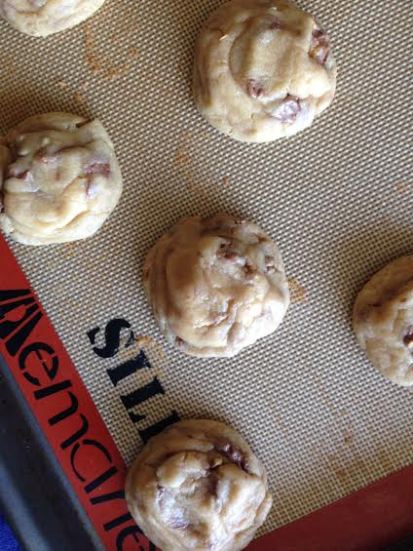 I could not get enough of these thick and soft cookies, and the party goers ate them before their dinner! Every bite is ooey-gooey-chewy-chocolatey and chock-full of aromatic English toffee and the salty crunch of potato chips. These cookies are a texture and flavor explosion! Make them, and thank me later!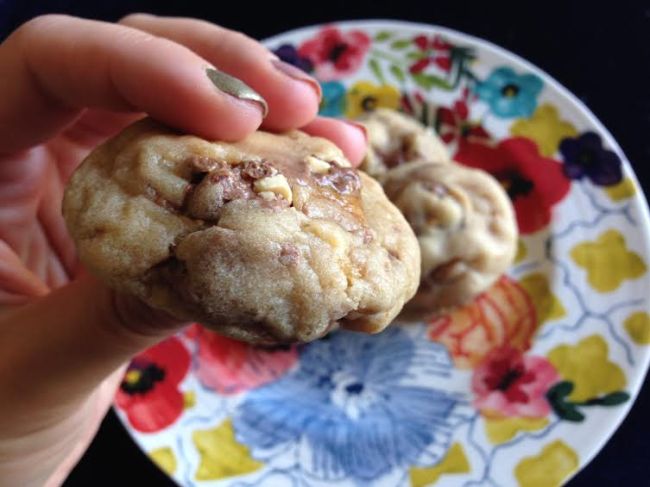 chocolate-covered potato chip and english toffee cookies
(makes about 2 dozen cookies)
ingredients
2 ¼ cups all-purpose flour
1 ½ teaspoons cornstarch
1 teaspoon baking soda
½ teaspoon salt
¾ cup unsalted butter, melted and slightly cooled
½ cup granulated sugar
¾ cup brown sugar, loosely packed
1 large egg and 1 egg yolk
2 teaspoons vanilla extract
½ cup roughly chopped chocolate covered potato chips
½ cup roughly chopped English toffee
directions:
1. In a large bowl, toss together the flour, cornstarch, baking soda, and salt. Set aside.
2. In a medium bowl, whisk together the melted butter, both kinds of sugar, the egg and egg yolk, and the vanilla extract until well-combined. Add the wet ingredients into the large bowl of dry ingredients and whisk together until a thick and smooth dough forms.
3. Fold in the potato chips and English toffee. Cover bowl tightly and refrigerate dough for at least two hours.
4. Let bowl sit at room temperature for ten minutes, while the oven preheats to 325°. Line two baking sheets with silicone baking mats or parchment paper.
5. Roll together two Tablespoons of dough per cookie, and stagger the dough balls on the prepared baking sheets. Bake for 11 minutes. (For firmer, more golden cookies, bake a maximum of two minutes more.)
6. Let cookies cool on baking sheets for 10 minutes before allowing to cool completely on a wire rack. Dig in, and enjoy!
R xoxo
Advertisement
Share this:
Like this:
Related