Don't you just love it when berries are in season? There is nothing that makes me happier. In fact, I've learned that one can go blueberry picking in Louisiana in just a couple short weeks. It's happening. Two weekends ago, I picked up loads of fresh raspberries, blueberries, and strawberries. While I thoroughly enjoy a simple bowl of berries and whipped cream, I wanted to incorporate the blues and reds in my fridge into a hearty breakfast bar I could eat for breakfast throughout the week.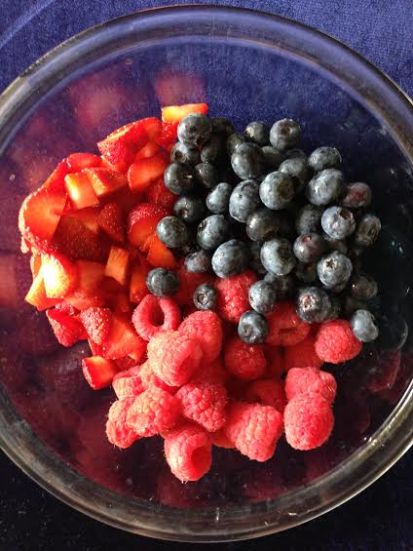 These fresh berries get treated very simply in this recipe. #respecttheberries. You just wash them and set them aside until you're ready to throw them over the crunchy oat base. Seriously. Once they're layered, a simple drizzle of lemon juice, some cornstarch, and a slight touch of sugar get sprinkled over the berries. That's it! You will get a burst of juicy berries in every single bite of these bars. Sweet, a little tart, yum.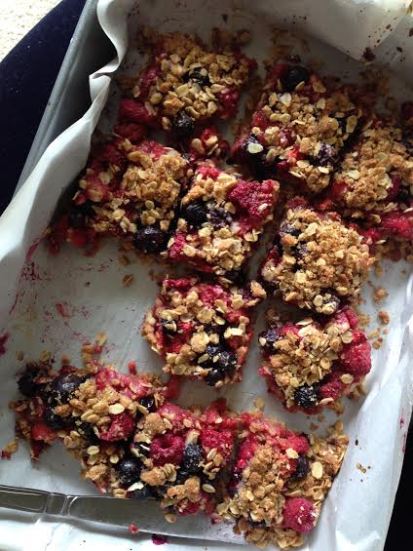 The dense, slightly crunchy base of these bars is divine. It is full of oats, whole wheat flour, and just enough brown sugar to caramelize ever so wonderfully. This oat and flour mixture serves double-duty as the crumble topping. It bakes like a crisp or crumble and just adds another layer of texture to these breakfast bars. Want to know something amazing? You mix the base together right in the baking dish. No mixer required!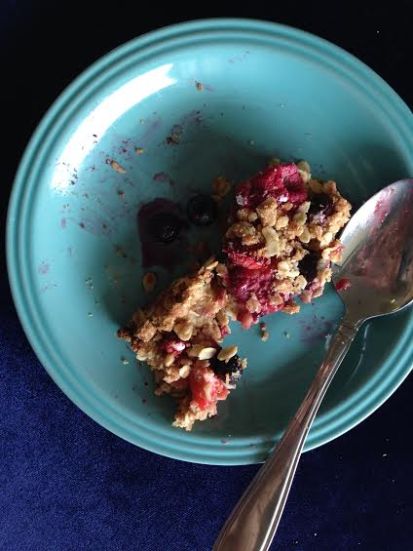 In fact, if you're impatient like me, eating these bars pretty fresh from the oven result in more of a crisp/crumble structure. AKA a spoon is required. It is freaking delicious. These bars could work as a dessert, too, with a scoop of vanilla ice cream on a warm bar. The beauty of these breakfast bars is that they aren't a recipe that requires perfect measuring or cutting or anything. I loved them even more when they were cooled, if possible. They are actual bars at that point, and so wholesome and delicious, it's ridiculous. It's as if you tossed delicious berries into a bowl of crunchy granola. Mm-mmm.
triple berry and oat breakfast bars
yields one 9×13 pan (can easily be halved)
ingredients:
2 cups old-fashioned rolled oats
1 ½ cups plus up to ¼ cup extra of flour (either all-purpose, whole wheat, or a mix of the two)
1 cup brown sugar (I used light)
heaping ½ teaspoon salt
1 ½ sticks melted and slightly cooled butter
2 teaspoons cornstarch
2 Tablespoons lemon juice
2 Tablespoons granulated sugar, divided
4 cups mixed berries of choice
directions:

1. Preheat oven to 375°. Line a 9×13 pan with parchment paper, leaving some overhang for easy removal.
2. In the baking pan, toss together, the oats, 1 ½ cups flour, brown sugar, and salt. Pour the melted butter over this mixture and use a rubber spatula or your hands to combine until crumbly. If the clumps feel too soft or damp, add in one Tablespoon at a time of that extra quarter cup of flour. Set aside 1 cup of this mixture to use as the topping.
3. Pat down the rest of the dough mixture into the bottom of the pan, making an even layer. Scatter half of the berries over the top. Sprinkle the berries with the cornstarch, lemon juice, and one Tablespoon of the sugar. Spread the rest of the berries over this, and sprinkle with the second Tablespoon of sugar.
4. Evenly crumble the reserved oat/flour/brown sugar over the top. Bake for about 45 minutes, or until the fruit looks bubbly and the top is all toasty brown.
5. To serve warm, let cool slightly and scoop out with a spoon. To make into bars, let mixture cool in the pan completely, and cut into squares. Store leftovers in the fridge.
Enjoy!
R
Advertisement
Share this:
Like this:
Related