One of my favorite snacks to make also happens to be really good for you. And it magically tastes just like raw cookie dough, so you know I can't get enough of these cookie dough bites! I find myself whipping out the food processor twice a week to make these little guys. They are packed with protein, fiber, healthy fats, and antioxidants.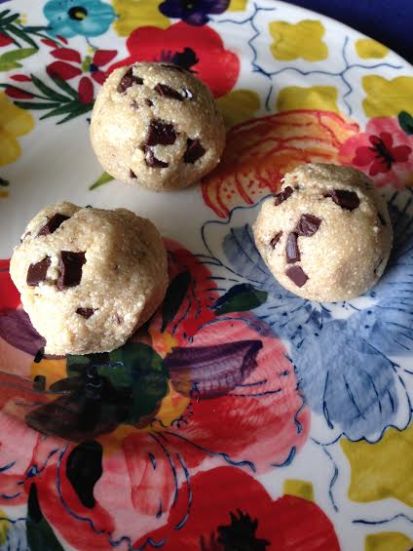 These cookie dough bites are mostly made of raw cashews and oats. Raw cashews are an incredibly versatile ingredient. When ground up, they lend creamy texture to whatever you're making, and their mild, almost neutral flavor makes them the perfect backdrop to these cookie dough bites. Raw oats are ground up with the cashews in this recipe to add fiber and cookie-dough taste. If you use certified gluten-free oats, these bites are also gluten-free!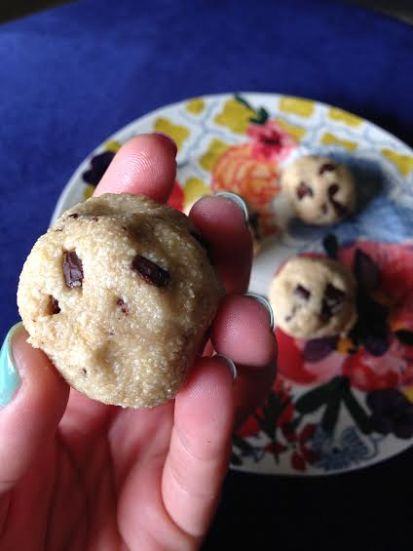 To hold everything together and add a touch of sweetness, you'll use just a little bit of agave and maple syrup. If you're not concerned about keeping these vegan, honey works really well in lieu of the agave. You can add whatever add-ins you like – I used chopped dark chocolate. Cocoa nibs will also work, and you can easily find vegan chocolate chips at most grocery stores. Dried fruit or peanut butter chips would also taste great! This recipe is really flexible and takes nothing but one minute in the food processor! I throw three or so in a little baggie and stick them in the fridge at work for whenever I need a sweet-tooth fix without the guilt!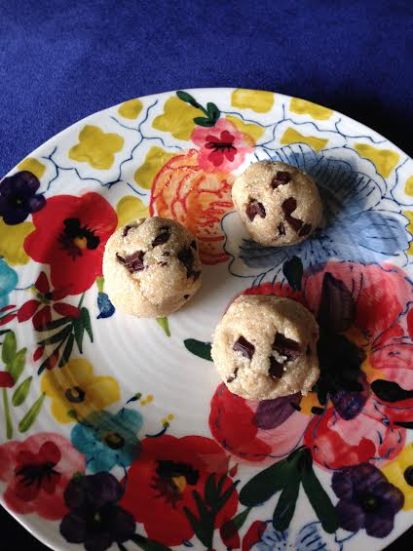 cookie dough bites
yields about 9 bites
(recipe from laurenconrad.com)
ingredients
⅔ cup raw cashews
⅓ cup oats
2 Tablespoons agave or honey
1 Tablespoon pure maple syrup
1 teaspoon vanilla extract
2 or 3 Tablespoons chocolate chips or cocoa nibs
directions
1. In a food processor, grind together the raw cashews and oats until they are finely ground.
2. Add the agave, maple syrup, and vanilla extract, pulsing until everything is combined.
3. Carefully remove the food processor blade and use a spoon or small spatula to mix in the chocolate chips.
4. Roll about 1.5 Tablespoons of dough per cookie bite (you can make them whatever size you like). Enjoy immediately or refrigerate until ready to eat!
R
Advertisement
Share this:
Like this:
Related