Let's talk about how utterly simple this apple sharlotka is to make, and also about how you need to make it for your mama for Mother's Day. I'm talking five-ingredient simple. I made this several months ago (…I know…timely blogging) and am heavily considering whipping up another very soon. The sharlotka is a traditional Russian confection. I trusted Deb Perelman's recipe, since she got it from her Russian mother-in-law. The sharlotka is made more of fruit than actual cake. But even cake is not the right word, since no butter is involved and there isn't a hint of leavener in here. Confused? Let's start at the beginning.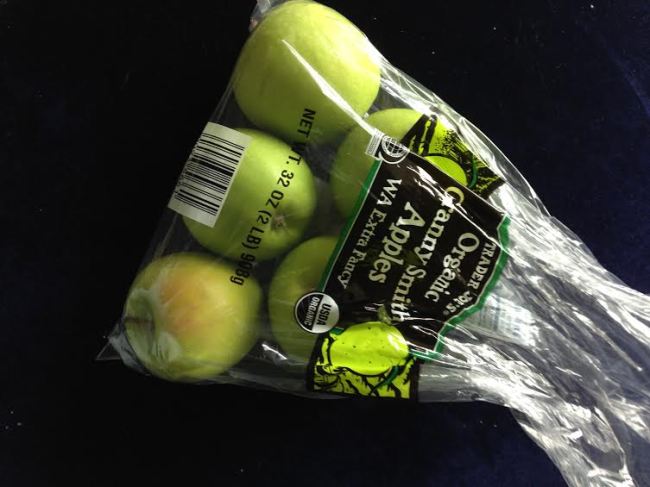 How do you like them apples? You'll start with beautiful, tart apples. Peel. Core. Chop. It's all worth it. The apples will fill a springform pan nearly to the brim and soften ever so perfectly as they bake, surrounded by an ethereally light and delicately sweet blanket of velvety batter. Don't be alarmed at the sheer quantity of apple chunks. And don't worry about whether it seems you have enough batter!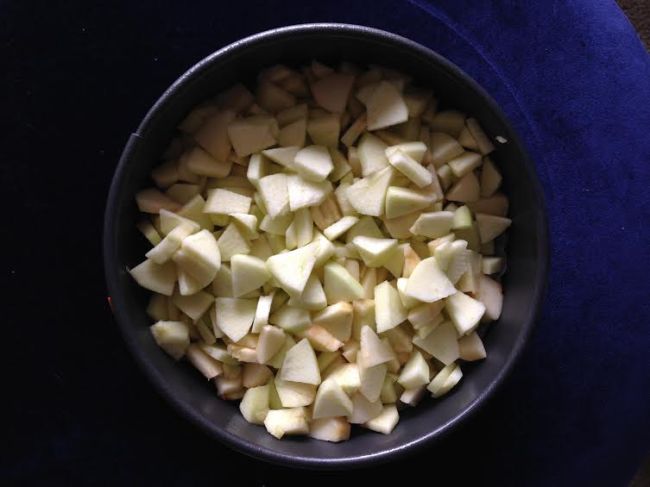 The batter could not be more simple to make. You'll just let 3 eggs whisk up with some sugar, and add in a touch of flour to help it hold up. It's sweet but not too sugary, and while thick, it's perfectly light and bakes up with a crackly, golden-brown crust on top. The middle of the apple sharlotka is unbelievably moist and soft. Enjoy this for breakfast, as a part of Sunday brunch, or with afternoon tea. This is probably too adulterated from the Russian classic, but I don't think many people would object to having a slice of this with some vanilla ice cream for dessert. Get to it!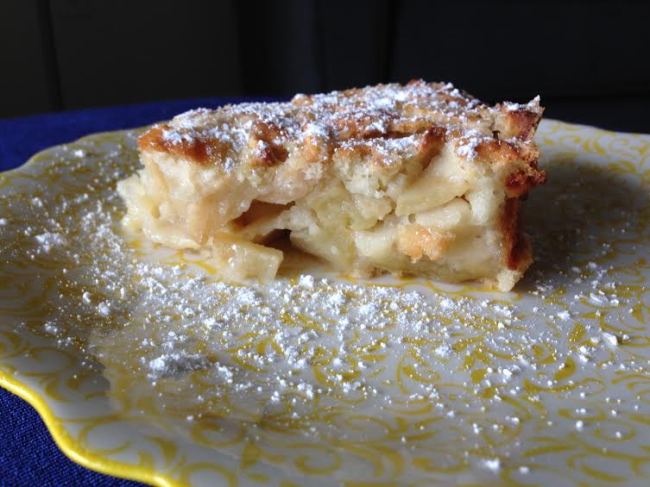 apple sharlotka
yields one 9-inch sharlotka
(recipe from deb perelman)
ingredients
6 large, tart apples (I used Granny Smiths)
3 large eggs
1 cup granulated sugar
1 teaspoon vanilla extract
1 cup all-purpose flour
directions

1. Preheat oven to 350°. Line the bottom of a 9-inch springform pan with parchment paper. Using butter or nonstick spray, coat the paper and the sides of the pan thoroughly. Set aside.
2. Peel and halve your apples. Once you've cored them, cut each half into several 'strips' and run your knife in the other direction to create somewhat thin chunks (see picture above). Throw all apple chunks into the prepared pan and set aside.
3. In a large bowl, using either an electric mixer or a whisk, beat together the eggs and sugar until thick and ribbons form on the surface. Beat in the vanilla, and then with a wooden spoon, mix in the flour. The batter will be really thick!
4. Pour the batter over the apples in the pan, and use the wooden spoon to press it down and make sure it coats all the apples, helping the batter sink to all the crevices. The top of the batter should be even with the top of the apples.
5. Bake for 55-60 minutes, until a tester comes out clean from the middle. Allow to cool on a rack for 10 minutes, then carefully flip out the sharlotka onto another rack to peel off the parchment paper. Flip back onto a dish and dust with powdered sugar if desired.
Enjoy!
R
Advertisement
Share this:
Like this:
Related