Spring is here, the skies are blue, etc! Louisiana strawberries are all over the place, too, and this makes me extremely happy. I love strawberries. I also love almonds, and have been curious to try my hand at baking with almond flour. I am not supposed to eat wheat or dairy, but as you can see from all of my kitchen adventures, I am a terrible medical patient, with my hand perpetually in a bowl of cookie dough. Every now and then, though, I'll be good and stick to what I'm allowed to have – and this cake made it delicious and easy to do so!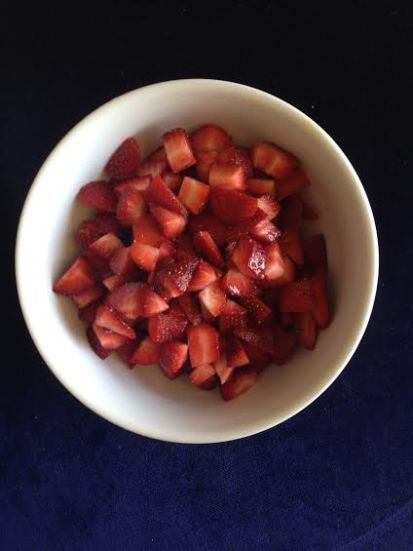 This almond-flour cake is absolutely packed with fresh strawberries in every bite. They taste sweet and slightly tart, and they add lots of moisture to the cake. I would think this recipe would taste amazing with blueberries instead, or even chopped peaches. Although the strawberries are delicious, I must say I am a huge fan of this cake's texture.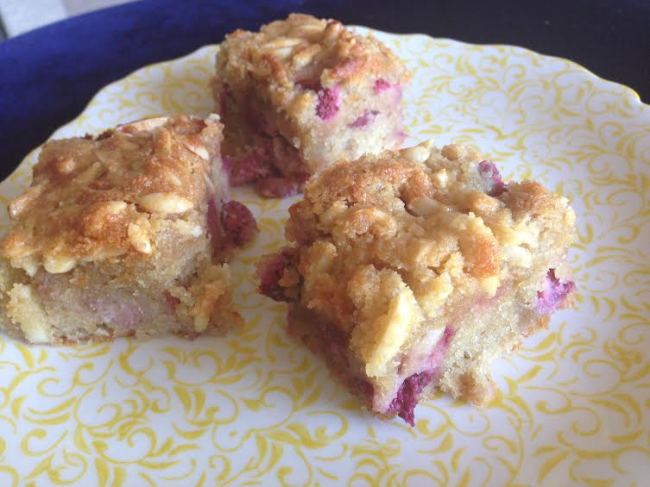 As we said before, the cake is incredibly moist. It also has a lovely crumbly, meal-y texture all at the same time, thanks to the almond flour. When the almond flour comes together with heaps of honey, it's just decadent. As soon as I took a bite of the raw dough (reason #943 I'm a terrible medical patient), the flavor combination and that unique texture reminded me of ma'amoul, a traditional Lebanese stuffed cookie that's made with semolina flour. So, so good.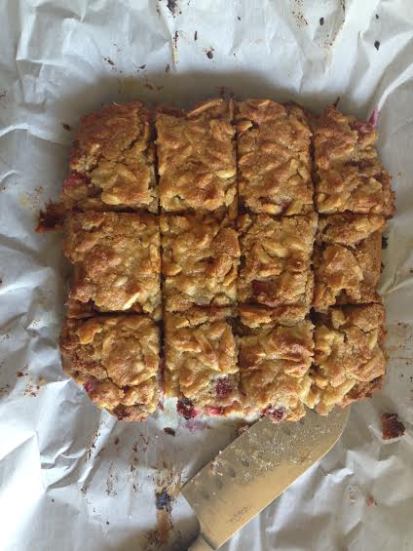 Even better is the slightly crunchy topping, made with butter, slivered almonds, and more honey. I could not stop eating this cake. It's perfect for spring afternoons, when the weather is glorious and you can smell summer around the corner. Almonds, honey, strawberries – such a lovely combination! P.S. This cake is one-bowl, too! Yet another reason for you to get up and make it, already.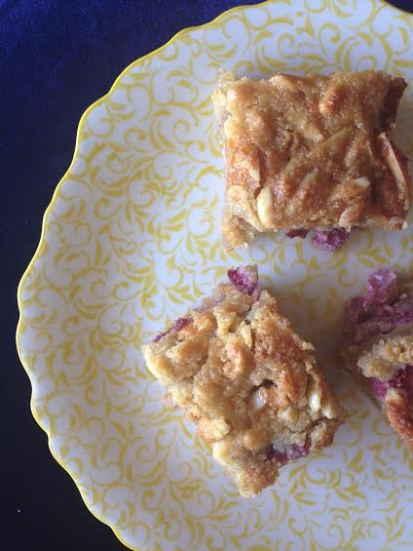 grain-free almond-strawberry cake
yields one 8×8 cake
(recipe adapted from tessadomesticdiva.com)
ingredients
for cake:
2½ cups blanched almond flour
¼ tsp salt
½ tsp baking soda
¼ cup butter, melted and slightly cooled
¼ cup honey
2 large eggs
1 teaspoon vanilla extract
2 cups diced strawberries
topping:
½ cup almond flour
3 tablespoons butter, softened to room temperature
6 tablespoons honey
½ cup sliced or slivered almonds
directions
1. Preheat oven to 350°. Line an 8×8 pan with parchment paper and set aside.
2. In a large bowl, mix together all of the cake ingredients up to the strawberries. Whisk or stir well to incorporate, then fold in the strawberries. Dough will be very thick.
3. Press the dough evenly into the prepared pan and set aside.
4. For the topping: In the mixing bowl you just used, use a pastry cutter or your hands to cut the remaining butter and flour together. Mix in the honey and almonds.
5. Evenly scatter the topping over the cake batter. Bake for 30-40 minutes, until the top is completely set/a toothpick inserted into the center comes out clean.
6. Cool, cut, and enjoy!
R
Advertisement
Share this:
Like this:
Related