More peanut butter and chocolate – is there anything better? I think not. You might remember these ah-mazing cheesecake-swirled fudge brownies from a while back. And I'm sure you remember these decadent Reese's peanut butter cup-stuffed dark chocolate cupcakes with peanut butter frosting. So why not let those two play together in a mixing bowl and inspire today's recipe?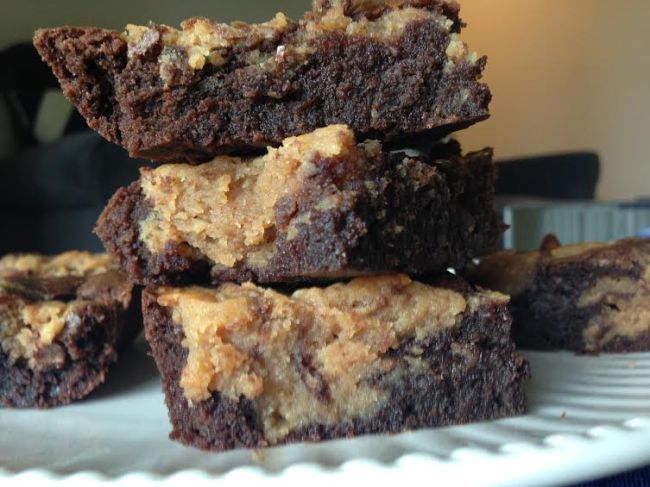 The brownies are, as always in my kitchen, super fudgy and thick and rich. I used the same recipe I always use – the exact one that is the base of those wonderful cheesecake-marbled ones. It is so simple and involves a bowl and a whisk and no waiting for butter to soften. You just melt it together with some chocolate and add in the rest. What I love most about this brownie recipe is how forgiving it is. Sometimes I measure out a precise ⅔ cup of flour, other times I use a scant 1-cup. No matter how I make them, these brownies are the perfect vehicle for other delicious things.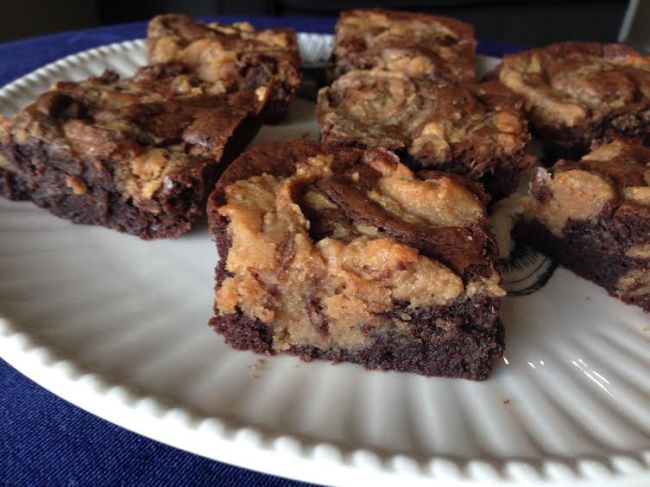 Like this amazing, thick swirl of peanut butter cheesecake. It's so simple to make, yet one of the best things I've ever tasted. You're whisking together peanut butter, cream cheese, some sugar, and an egg yolk. Come. On. So rich and satisfying. Rippling it into the fudgy raw brownie batter is really fun, too – just look how pretty those swirls are. One bite and you will fall in love – these brownies are soft, totally addictive, and are the perfect combination of chocolate and peanut butter!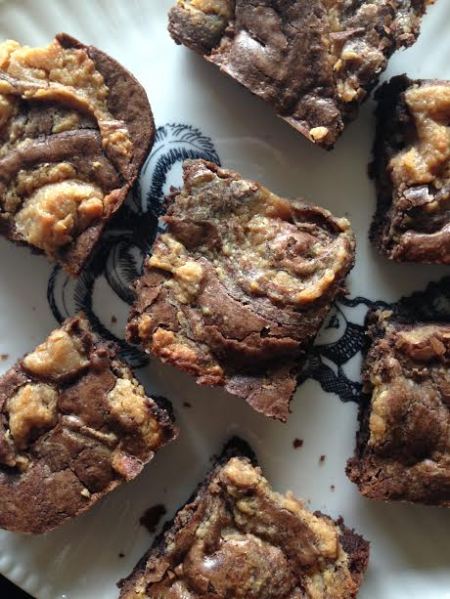 peanut butter cheesecake swirled brownies
yields one 8×8 pan (9 large, 16 small brownies)
(brownies via deb perelman, peanut butter layer via the baker chick)
ingredients
for brownie layer:
½ cup (1 stick) unsalted butter, cut into pieces
3 ounces semisweet or unsweetened chocolate, chopped
1 cup granulated sugar
2 large eggs
½ teaspoon vanilla extract
⅔ cup all-purpose flour
for peanut butter cheesecake layer:
6 ounces cream cheese, well-softened
⅓ cup peanut butter (a commercial kind like Jif is best)
⅓ cup granulated sugar
1 large egg yolk
¼ teaspoon vanilla extract
directions:
1. Preheat oven to 350°. Coat an 8×8 baking dish with nonstick spray and set aside.
2. In a heatproof glass bowl over a saucepan of simmering water, melt the butter and chocolate together, whisking occasionally until smooth. Remove from heat.
3. Whisk in the sugar, eggs, vanilla extract, and flour, mixing until incorporated. Pour this batter into the prepared baking dish and set aside.
4. In a small bowl, whisk together all peanut butter cheesecake layer ingredients until creamy and smooth. Place spoonfuls of this mixture on top of the brownie batter, using a knife to swirl the two together.
5. Bake for 30-35 minutes, until the edges are puffy and the middle is just set. Cool, slice, and enjoy!
R
Advertisement
Share this:
Like this:
Related