For the Easter season, I'm continuing my stuffed-cupcake trend with these beauties. A simple yet utterly flavorful and velvety vanilla cupcake gets the royal treatment with an entire Cadbury Creme Egg in the middle. There is far more creme egg than cupcake in this recipe, and oh boy, is it worth it.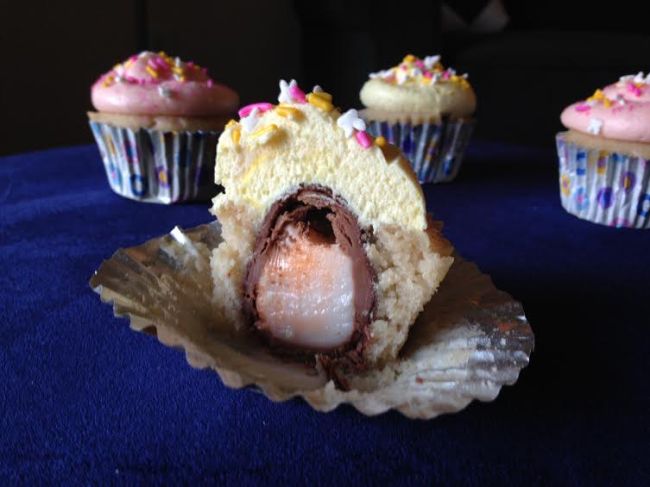 Look how amazing that is. The trick to a perfect creme egg-stuffed cupcake is to freeze the eggs first. That way, they won't melt and ooze out while the cupcakes bake. And super thick cupcake batter is essential. I used one of my favorite basic vanilla cupcake recipes for this one and topped the cupcakes with a simple vanilla buttercream.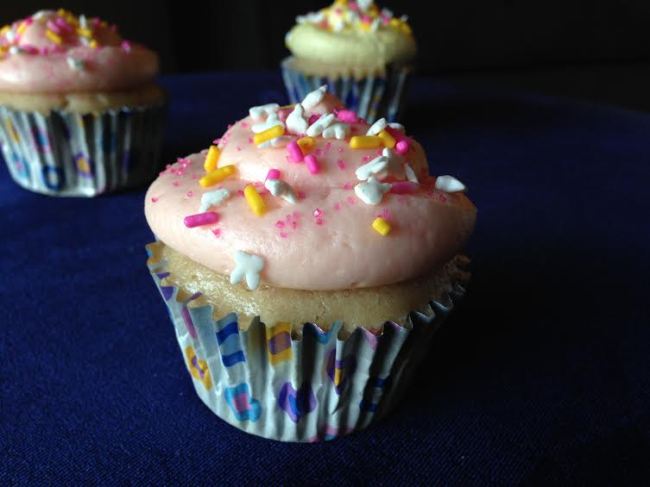 I split the frosting batch into two and dyed each a different color. Then, I topped the cooled and frosted cupcakes with spring-themed bunny sprinkles and sparkling sugar. So adorable, and so fun. But most of all, utterly decadent. You will definitely have to (not want to) share these cupcakes. Biting into the cupcakes is a texture adventure – with the smooth and creamy frosting, moist velvet cake, and gooey creme egg center, you will fall in love!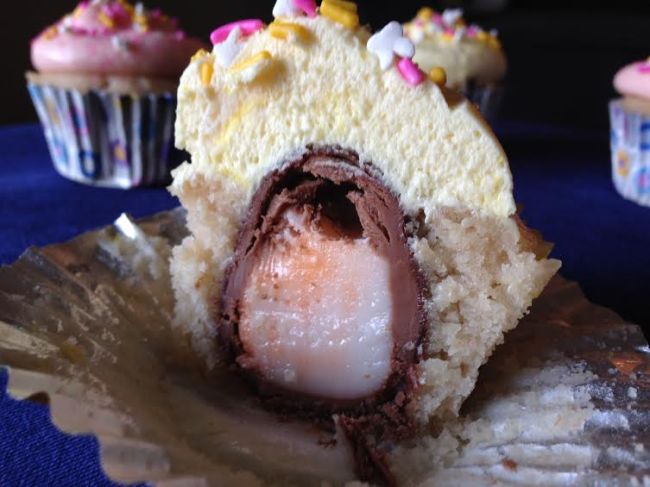 cadbury creme egg-stuffed vanilla cupcakes
(yields about 15 cupcakes)
ingredients
for cupcakes
1 and ⅔ cup all-purpose flour
½ teaspoon baking powder
¼ teaspoon baking soda
½ teaspoon salt
1 cup granulated sugar
½ cup (1 stick) unsalted butter, melted and cooled slightly
2 egg whites
¼ cup greek yogurt or sour cream
¾ cup milk
2 teaspoons vanilla extract
seeds scraped from ½ split vanilla bean (optional)
15 Cadbury creme eggs, frozen
for frosting
1 cup (2 sticks) unsalted butter, softened to room temperature
4-5 cups confectioner's sugar
¼ cup heavy cream
1 teaspoon vanilla extract
seeds scraped from ½ split vanilla bean (optional)
salt, to taste
directions
1. Preheat oven to 350°. Line 15 wells in two muffin tins with paper liners. Set aside.
2. In a medium bowl, whisk together the flour, baking powder, baking soda, and salt. Set aside. In a large, microwave-safe bowl, melt the butter and let cool slightly. Whisk in the sugar. Add egg whites, yogurt, milk, and vanilla extract and mix well. If using, add the seeds from ½ a split vanilla bean and combine.
3. Slowly add the dry mixture into the wet ingredients and whisk until no longer lumpy.
4. Place one teaspoon of batter into the bottom of each muffin cup. Then place a Cadbury creme egg in each cup, standing up with the fatter end at the bottom (see pictures). Pour about two more teaspoons on top of the egg.
5. Bake for 19-20 minutes. It's ok if the eggs peek out a little. Let cool for about 5 minutes and then remove the cupcakes to a wire rack to cool completely.
6. Meanwhile, make the frosting. Using an electric mixer, beat the butter until fluffy. Slowly add in the powdered sugar, beating the whole time. Add heavy cream, vanilla extract, and vanilla bean seeds if using. Beat on high for two minutes. Add pinch of salt and beat until mixed. (You may play around with the amounts of powdered sugar and cream until you get the consistency you like.)
7. Frost cooled cupcakes and enjoy!
R
Advertisement
Share this:
Like this:
Related