Here's the deal with this banana bread: I didn't taste it. I, with the raw batter/cookie dough addiction, was not even slightly tempted to taste the batter. That is how banana-averse I am. I remember being four years old, at my grandparents' kitchen table, gagging as I tried to eat some banana slices. To this day, the smell of the blasted fruit alone makes me convulse (Sara, I am looking at you!). We've never been friends, bananas and I. Why did I even bother, you ask?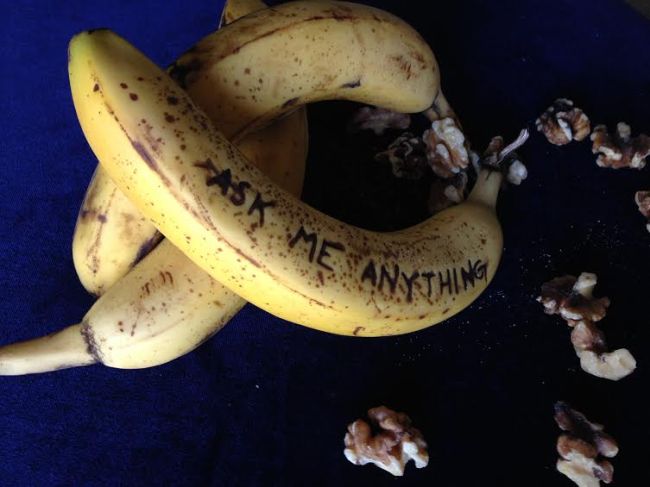 The banana with "ask me anything" written on it was handed to my on my way into the TEDxLSU talks two weekends ago. We were apparently required to have this banana for the purposes of Lauren Collignon's talk about how "it's all just bananas." I didn't want to throw away a perfectly good piece of fruit and thought it would be strange and possibly that's-what-she-said-joke-inducing to hand it to some random person there. I thought of the bag of walnuts in my pantry, picked up another couple bananas at the market, and boom. Toasted walnut banana bread was born.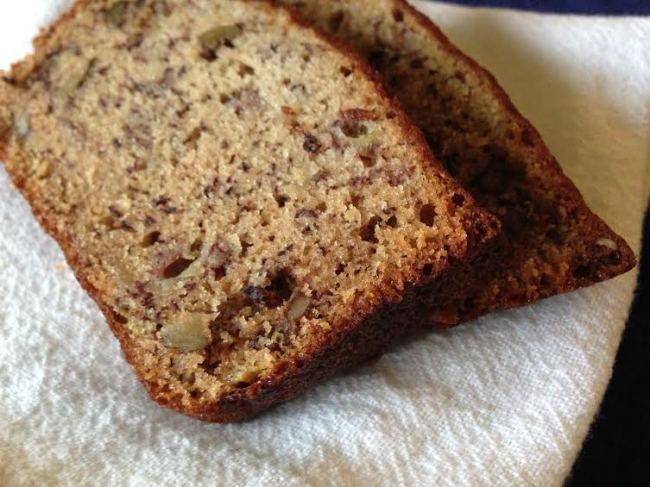 To be fair, this recipe by Beth Hensperger smelled divine while baking up in the oven. With plenty of cinnamon and that warm, welcoming scent of toasted walnuts, I knew this recipe was a winner. The recipe also calls for canola oil as its fat, which always says "perfectly moist crumb" to me in loaf recipes like this. When I cut a few slices, the texture was just incredible. If you like banana bread, this could be your recipe – someone at work said it was the best they'd ever had. And the loaf had vanished within 45 minutes of me putting it on the break room table. When life hands you bananas, make banana bread. If you're totally resistant to it like I otherwise would have been, check out my parmesan-kalamata quick bread recipe or my recipe for cinnamon white chocolate quick bread. I got you!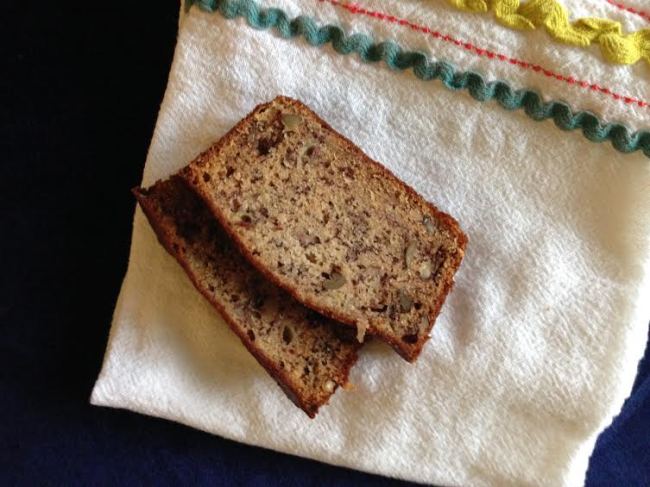 toasted walnut banana bread
yields one 9×5 loaf
(recipe from Beth Hensperger at Food & Wine)
ingredients
¾ cup coarsely chopped walnuts (3 ounces)
1 ¼ cups all-purpose flour
1 teaspoon baking soda
½ teaspoon cinnamon
½ teaspoon salt
1 cup granulated sugar
2 large eggs
½ cup canola oil
3 medium overripe bananas, mashed (1 ¼ cups)
1 teaspoon vanilla extract
directions
1. Preheat oven to 350°. Coat a 9×5 loaf pan with cooking spray and set aside.
2. Toast the walnuts in a dry pan on medium heat, tossing frequently and stopping once fragrant. Set aside and cool.
3. In a medium bowl, whisk together the flour with the baking soda, cinnamon, and salt. In the bowl of a stand mixer, combine the sugar, eggs, and oil and beat at high speed until light-colored and creamy. Add the mashed bananas and vanilla and beat until smooth. Stir in the dry ingredients until thoroughly blended. Fold in the nuts.
4. Pour the batter into the pan and bake for 50-60 minutes, until the top of the loaf is springy and a toothpick comes clean when inserted into the center of the loaf. Let loaf cool in pan for 10-15 minutes and turn out onto a wire rack to cool completely.
Enjoy!
R
Advertisement
Share this:
Like this:
Related