I realize that it has been one week since I've made these cupcakes and I am just now sharing the recipe. Y'all…I apologize for withholding the sheer ohmygodwhycan'twestopeatingtheselongenoughtobreathe that is these cupcakes. My sister visited me last weekend and her one request was a cupcake of the chocolate-peanut butter variety. Let this recipe end your hunt for an insanely addictive, fudgy, peanut buttery, need-a-glass-of-milk chocolate-peanut butter cupcake.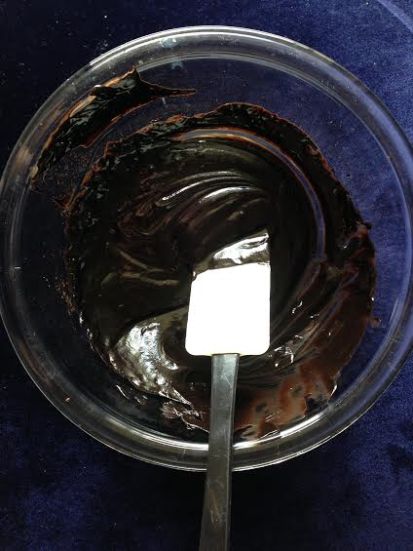 I mean, let's talk about that up there. That is melted chocolate and butter and cocoa powder and just…wow. If this is how we're starting? You know we will end up in cupcake nirvana. I opted for dark cocoa powder and honestly wouldn't have it any other way. You will be more than fine using regular, but if a dark-chocolate-fearful baker is telling you to use the dark – justdoit. When everything else is added to this glorious chocolate base, the result is a batter that is the consistency of chocolate mousse. You could cut it in slices. Oh my lanta.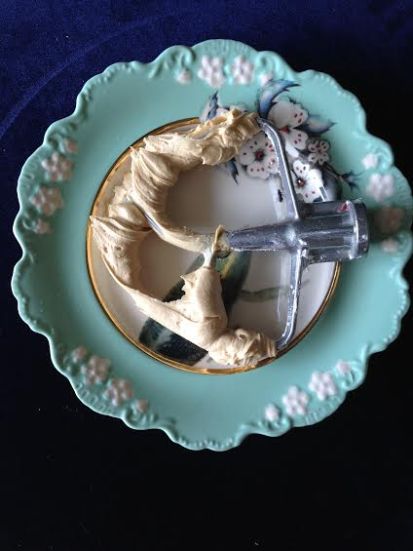 Let's make it all even better. That up there is the fluffiest peanut butter frosting imaginable. i.e. I wanted to make a sandwich with the leftovers but found a spoon-to-mouth method acceptable. It is light and airy but still rich and delicious. If you love peanut butter, just make this. It's sweeter than the peanut butter filling in the Reese's cup, so you're getting so many layers of peanut butter flavors.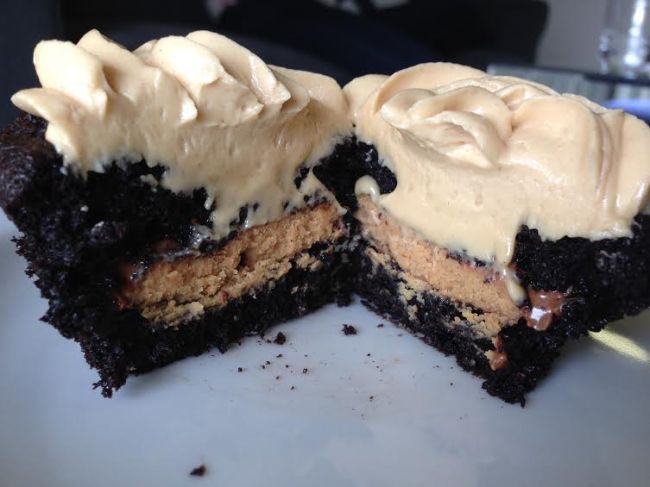 I KNOW. Just look at that. The cupcake is so fudgy and moist, it's ridiculous. And when you bite in, you get a glorious salted-chocolate flavor thanks to the saltiness of the Reese's peanut butter cup. With that peanut butter frosting and melty cup in the middle? For.Get.It. My sister was the victim of compulsive overeating that afternoon. When we got to dinner, I heard her say, "…I'm not even hungry." But, we were at a Southern Louisiana restaurant. We ate anyway. What? We own uber-stretchy yoga pants…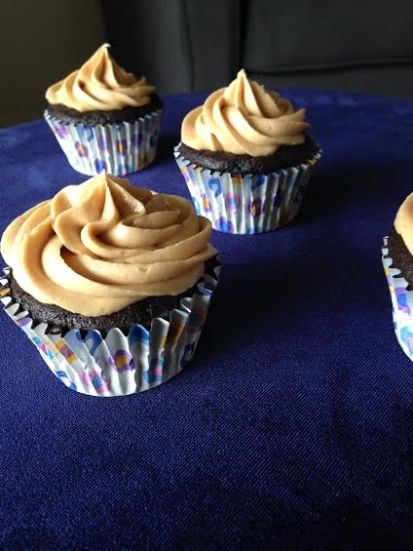 reese's-stuffed chocolate cupcakes with peanut butter frosting
makes 12
(recipe from cook's illustrated via twopeasandtheirpod)
ingredients:
for the cupcakes:
½ cup (1 stick) unsalted butter, cut into pieces
2 oz bittersweet chocolate, chopped
½ cup Dutch-processed cocoa
¾ cup all-purpose flour
½ teaspoon baking soda
¾ teaspoon baking powder
2 large eggs, at room temperature
¾ cup granulated sugar
1 teaspoon vanilla extract
½ teaspoon salt
½ cup plain Greek yogurt or sour cream
12 Reese's Peanut Butter Cups
for the frosting:
1 cup unsalted butter, at room temperature
1 cup creamy peanut butter
2 ½ cups powdered sugar
1 Tablespoon heavy cream (only if needed)
directions:
1. Preheat oven to 350°. Line a 12-cup muffin tin with paper liners and set aside.
2. In a medium microwave-safe bowl, put the butter, chopped chocolate, and cocoa powder. On 50% power and in 30-second bursts, melt together, stirring with a rubber spatula between bursts. Don't overmelt or get it too hot! Set the bowl aside to cool slightly.
3. In a small bowl, whisk together the flour, baking soda, and baking powder. Set aside. Whisk the eggs in a medium bowl to combine, then add the sugar, vanilla, and salt and whisk until totally incorporated. Add the cooled chocolate mixture to the bowl and whisk to combine.
4. Sift one-third of the flour mixture into the bowl and combine gently with a whisk. Add the Greek yogurt or sour cream and whisk to combine. Sift in the the rest of the flour mixture and whisk until everything is well combined. The cupcake batter will be really thick!
5. Place a spoonful of cupcake batter on the bottom of each cupcake liner. Place a Reese's Peanut Butter Cup on top of the batter. Cover the peanut butter cups with remaining batter, filling each almost to the top, leaving about half an inch. I had some extra batter – you can risk it and eat it raw (of course, this is what I did haha!) , or just bake into plain cupcakes. Bake until a toothpick inserted into the center of the cupcakes comes out clean, about 18-20 minutes. Remove the pan to a wire rack and let the cupcakes cool for a few minutes before removing them to cool completely on the wire rack.
6. While the cupcakes are cooling, make the peanut butter frosting. In the bowl of a stand mixer, beat butter and peanut butter until creamy. On low speed, add in powdered sugar. Mix until combined and add the heavy cream if the consistency isn't creamy/soft enough to be piped or spread. Mix until frosting is fluffy. You can add tiny amounts of powdered sugar and/or heavy cream to get the consistency you like.
6. Frost cooled cupcakes with the peanut butter frosting and enjoy!
R
Advertisement
Share this:
Like this:
Related