I have yet to meet a single person who doesn't like pizza. If you're out there, show yourself. And provide me with an explanation as to why you…don't like pizza. Glorious pizza, with a chewy-crispy crust and gooey cheese and tangy sauce and, yeah. Explanation. When people ask, "What's the food you would pick if you had to eat the same thing every day for the rest of your life?" I always say pizza – there's so much you can do with it! Savory, sweet, thick, thin, and you can top these bad boys with just about anything! My most recent pizza creation involved random veggies and a last-minute addition of chicken sausage.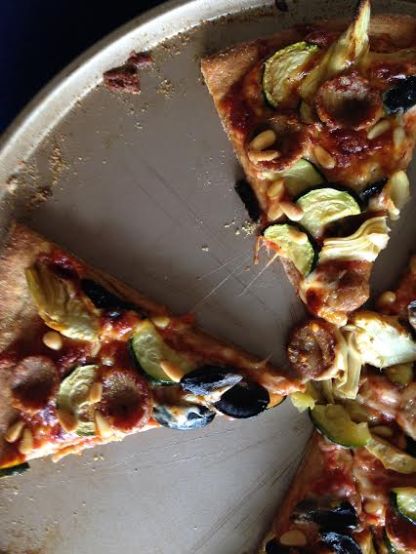 Most whole wheat pizzas have the tendency to make people sad. They're often dry and taste like cardboard. If you have had your heart broken by whole wheat pizza dough in the past, make this recipe. It's super easy, and I promise that using yeast is not as intimidating as you may think. Just give it a try! This recipe uses only whole wheat flour and yields an incredibly crispy crust at the same time (without a fancy pizza stone!). Healthy, delicious, and simple? Sign me up.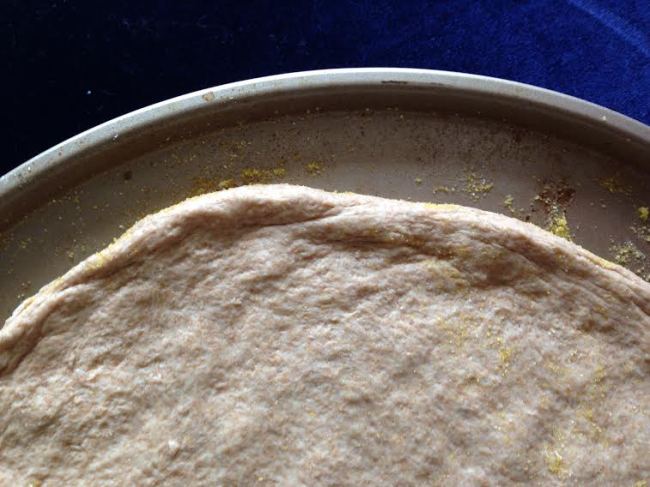 The pizza dough's first rise will take between 1 and 2 hours, so plan ahead. Trust in the process, though – a tiny bit of sugar, some honey, and a warm place will get the dough to double in size beautifully. After you've divided the dough (yes, you will have enough for two pizzas and can freeze one ball of dough for later!), it will need to rest for another 30 minutes while you preheat your oven and prep all your other ingredients. Easy!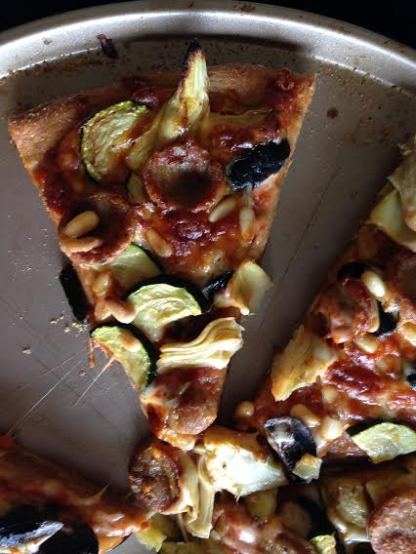 I sliced up some spicy Italian chicken sausage and crisped it up on the stovetop. I also sauteed some artichoke hearts and zucchini slices, and then toasted a handful of pine nuts to scatter over the top with black olives. All of these amazing flavors atop marinara sauce and gooey mozzarella? Divine! Even with all of those toppings, the crust held up so well and stayed crisp as all crispness could be. Make sure you sauté or roast your veggies first so they can let out their moisture, and sprinkling your baking pan with cornmeal will also ensure a crispy crust. You can top this pizza with whatever you want – just make sure you make pizza night happen ASAP! And invite me – I always want more pizza, and I promise to bring dessert!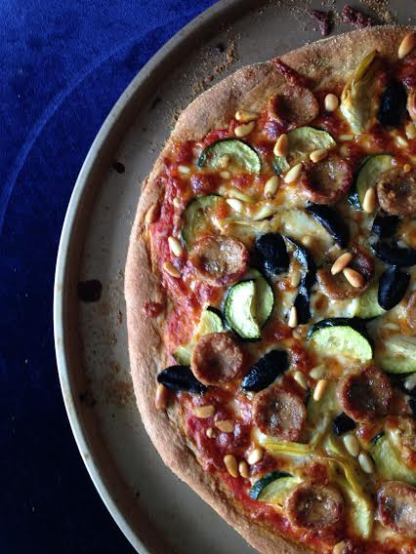 roasted veggie and chicken sausage whole wheat pizza
yields one 10-12-inch pizza

ingredients:
for pizza dough:
(dough recipe from sally's baking addiction)
This recipe makes enough dough for two pizzas. Either double the topping ingredients to make two pizzas, or lightly coat the second ball of dough with olive oil and freeze it tight in a Ziploc bag. To use it later, let it thaw in the fridge for 12 hours, set it on the counter top for 30 minutes, and then use as normal.
1 teaspoon granulated sugar
1 Tablespoon active dry yeast
1 ½ cups warm water (not too hot – aim for 105-115°F)
1 Tablespoon olive oil
1 Tablespoon honey
1 teaspoon salt
3 cups and ⅓ cup (extra) whole wheat flour, plus more for dusting
olive oil
for toppings:
1 zucchini, thinly sliced
½ cup quartered artichoke hearts, drained
1 3-ounce link spicy Italian chicken sausage, sliced
¼ cup sliced black olives
¼ cup toasted pine nuts
1 cup shredded mozzarella cheese
½ cup marinara sauce
directions:
You can make this using an electric mixer that has a dough hook attachment, or you can make it by hand. If using a mixer, simply start with the bowl that came with it.
1. In a large mixing bowl, stir together the sugar, yeast, and water. Let sit for 5 minutes, until the mixture is frothy. If this doesn't happen, your yeast is dead – buy a fresh bag and all will be fine! Add the olive oil, honey, and salt, mixing with a whisk or the hook attachment on your electric mixer for 30 seconds. Add 3 cups of flour and mix with the dough hook or a big rubber spatula until the dough begins to come together.
2. Knead the dough for five minutes using either the mixer on low-medium speed, or on a floured surface using your hands. If your dough is too wet, slowly add up to ⅓ cup more of flour. Your dough should now be smooth and elastic. If you poke it with your finger and it slowly starts to bounce back to its shape, it is ready to rise.
3. Lightly coat a large bowl with olive oil. Place your ball of dough in the bowl and turn the ball around until all sides have been slicked with some of that oil. Cover the bowl tightly with plastic wrap and set it in a warm, draft-free place. Let rise until it has doubled, about 1-2 hours.
4. Punch the risen dough down – it will deflate, don't worry! Divide this into two balls. See above the instructions in bold for instructions on how to freeze one ball of dough if making just one pizza. Set the ball of dough you are using for this pizza in a bowl and lightly cover it with plastic wrap. Let rest for 30 minutes while you prep everything else.
5. Preheat your oven to 475°. You want to do this step as early as possible to get your oven super hot and ready to make a crisp pizza. In a nonstick pan, cook the chicken sausage until browned; set aside. In a separate pan with some olive oil, sauté the zucchini and artichoke hearts until golden. Once cooked, toss in the olives and set the pan aside.
6. Coat a pizza pan with nonstick spray, and sprinkle cornmeal over the top. Take your ball of dough and pull it into a 10-12 inch circle right on the pizza pan. Brush the dough with a tad of olive oil and make light dents into the dough with your fingers to prevent the crust from bubbling. Evenly spread the marinara over the crust, and sprinkle the cheese on top. Evenly scatter the toppings all over the pizza, adding the pine nuts on top last.
7. Bake for 15-16 minutes, until the cheese has melted and the crust is golden. Slice and serve immediately!
Enjoy!
R
Advertisement
Share this:
Like this:
Related