Happy St. Patrick's Day! I hope your weekend has been filled with good music, great food, and whatever drink makes you laugh a little harder. To do my part in the feeding-other-people-delicious-things department, I made these delicious cupcakes for a St. Patrick's Day parade party I was at today. And yes – there is alcohol in the batter…and alcohol in the frosting. Maybe all that tasting is what caused me to drop an entire freshly frosted and decorated dozen onto my dining room carpet. No matter – this is a weekend of celebration. And this recipe makes two dozen, so you will have backup should you drink more than your share of beer and Baileys.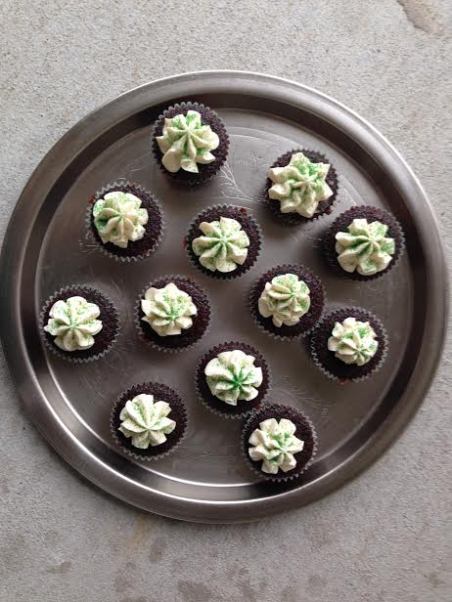 I'm not a big drinker. Heck, I'm not a drinker at all. But I still enjoyed every last bite of a couple of these babies. I haven't made these in over a year, and I honestly don't know why it took an Irish holiday for me to bust out the Baileys again. By melting butter right into some Irish stout, you are making an incredible flavor base for some kick-butt cupcakes. Whisking in cocoa powder just makes it all even better. And the chocolate doesn't end there if you don't want it to. Oh, no – I piped in a thick chocolate ganache right into the center of each cupcake. You can see a little bit of it oozing out under the buttercream in this next picture. Gah. Foodporn.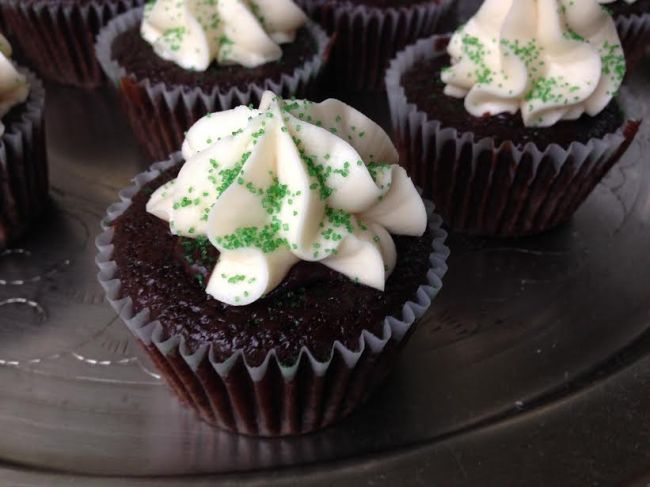 And this buttercream? Ridiculous. As soon as I tasted it, I commented to my friend Amineh that it was the smoothest buttercream I can ever remember making. It was still butter and powdered sugar. I guess Baileys is the secret to velvety, borderline illegally smooth buttercream frosting. It adds such depth of flavor and plays off the chocolate cake so beautifully. I guarantee you will love every bite of these cupcakes. The texture is just perfect, thanks to the beer and yogurt in the batter, and the extra hit of dense chocolate ganache and smooth buttercream can't be beat. And remember: "A cabin with plenty of food is better than a hungry castle."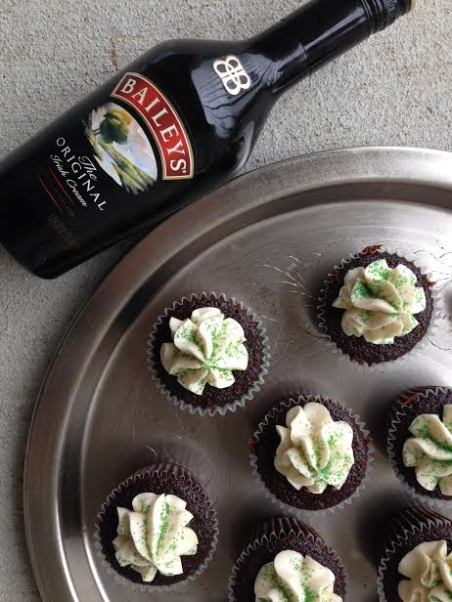 chocolate-irish stout cupcakes with baileys buttercream
(adapted from deb perelman; yields 24)
ingredients:
for the cupcakes:
1 cup stout (I used Killian's; Guinness works perfectly, too)
1 cup (2 sticks) unsalted butter
¾ cup unsweetened cocoa powder
2 cups all-purpose flour
2 cups granulated sugar
1 ½ teaspoons baking soda
¾ teaspoon salt
2 large eggs
⅔ cup yogurt (sour cream works great)
for the ganache filling (optional):
8 ounces bittersweet chocolate, chopped
⅔ cup heavy cream
2 Tablespoons unsalted butter, softened
1 teaspoon vanilla (Irish whiskey is an adventurous substitute)
for the Baileys buttercream:
Note: This recipe is enough to generously spread the 24 cupcakes. It is also enough to pipe it on high in the centers like I did in the pictures. If you prefer a very large swirl of frosting that covers the whole top, which I don't think these cupcakes need, double the buttercream recipe.
1 cup (2 sticks) unsalted butter, at room temperature
2 ½ cups powdered sugar
3 Tablespoons Baileys Irish Cream
directions:
1. Preheat oven to 350°. Line 24 muffin tins with paper liners and set aside.
2. Over medium heat, melt the butter into the stout, simmering. Whisk in the cocoa powder and set aside to cool slightly.
3. In a large mixing bowl, whisk together the flour, sugar, baking soda, and salt. Set aside. In the bowl of an electric mixer, beat together the eggs and yogurt/sour cream. Add chocolate-stout mixture and beat until combined. With the mixer on low speed, slowly add the dry ingredients, beating briefly. Use a rubber spatula to fold everything together.
4. Fill the muffin cups ⅔ to ¾ of the way full. Bake for 17 minutes, or just until a toothpick comes out clean. Set aside to cool completely.
5. Meanwhile, make the ganache if you wish. If you don't want to fill the cupcakes, skip to step 7. Put the chopped chocolate in a heatproof bowl. Heat the cream in a small saucepan just until tiny bubbles form on the edge. Pour the cream over the chocolate and let sit for a minute. Stir together until chocolate melts and ganache forms (you may need to pop it in the microwave for 20-second intervals, just until it all melts together). Stir in the butter until melted, and add vanilla/Irish whiskey. Set aside until it thickens.
6. To fill cupcakes, use the base a 1-inch-wide frosting tip or an apple corer to press down into the middle of each cupcake, going about ⅔ of the way. You may use a butter knife to help you get out the core. Fill a piping bag with the ganache and fill each cupcake hole with the ganache. If you don't have a piping bag, or simply don't want to use one, a small measuring spoon can be used to carefully fill the cupcakes.
7. To make the frosting, beat the butter with an electric mixer for a couple minutes, allowing it to become smooth. Slowly (a few Tablespoons at a time) add the powdered sugar, while beating continuously. Scrape down sides and bottom of bowl as necessary, and beat until completely smooth and incorporated. Add the Baileys and beat until mixed. If your frosting thins too much (mine didn't, so don't expect this to happen), simply add an extra Tablespoon at a time of powdered sugar, as needed, until you reach your desired consistency. Frost completely cooled cupcakes and enjoy!
R
Advertisement
Share this:
Like this:
Related