The weekend is almost over (womp womppp), but it has been one full of friends, errands, and delicious food. What more could a girl ask for? This morning, I whipped up some super-healthy whole wheat cinnamon vanilla waffles before I spent some time at the dog park and had lunch with my good friend Garrett. These waffles were the perfect start to my Sunday – and healthy to boot!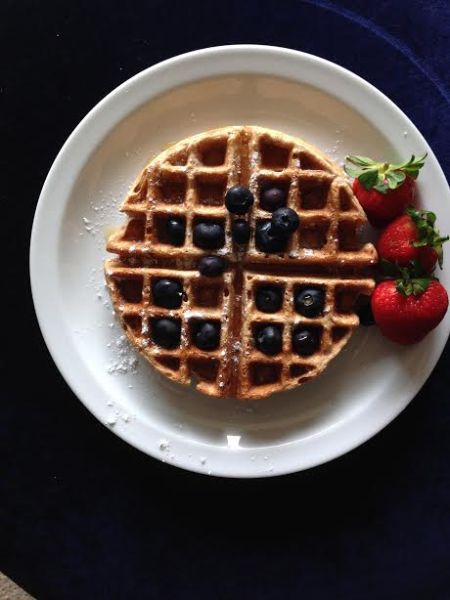 You would never know how healthy these waffles are just by tasting! Using only whole wheat flour often makes baked goods dense. These waffles, though, will be perfectly crispy on the inside, fluffy on the inside, and incredibly moist. And with just a touch of brown sugar, and applesauce instead of oil, you know you are getting a wholesome breakfast. Believe it or not, the waffle batter comes together in under five minutes, so I am also promising you weekday-appropriate waffles! Win 🙂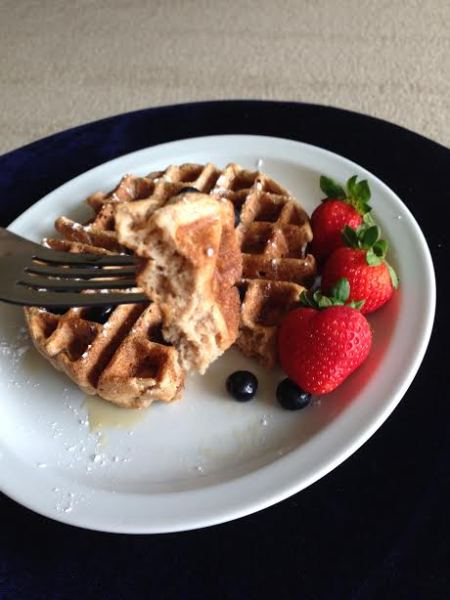 This is the waffle maker I use, and the recipe made three big, thick and fluffy waffles. Depending on your waffle maker's size and shape, the yield will vary. No matter, though – however big they turn out to be, they will be the perfect vehicle for some warmed maple syrup, a dusting of confectioner's sugar, and some delicious fresh fruit on the side.
whole wheat cinnamon vanilla waffles
(see above text for yield information)
ingredients
1 ½ cups whole wheat flour
2 teaspoons baking powder
½ teaspoon cinnamon
2 Tablespoons brown sugar
pinch of salt
1 egg
1 ½ cups milk (any kind works!)
⅓ cup applesauce
1 teaspoon vanilla extract
directions
1. Preheat your waffle maker per the manufacturer instructions. Spray with nonstick spray if recommended.
2. In a large bowl, whisk together the flour, baking powder, cinnamon, brown sugar, and salt. Set aside.
3. In a smaller bowl, whisk together the egg, milk, applesauce, and vanilla extract. Pour the wet mixture into the bowl of dry ingredients and whisk just until combined. Some lumps are ok!
4. Pour the batter into your waffle maker and let cook for as long as your instructions say. Serve with fruit, maple syrup, or even some peanut butter!
Enjoy!
R
Advertisement
Share this:
Like this:
Related