Mardi Gras weekend is upon us! I went to the Spanish Town parade today in Baton Rouge and caught more beads than could fit around my neck. Tomorrow and Monday will be spent in New Orleans – I am really excited, since this is my first Mardi Gras in wonderful Louisiana. But, enough about that for now, and let's focus on this flourless chocolate torte. Elegant and simple, decadent but light, this torte is perfection.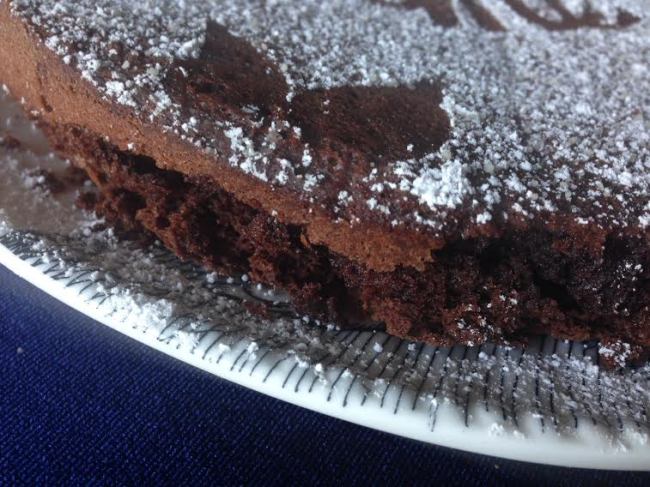 The edges get all crackly and imperfect, and it's absolutely smile-inducing. The recipe says that your torte will collapse and that should not be alarming. Mine sometimes do, but other times, like this one, they don't. Either way, you'll get to crack the top down and get the same pleasure you do when your spoon cracks the top of a creme brulee. The folks at Bon Appétit, where I got this recipe years ago, certainly know how to make a wonderful flourless chocolate torte. You don't even have to separate the eggs, it's so simple. All you need is a springform pan and a few ingredients you probably already have on hand. Lots of eggs, butter, chocolate chips, cocoa powder, sugar, and vanilla extract. That's it! This torte is naturally gluten-free. You won't even miss the flour.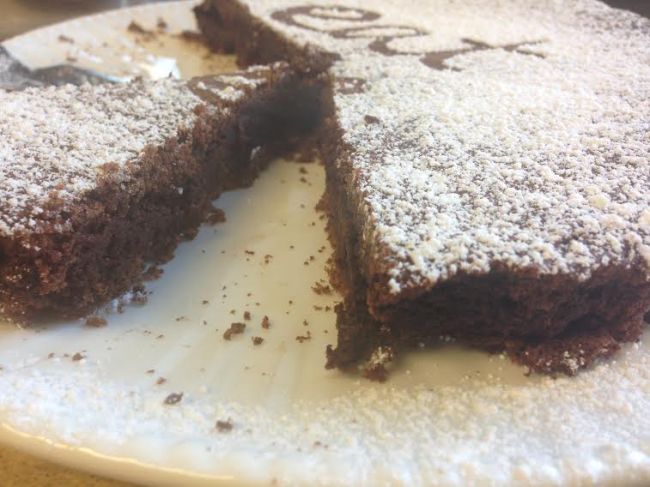 The torte is super-chocolatey and moist. But because of how much air you will whip into the eggs, the torte is also incredibly light and airy. I know that probably doesn't make sense, but you must make this and see what it's all about. A small slice is enough to satisfy your chocolate cravings, but you could also have a second one (no judgment from this kitchen!) and not feel nauseated. This flourless chocolate torte pairs well with fresh whipped cream, ganache, fruit, or a simple dusting of powdered sugar. I made an Alice-in-Wonderland-inspired stencil and went to town with the sugar!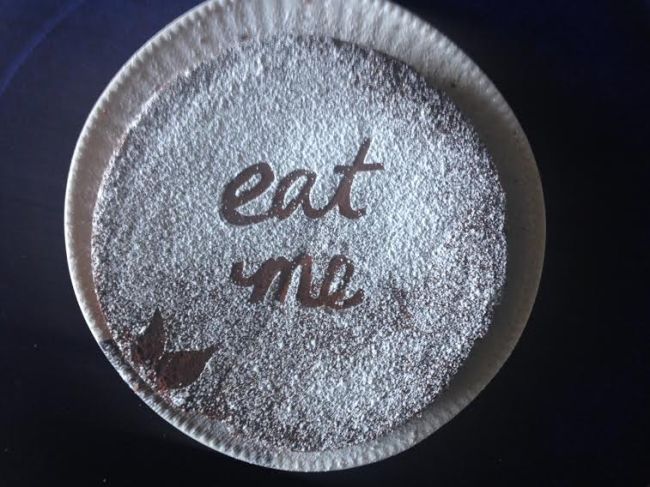 flourless chocolate torte
makes one 9-inch torte
ingredients
1 ⅔ cups semisweet chocolate chips
¾ cups unsalted butter
¼ cup unsweetened cocoa powder, sifted
1 teaspoon vanilla extract
5 large eggs
1 cup sugar
1 teaspoon salt
directions
1. Preheat oven to 350°. Butter a 9-inch springform pan and line the bottom with a circle of parchment paper cut to size. Butter the parchment as well. Set aside.
2. In a saucepan over low heat, melt together the chocolate chips and butter just until smooth. Remove from heat and stir in the cocoa powder and vanilla extract. Set saucepan aside to cool for at least 10 minutes.
3. Once the chocolate mixture has been cooling for about five minutes, crack all the eggs into the bowl of an electric mixer. Add sugar and salt. Beat on high until the eggs are very thick and pale yellow, about six minutes.
4. Slowly fold the cooled chocolate mixture into the eggs, combining well. Pour mixture into prepared springform and bake for 40-45 minutes, until a toothpick comes out clean. Remember: it's ok if your torte collapses!
5. Allow torte to cool on a wire rack for one hour, then use a rubber spatula to press the top down until it is even. It won't be perfect, but that's ok – this will become the bottom of your torte! Release the springform and turn torte out onto serving dish or platter. Remove parchment paper. Garnish once cooled completely.
Enjoy!
R
Advertisement
Share this:
Like this:
Related