Some of my absolute favorite foods are of the Mexican and Tex-Mex varieties. So many different fresh flavors and textures and spices – and so versatile! Put anything between flour tortillas and smother it in cheese, and I am one happy camper. This morning I woke up craving pico de gallo. I knew it probably wouldn't be a good idea to make full-on chicken and black bean enchiladas at 7 in the morning, but I threw together some classic Mexican flavors and combined those with the usual breakfast suspects: bacon and eggs. Heaven on a plate.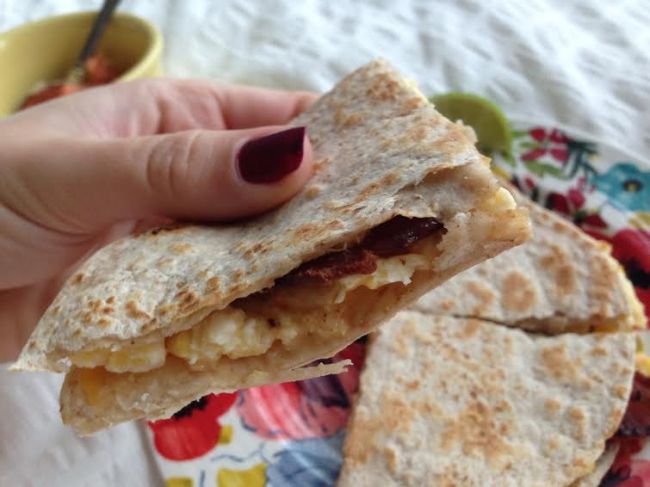 Gooey melted Monterey Jack and cheddar cheese, fluffy scrambled eggs seasoned with cumin and cayenne, and crispy center cut bacon, all stuffed between warm, crisped flour tortillas and topped with zesty pico de gallo. And you must add extra lime. I couldn't eat this breakfast quesadilla fast enough! It fueled me up for Sunday errands and kept me full until lunch, which is an amazing accomplishment. And these quesadillas come together so quickly – as soon as your bacon is cooked, you've pretty much completed the lengthiest part of the process. AKA you can make these on a weekday morning – I know I will!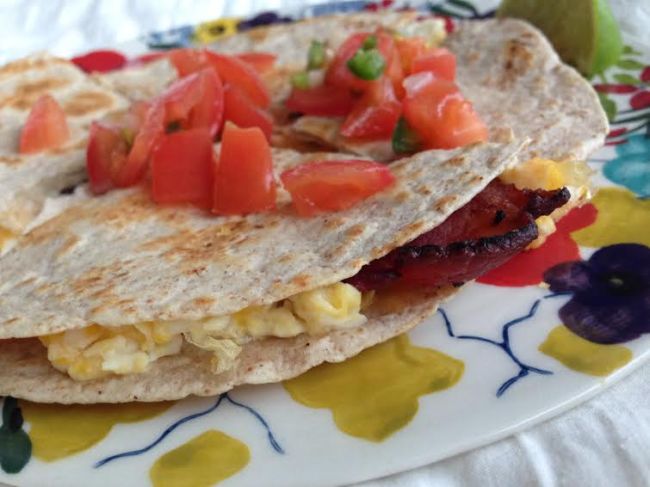 breakfast quesadilla
ingredients (for one quesadilla – can easily be doubled, tripled, etc.)
2 small tortillas (I prefer flour; corn will work, too, though)
2 slices bacon
2 eggs, lightly beaten
¼ cup shredded Monterey Jack or cheddar cheese
pinch of cumin
pinch of cayenne
pat of butter
¼ cup diced tomatoes
1 Tablespoon chopped onions
½ Tablespoon chopped jalapeno pepper
½ Tablespoon chopped cilantro leaves
juice of half a lime
salt and pepper
directions:

1. To make your pico de gallo, simply toss together the tomatoes, onions, jalapeno, and cilantro with the lime juice, adding salt and pepper to taste. Set aside while you prepare the quesadilla.
2. Over medium heat, cook bacon slices to desired crispness. Set aside. Leave some bacon drippings in the pan, and lower heat to medium-low. Pour the eggs into the pan, and season with cayenne, cumin, salt, and pepper, cooking through. Set aside. Add pat of butter to the pan and let melt, then bring heat up to medium.
3. In the pan, toast both sides of each tortilla for a few seconds, until golden brown and slightly crispy. Set one tortilla down in the pan, sprinkling half the cheese on top. Spread the scrambled eggs over the top, adding the bacon on top of that, along with remaining cheese. Top with second tortilla. Once bottom tortilla is browned and cheese is melted, flip quesadilla and cook for a couple more minutes.
4. Transfer quesadilla to a plate, and top with pico de gallo. If you like sour cream, have at it, too!
Enjoy!
R
Advertisement
Share this:
Like this:
Related