What do you do on a sick day?
I've heard you rest. I was given several talking-to's by coworkers and supervisors yesterday about the importance of sleep and this mysterious r-word. I've had the sniffles for a few days and felt them getting worse during the hump day workday.
"You're given sick leave for a reason."
"Get yourself some sushi and a mani-pedi."
"The best thing to do when you're sick is sleep…what I meant to say is, the best thing to do when you're sick is sleep when you should be working."
And my personal favorite: "No guilt."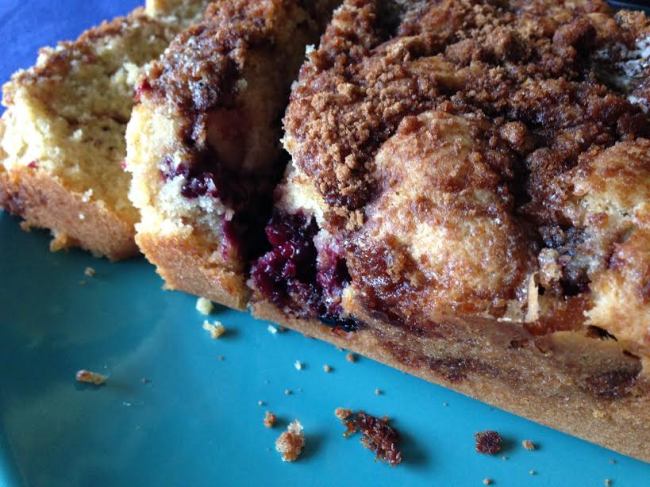 I tried. And I think I did well! To get some fresh air into these lungs, I went for a lovely little walk in the brief burst of warmer weather we're enjoying today. And while I didn't get any sushi or a mani-pedi, I watched more Netflix than I care to admit in public, nursing tea and fresh pineapple and some of this delicious cake. It is unbelievably good. So simple, and yet so good. It came together so quickly, I hardly remember preparing it at all! But my apartment now smells like cinnamon and brown sugar, and is there anything better? The batter is super-thick, too – perfect for holding up juicy blackberries!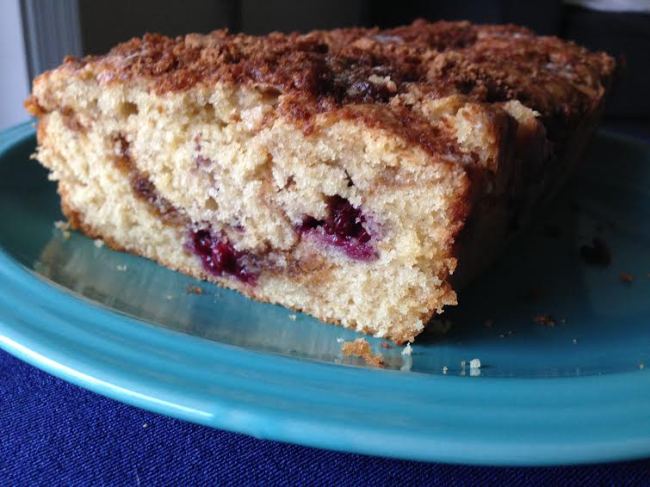 Something happened while I made this cake. I started to feel better. Functional. I mean…I'm sure laying motionless in bed for several hours helped, but it was soothing to bake something fresh and delicious. Who gets to do that at 2:00 pm on a Thursday? This cake has an amazingly buttery-crunchy lid on top, made of brown sugar and cinnamon. It seriously cracked when I cut myself a slice – but then, the knife slid through the cake like butter. The loaf is moist and loaded with butter, brown sugar, fresh blackberries, and milk – all adding a lovely velvety texture to the cake. And the cinnamon-brown sugar ripple through the middle of the loaf? Yum. Every bite is full of different textures and flavors. Crumbly sweetness, rich and dense and moist butter-vanilla cake, and bursts of tart blackberries. Slather some butter on a hot slice, or serve with a scoop of vanilla ice cream and a drizzle of honey. I think I like sick days. I most certainly like this blackberry cinnamon loaf. Now, let's work on some guilt reduction.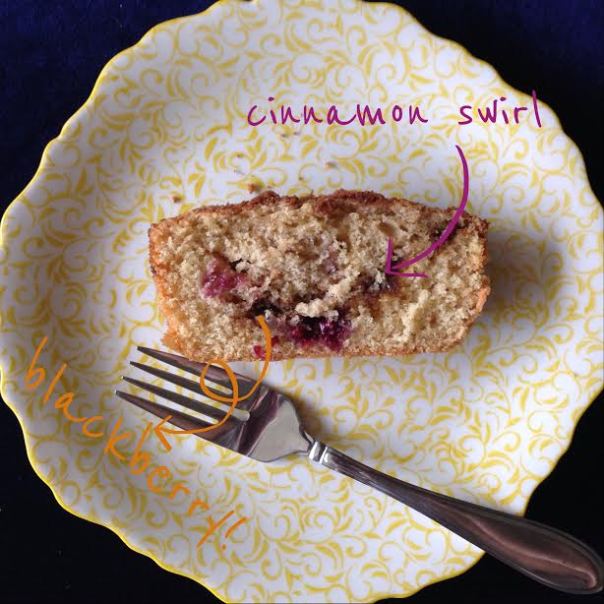 blackberry cinnamon loaf
makes one 9×5 loaf
ingredients
⅔ cup brown sugar, divided
½ Tablespoon cinnamon
1 ½ cups all-purpose flour
2 teaspoons baking powder
½ cup (1 stick) unsalted butter, softened to room temperature
⅓ cup granulated sugar
2 eggs, beaten
1 teaspoon vanilla extract
⅓ cup milk
1 cup blackberries, cut in half
2 Tablespoons butter
directions
1. Preheat oven to 350°. Coat a 9×5 loaf pan with nonstick spray and set aside.
2. In a small bowl, toss together the flour and baking powder. Set aside. In a separate small bowl, toss together ⅓ cup of the brown sugar and the cinnamon. Set this aside.
3. Using the paddle attachment on an electric stand mixer, beat together the butter, remaining ⅓ cup of brown sugar, and the granulated sugar until fluffy and light.
4. Add in the beaten eggs and vanilla, beating until incorporated and scraping the sides and bottom of the bowl as needed.
5. Slowly add in the flour/baking powder mixture, mixing just until combined. Then mix in the milk.
6. Spread half the batter onto the bottom of your loaf pan, spreading half of the blackberries on top and sprinkling with half of the brown sugar/cinnamon mixture. Fold the rest of the blackberries into the remaining batter and spread it on top of what you just laid down in the pan, sprinkling the top with remaining brown sugar/cinnamon.
7. Bake for 30 minutes. Remove briefly from oven and scatter chunks or pats of the 2 Tablespoons of butter on top of the loaf. Bake for 5 more minutes, until butter is melted and a toothpick comes out clean. Allow to cool on a wire rack for 15 minutes before turning over.
Enjoy warm  and wrap up any leftovers!
R
Advertisement
Share this:
Like this:
Related