Happy Valentine's Day!
To share the love, make these easy-peasy, from-scratch red-velvet sugar cookie bars that are topped with an Oreo truffle layer. Heart shapes optional, but totally adorable. These were kind of inspired by my super soft red velvet cookies but are chewier, denser, and easier to cut into shapes. They are also a match made in heaven for a super creamy Oreo truffle topping.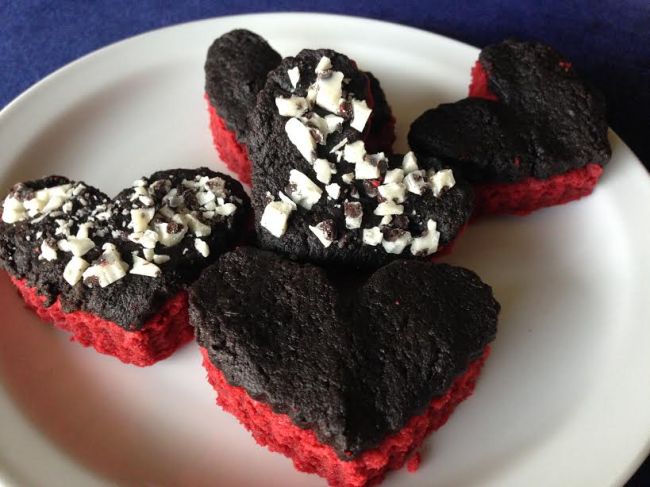 The Oreo truffle layer is so fudgy and picks up on the hint of cocoa in this batter. While this is a from-scratch recipe, I promise you it is super simple and super easy to make. And at least you'll be able to recognize the ingredients! The red velvet sugar cookie layer takes 5 minutes to make, and bakes up in 20 short minutes. In the meantime, you can whip up the Oreo truffle layer in 3 minutes flat. It is made with just two ingredients – the same as my no-bake Oreo truffles from around the holidays!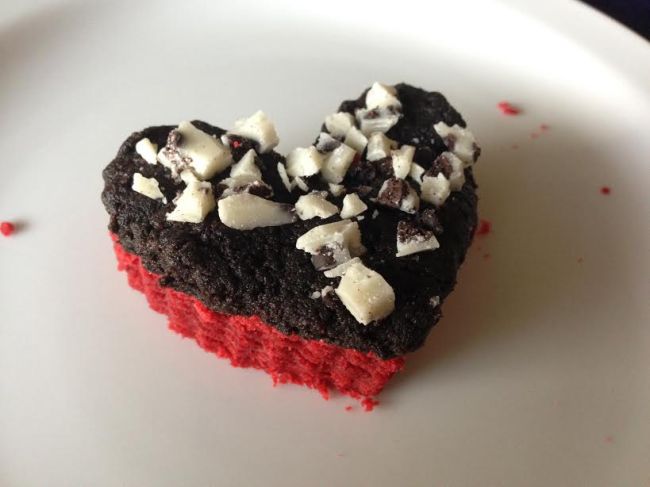 These cute little hearts are absolutely delicious and perfect for any day of the year. The red velvet sugar cookie layer is chewy, slightly sweet and provides an amazing contrast to the decadent Oreo layer on top. I sprinkled half of the bars with chopped up cookies-and-cream chocolate bars. Both versions were devoured before the morning was over. They were also so much fun to make – there is something about busting out cookie cutters that makes a kitchen nerd like me smile. Show someone you love them with a sweet homemade treat!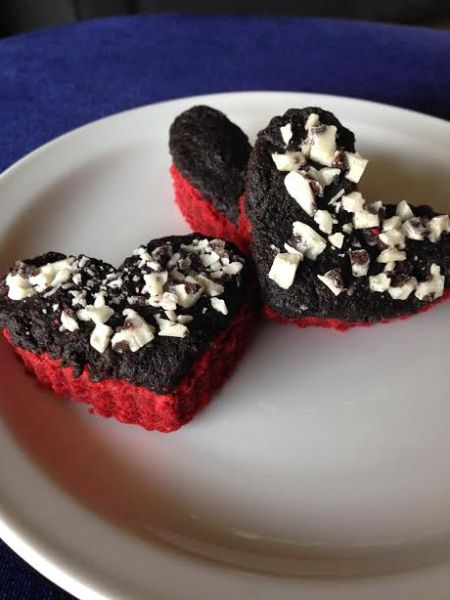 red velvet sugar cookie – oreo truffle bars
yields one 9×13 inch pan; with a 2.5-inch heart cookie cutter, yielded 21 hearts
(sugar cookie layer recipe from the recipe critic)
ingredients
3 ½ cups all-purpose flour
¼ cup cocoa powder (unsweetened)
½ teaspoon salt
1 teaspoon baking powder
1 cup (2 sticks) unsalted butter, softened
1 ½ cups granulated sugar
2 eggs
2 teaspoons vanilla extract
2 Tablespoons (one 1-ounce bottle) red food coloring
1 package Oreos
one 8-ounce package cream cheese, softened
directions
1. Preheat oven to 350°. Line a 9×13 inch baking pan with aluminum foil, leaving a couple inches as overhang to help lift the whole slab out later. Set aside.
2. In a medium mixing bowl, toss together the flour, cocoa powder, salt, and baking powder. Set aside.
3. In the bowl of an electric mixer, cream together the butter and sugar until smooth and fluffy. Add in the eggs, vanilla, and carefully add in the food coloring, mixing until incorporated. Slowly add in the dry ingredients, beating until everything is mixed, and scraping down the sides and bottom of the bowl as needed.
4. Pat down the dough in an even layer on your prepared baking pan. Bake for 20 minutes and let cool.
5. In the meantime, crush up all your Oreos in a food processor (or put them in a big Ziploc and roll over them with a rolling pin) until finely ground. Dump the crumbs into the bowl of your mixer, add the cream cheese, and beat until well incorporated.
6. At this point, you have two choices. You can wait for the cookie layer to cool completely and pat down the Oreo truffle layer on top, cutting them into squares or using a cookie cutter. Or, you can do as I did, and wait until they are warm and not too hot, and cut out desired shapes with a cookie cutter. Then, you can on a cutting board pat down about a ½-inch-thick sheet of the Oreo truffle mixture and cut out the same shapes. Then, simply lay the truffle layer on top of the cookie shapes, pressing down slightly.
Enjoy, and love fully!
R
Advertisement
Share this:
Like this:
Related