Mardi Gras is fast approaching, and here in Louisiana, there has been nothing but king cake everywhere! Not that I'm complaining one bit. King cake, if you've never had it, is more of a bread or cinnamon-roll-type dough that is wrapped around in a ring and filled with sweet cream cheese, cinnamon, or fruit filling. Any way you slice it, this European tradition brought over by colonists to Louisiana is absolutely delicious. And somewhere inside, you'll find a tiny plastic baby or other trinket – if you find it in your slice, you have to bring in the next king cake!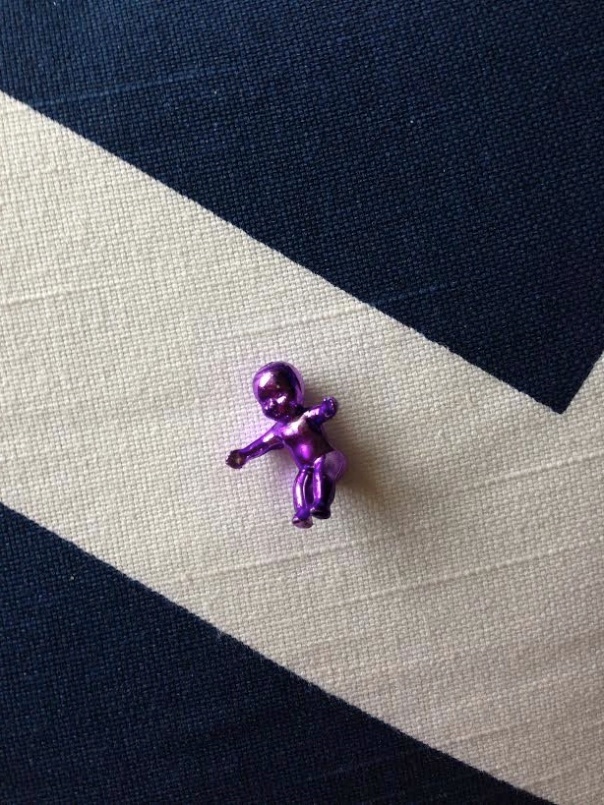 This post has more pictures than I have ever used in a single post. This is just to show you the process in as step-by-step a way as possible. You will find it especially helpful if you have never baked with yeast. If you still find it intimidating, check out my recipe for a no-yeast cinnamon white chocolate quickbread that has all the flavors of king cake but takes no time at all to whip up! As this was my first time making a king cake, I found a recipe that another fellow blogger at the Darling Apartment got from her aunt, who lives in New Orleans. It is my goal before I move out of Louisiana to find an adorable little old lady somewhere with a secret recipe (and also get my hands on some amazing gumbo recipes!).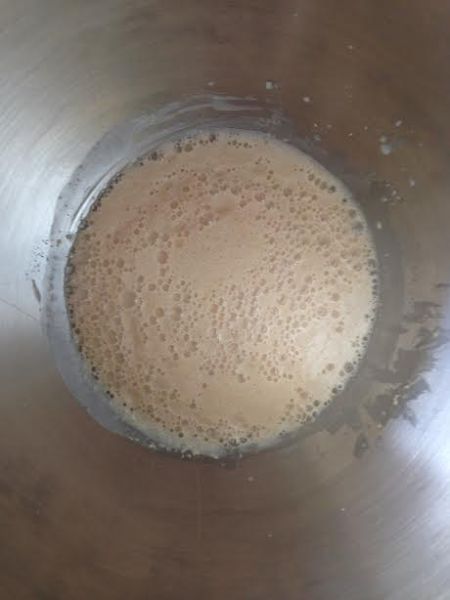 That right there is the very first step in making your king cake. All this is is warm water, sugar, and yeast. Yeast LOVES to feed on sugar and absolutely loves warm water. I never use a thermometer, but if you prefer to, aim for 110-115 degrees Fahrenheit. Otherwise, just test the water with your finger, and if it feels nice and warm, like a lukewarm baby bath, you're good to go. Just let this mixture sit out for ten minutes until it's all bubbly like in the picture above. In the meantime, you will be scalding your milk (heating it until tiny bubbles start to form, but not boiling) and melting some butter into that.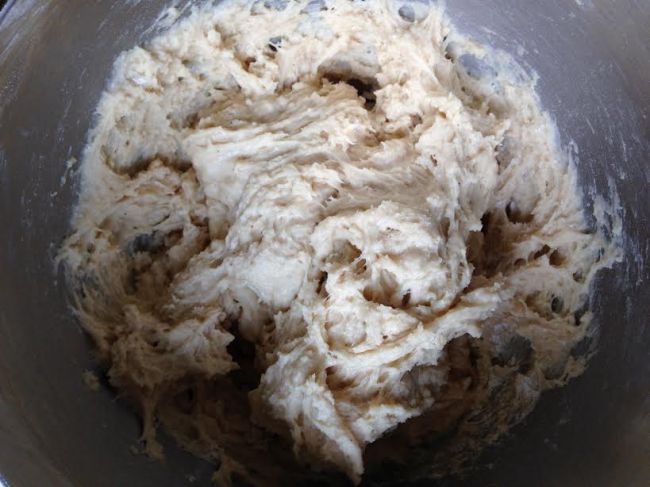 As soon as you add in all your sugar, eggs, and flour to the yeast and milk/butter mixtures, this is what your dough should look like. It will be slightly sticky, and that's ok. Once you take it out onto a floured countertop and knead it a good few times, it will come together to be smooth and elastic. Perfection.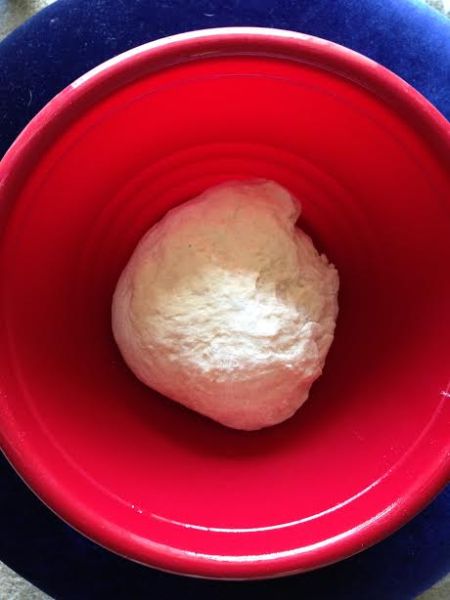 Smooth little ball of dough that has been freshly kneaded and plopped into an oiled bowl.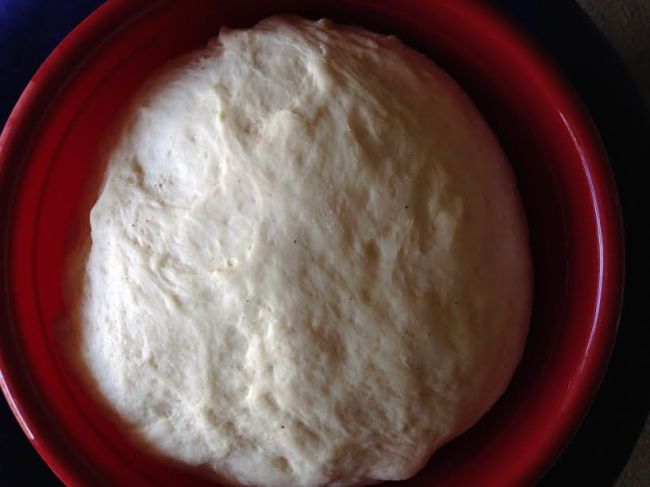 Massive, can't-believe-I-went-for-a-run-and-did-laundry-and-did-no-kitchen-work-while-this-happened ball of dough. This is the wonderful part about working with yeast. It's actually very little hands-on work and more about letting your dough sit, covered with a damp towel, in a warm place for two hours. Once you press your fingers into the top of the dough and see that the indentations stay imprinted, it's time to punch down the dough, split it into two balls, and get your filling ready.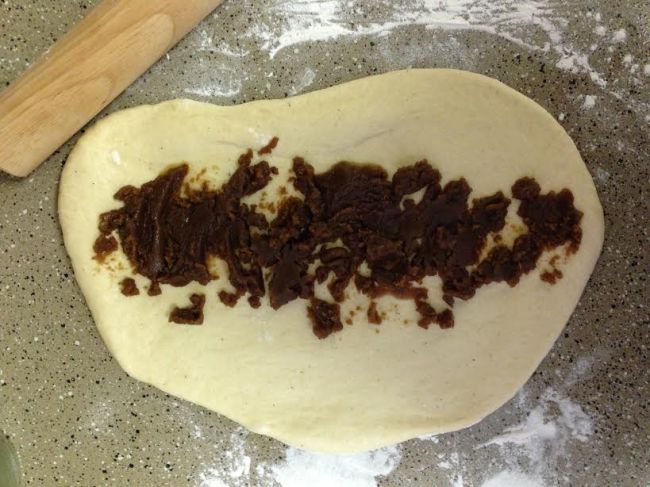 Since this was my first king cake attempt, I went with a simple brown sugar-cinnamon filling. Now that I know this king cake was freaking delicious and devoured within an hour at the office, I will be making plenty more and being more creative with the fillings. You know how we do. So, each ball should be rolled out to about 10 x 16 inches and spread with half the filling. You'll then roll each half into a tight roll and twist both rolls together, like so. If you're hiding a trinket or plastic baby inside, do not put it in the raw dough. You will press it into the king cake once it's fully baked. Also let people know so they can be careful if they're sharing this yummy dessert with their little ones – adults also shouldn't be surprised with hard plastic objects while eating, for that matter.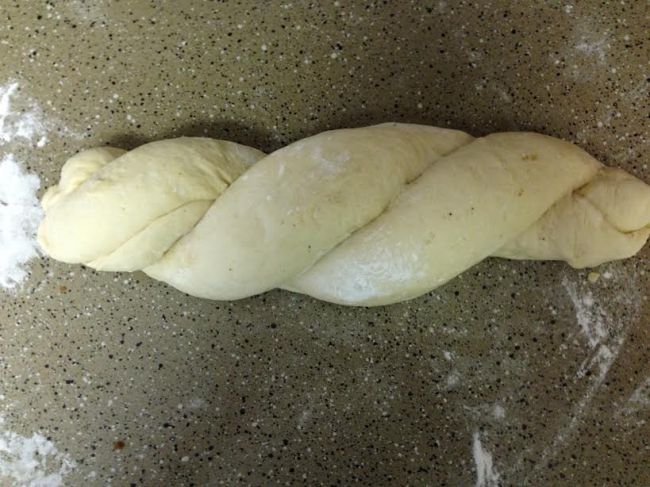 This will then be turned into a circle on a prepared baking sheet (nonstick spray, silicone mat, or parchment paper will work on your sheet), pressing the ends together tightly. The ring won't be perfectly even – half the king cake will definitely be fatter than the other, but who cares, I say? Let the dough rise a second time, for about one hour, placing a can or jar (sprayed with nonstick spray, I would suggest) in the middle of the ring to prevent it from sealing up.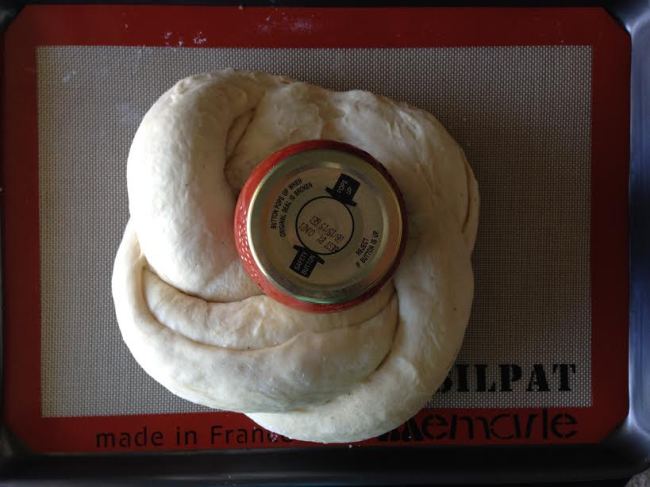 Then, it's into a preheated oven for 30-35 minutes, until it's all browned nicely and sounds hollow when you knock on it. Yes, be a king cake whisperer. Once it's slightly cooled, press your plastic baby into a random location on the bottom of your king cake, pour a simple and delicious vanilla glaze all over this beauty, and go crazy with some green, yellow, and purple decorating sugar. Green represents faith, gold represents power, and purple represents justice – these are the official Mardi Gras colors!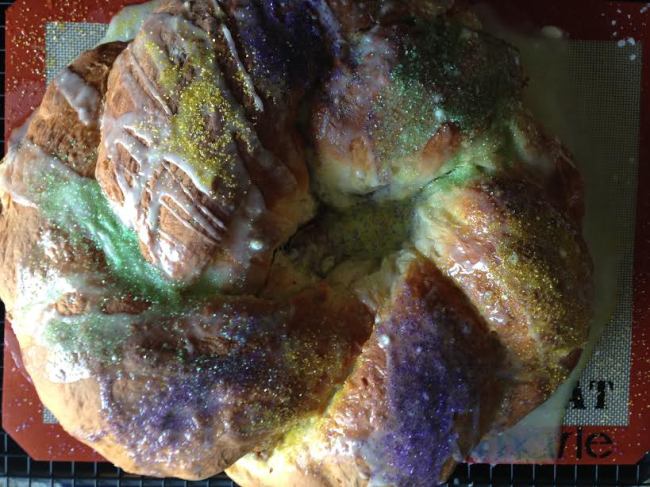 How pretty is this! I couldn't get a picture of the beautiful inside of the cake (hectic day at work!), but it was beautifully fluffy and white and had a thick ripple of delicious, thick brown sugar and cinnamon filling. The dough's flavors were simple – nothing but a touch of nutmeg and the naturally buttery flavor of king cake. And that filling, oh my. Is there anything cinnamon can't make better? This king cake was such a fun little Sunday project, and I can't wait to do it again soon!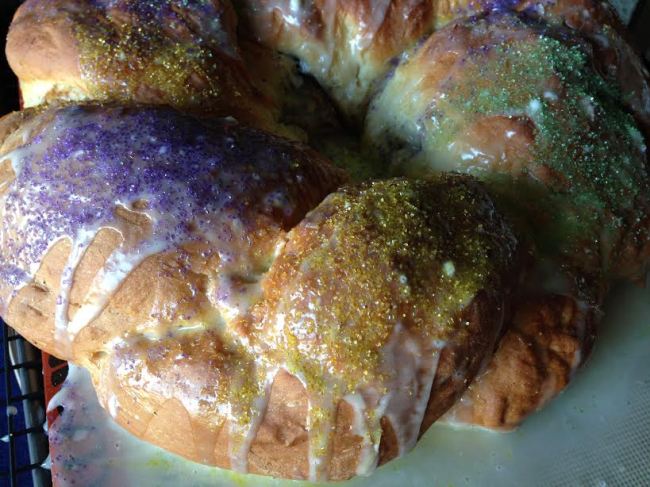 mardi gras king cake
ingredients
for dough:
1 cup milk
¼ cup (half a stick) of unsalted butter, softened
1 Tablespoon plus 2 teaspoons active dry yeast (or 2 standard packets)
⅔ cup warm water
½ cup granulated sugar
2 eggs
1 ½ teaspoons salt
¾ teaspoon nutmeg
5 ½ – 6 cups all-purpose flour, plus more for kneading
for filling:
1 cup packed brown sugar
½ cup flour
1 Tablespoon cinnamon
½ cup (1 stick) unsalted butter
for glaze (can be doubled if your dough rises a lot during the second rising):
1 cup confectioner's (powdered) sugar
1 Tablespoon milk or water (plus more as needed)
½ teaspoon vanilla extract
extras:
plastic baby figure or any other trinket
green, purple, and yellow sugars
directions:
I recommend reading through the text of this post so you can get more comfortable with how things should roughly look at each stage 🙂
1. In a saucepan, scald the milk. Remove from stovetop and stir in butter until completely melted. Set aside and allow to cool. Meanwhile, in a large mixing bowl (if using a stand mixer, just use the one it came with), dissolve the yeast and 1 Tablespoon of your ½ cup of granulated sugar in the warm water. Let stand until bubbly, about 10 minutes.
2. Mix in the cooled milk with the yeast, and then whisk in the eggs. Stir in the remaining sugar, salt, and nutmeg. Beat flour into the mixture 1 cup at a time (I used closer to 6 cups total). When the dough has pulled together, place on a floured countertop and knead until smooth and elastic, about a dozen turns.
3. Place the ball of dough into a lightly oiled large bowl. Cover the bowl with a damp towel and let it rise in a warm place without any drafts, until it has doubled in size (about 2 hours). Then punch down the dough and divide it into two, setting the two dough balls aside.
4. Melt the ½ cup of butter for the filling. Stir in the brown sugar, flour, and cinnamon. Mixture will seem clumpy, and that's ok. Roll out dough halves into large rectangles and sprinkle each evenly with the filling. Roll each rectangle into a tight roll, pinching ends shut. Place the two rolls parallel to each other on the counter and twist them over and under each other until you have one twist. Pick up this twist, and put it on your prepared baking sheet (lined with parchment paper or a silicone mat, or sprayed with nonstick spray). Form the twist into a circle, and place a coffee can or medium-size jar into the hole. Let rest for an hour.
5. Before the hour is completely up, get your oven preheated to 350º. Once heated, remove the jar and bake the cake for 30-35 minutes until browned and sounds hollow when you tap it. Cool slightly on a cooling rack. While the cake is still warm, push the plastic baby up into the bottom of your king cake.
6. Once the cake has cooled, whisk together all of the glaze ingredients and pour on top of your cake. Decorate with sprinkles in alternating stripes!
Enjoy, and happy Mardi Gras!
R
Advertisement
Share this:
Like this:
Related