Hello, February! It is officially time for all things red and pink. Love it or hate it, I've jumped on the V-day bandwagon – just for a little while. I find it the perfect excuse to use heart sprinkles and make red velvet things. Like these cookies. I am not the world's biggest red velvet fan–I have to be in the mood for it. But these cookies are super soft-baked and have a slightly chewy-fudgy texture. Plus, they are just so adorable.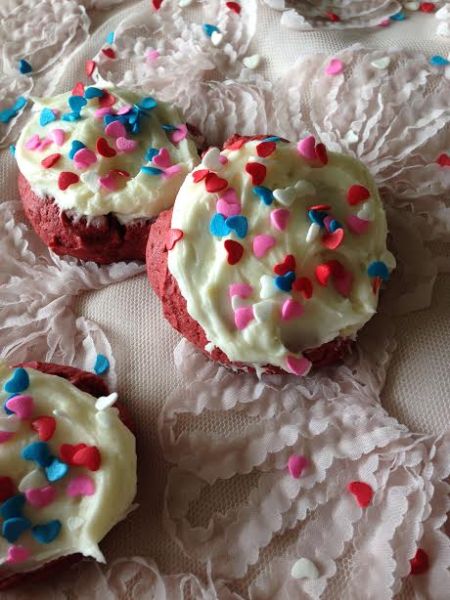 Red velvet is definitely unique in its color. While I am not an advocate of artificial things, sometimes it's ok to bust out the bottle of red food coloring and stain your white blouse while making cookies like these. It's also ok that your apron is hanging two feet away from you. And, it's also super ok that the raw batter for these cookies is so thick and fluffy and amazing that you set a mugful aside to eat with a spoon. (Don't try this at home. Certainly don't let your children try this.) I call it batter because it's less thick/dense/dough-y than cookie dough–it almost has the same texture as soft-serve ice cream. Yum. This is one instance where you will see that you should tightly pack your flour in your measuring cup–usually baking suicide! But in this case, you want the extra flour to help the batter bake up as cookies.
Red velvet is also unique in flavor, and these cookies certainly pack a lot of it! In red velvet cake, you've got buttermilk and vinegar giving a touch of tang, and these cookies have the same flavor thanks to some sour cream, which also helps them bake up super soft and thick and (here comes The Dreaded Word) moist. Red velvet is also classic in its "is it chocolatey or is this vanilla-esque?" flavor. These cookies have two ounces of melted chocolate baked right in, as well as plenty of butter and sugar!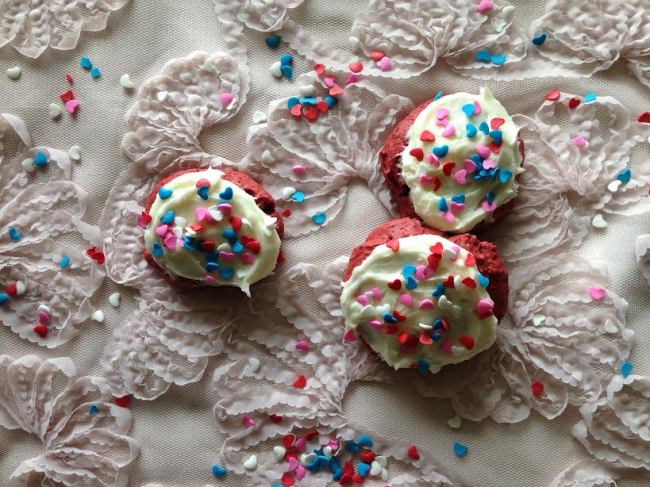 And, oh my, the frosting. Red velvet simply must be slathered in a rich and creamy cream cheese frosting. There are some who go for buttercream, others with meringue or white chocolate, but I think cream cheese frosting is just perfect with red velvet. These cookies are just so delightful–look how cute and happy they are. One bite, and you can't help but inhale the whole cookie as you're grabbing a second. And if you've got heart sprinkles to throw on top? Even better.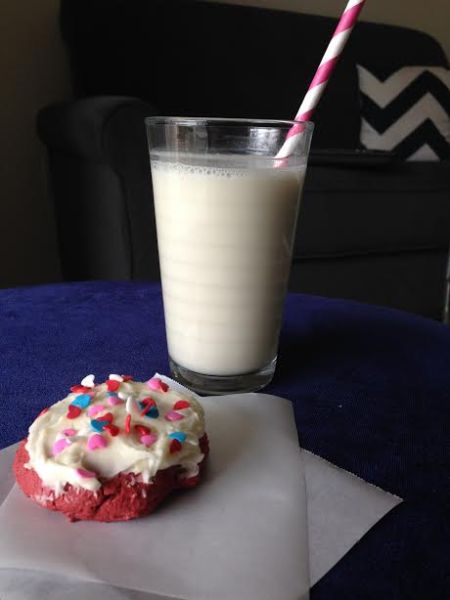 soft-baked red velvet cookies with cream cheese frosting
(adapted from America's Test Kitchen recipe)
yields about 28 cookies
ingredients
2 ounces unsweetened chocolate
½ cup (one stick) unsalted butter, softened to room temperature
⅔ cup brown sugar, firmly packed
⅓ cup granulated sugar
½ teaspoon baking soda
½ teaspoon salt
1 egg
1 Tablespoon red food coloring
¾ cup sour cream
2 cups flour, firmly packed

for frosting
4 ounces cream cheese, softened to room temperature
2 Tablespoons unsalted butter, softened
½ teaspoon vanilla extract
2 cups powdered sugar
directions
1. Preheat oven to 375°. Line two baking sheets with parchment paper and set aside. (I had to use a third because the recipe made more cookies than expected, but you can just rotate the one or two you have once they have completely cooled from the first batch!)
2. Melt the chocolate in the microwave, stirring every 30 seconds until smooth. Set aside.
3. In the bowl of an electric mixer, beat together the butter, brown sugar, and granulated sugar until fluffy and smooth. Add baking soda and beat until combined. Then add in the egg, also mixing well and scraping down the sides and bottom of the bowl. Carefully add the red food coloring and mix well, starting slowly to minimize splashes and then working your speed up.
4. Scrape down the bowl and add in the melted chocolate, beating well. Mix in one cup of flour, then the sour cream, beating until incorporated. Add the second cup of flour and beat until combined.
5. Using a spoon or cookie scoop, drop dough onto baking sheets, leaving a couple inches in between each cookie. Bake for 11 minutes–the cookies will puff up and should appear firm/set when done. Allow to cool completely on a cooling rack before frosting.
6. To make the frosting, beat together the butter and cream cheese until smooth. Add the vanilla extract and mix. Add the powdered sugar one half cup at a time, beating well until incorporated. Spread about a tablespoon of frosting on each cookie and enjoy!
Cookies keep well in an airtight container at room temperature.
R
Advertisement
Share this:
Like this:
Related