Long name, big flavor, but incredibly simple. Sometimes the simple things are the best.
You've seen me use lavender from The Spice and Tea Exchange in these cookies. Another one of my fun purchases off the website (I am not compensated to mention/use/review their products) was sweet matcha green tea powder. Their powder has already been sweetened with sugar, so I've been making delicious warm drinks with it to snuggle up away from the uncharacteristically frigid weather here in the deep south. Matcha green tea is unique to Japan and gets its vibrant green color from chlorophyll. I love the taste – it's fresh, kind of tangy in a way, and the kind I have a least, is deliciously sweet.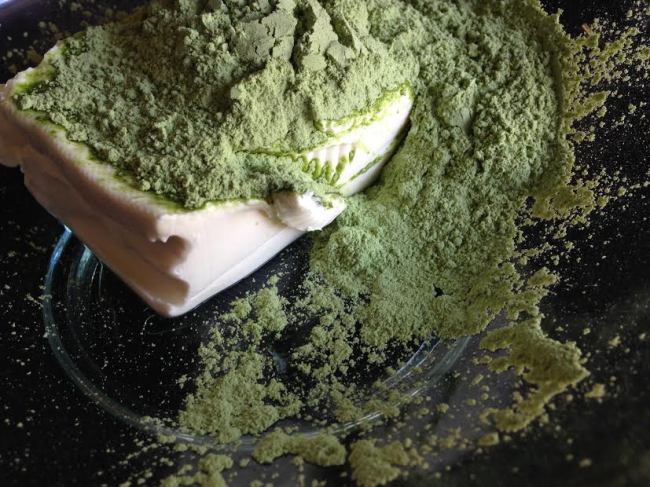 Matcha green tea powder ready to work some magic on snow-white cream cheese.
I had bought beautiful organic blueberries, way too many than I could eat before they started to get weird. I decided to use them up to make some sort of pie or tart, and when I was looking around my kitchen for ideas, I spotted the bag of matcha green tea powder in my spice cabinet, it hit me! I would make a small batch of cheesecake filling and sweeten it up with some matcha. And what is easier than throwing some juicy blueberries over a freeform tart? Not much, I tell you.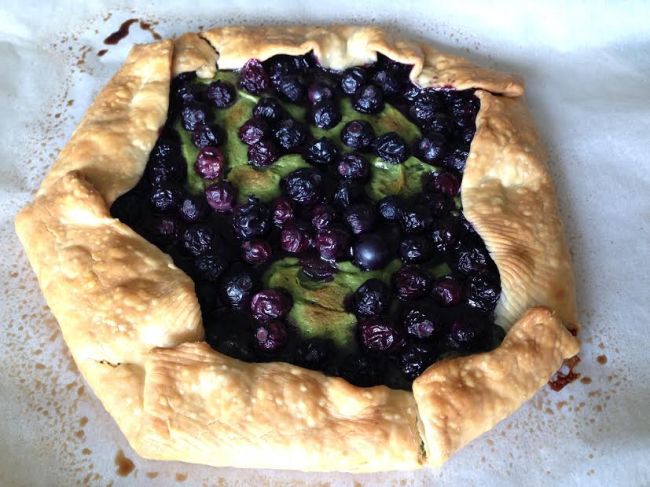 For my pie crust, I used this recipe – click on the link and read through the post for a few tips! This crust is simple, buttery, flaky, and has never failed me. You don't even have to be terribly precise in rolling it out, since you'll be baking it flat and folding it over to look rustic and all carefree. You can use a storebought crust if you prefer! Right about when I was ready to pull out the dough to roll it into shape, I whisked together 4 ounces of cream cheese, an egg yolk, some sugar, and matcha green tea powder to make the base for my galette filling. Next time, I'll use less of the matcha, so my recipe below denotes what I would recommend. I also prefer cheesecake on the sweeter side, so feel free to start with less sugar, taste test before you add the egg yolk, and adjust your sugar accordingly!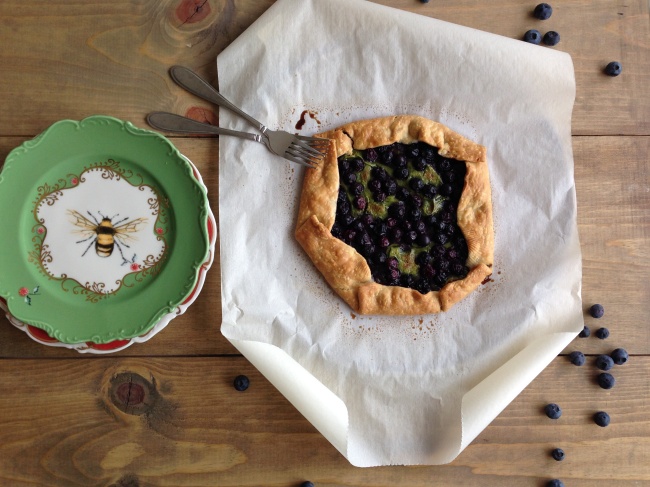 This galette is incredibly light. It tastes like sweet, fragrant green tea, and the way the blueberries burst over the top is just beautiful. It looks so pretty too, with the vibrant colors standing out against the crust. If you're looking for a special weeknight treat or something that is no-fuss but still elegant enough for company, this is your girl.
matcha green tea cream cheese blueberry galette
ingredients
for the crust (this makes two crusts! you can halve it or make the whole batch, freezing one half for later)
2 ½ cups all-purpose flour
1 Tablespoon sugar
1 teaspoon salt
2 sticks unsalted butter, very cold and cubed
1 cup ice water
for the filling
4 ounces cream cheese, softened to room temperature
2 Tablespoons matcha green tea powder
¼ cup granulated sugar (start with 3 Tablespoons and taste to see if you want it sweeter, like I always do!)
1 egg yolk
zest of one lemon
1 teaspoon vanilla extract
pinch of salt
1 cup fresh blueberries
2 Tablespoons melted butter
directions
1. If using storebought crust, thaw as directed and skip to step 3. If making your own crust, toss together the flour, salt, and sugar in a large bowl. Using a pastry blender or two forks, cut the cubes of cold butter into the dry ingredients until the whole mixture is coarse and the butter is about the size of peas. At this point, I usually pop the whole bowl into the freezer for a couple minutes to get the butter cold again. Add ½ cup of the ice water and stir the dough with a rubber spatula. You might need some more of the water for everything to pull together, but add it a tablespoon at a time! Don't let your dough get sticky.
2. Turn out the dough onto a lightly floured surface (it'll still be clumpy with some crumbs at this point) and knead it together just until you get a ball of cohesive dough. Divide the ball in half, and wrap each half with plastic wrap. Pop them in the fridge for a couple hours.
3. When you're ready to make the pie, preheat the oven to 375°. Take out one of the dough balls and put it on a lightly floured counter. Using a rolling pin, gently but firmly roll out the crust evenly. If it starts to get too soft, just pop it in the fridge for a minute and then work on it again. You want about a 10-inch circle. Set the crust flat on a parchment-lined baking sheet and put in the fridge while you make the filling.
4. Whisk together the cream cheese and matcha green tea powder until well incorporated. Whisk in the desired amount of sugar until smooth – taste before adding the yolk! Add the egg yolk, lemon zest, vanilla extract, and salt, whisking until everything is smooth.
5. Take out your pie crust and spoon the filling on top, spreading it evenly over the crust and leaving about 2 inches of bare crust around the edges. Scatter the blueberries over the top.
6. Fold one section of the crust over the filling (like in the pictures above) and keep going around until all the bare crust is folded in. Brush melted butter over the crust edges and bake for 30-35 minutes, until center is set. Let cool and serve galette slices at room temperature or cold. Store leftovers tightly wrapped in the fridge.
Enjoy!
R
Advertisement
Share this:
Like this:
Related