Happy weekend, everyone! This morning, I woke up in the mood for something sweet. Despite my massive sweet tooth (can't you tell?), I am not really a fan of sugary things for breakfast. A pastry or muffin will just have me hungry and cranky within the hour. So, I decided to make some doughnuts – baked, full of wholesome ingredients, and topped with some chocolate to really satisfy my craving (and cause it's the freakin' weekend!). If you don't have a doughnut pan, you can still absolutely make these! I tested the extra batter in a muffin tin coated with cooking spray – three extra minutes in the oven, and you will have amazing, moist, and peanut buttery healthy breakfast muffins!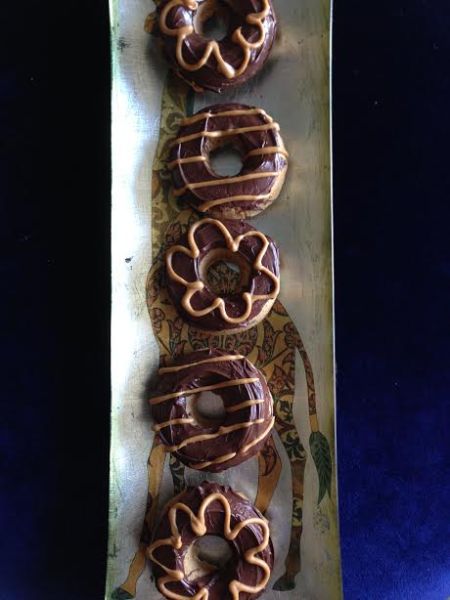 Half of the flour in this recipe is actually ground up oats! You can buy oat flour, but whirring either rolled or quick oats in the food processor will give you wonderful results. (This recipe uses ½ a cup and 2 Tablespoons; measure out that amount of whatever oats you are using, and then grind them up.) The rest of the flour can be either all-purpose or whole wheat. I have tested this recipe with both, and both results are delicious and fluffy! If you don't like the taste of whole wheat flour or simply don't have any on hand, regular all-purpose flour works great. Just don't use more oat flour than listed (or do so at your own risk and let me know how the doughnuts are that way!). As for the peanut butter, a brand like Jif or Skippy is better than fresh ground, simply because the oil may separate when using the latter.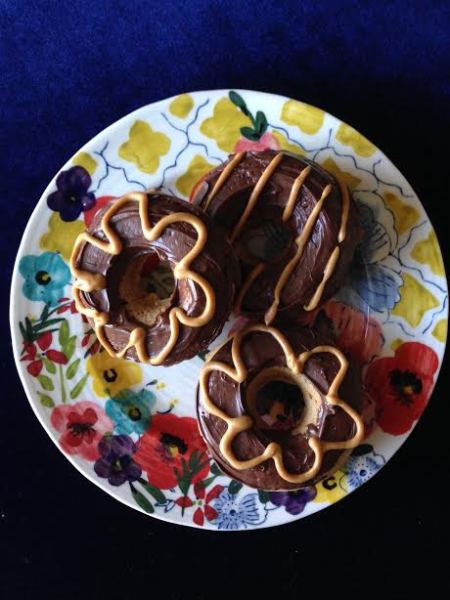 Since these doughnuts aren't fried, the texture is obviously different than a Krispy Kreme. It's like that of a cake doughnut – and cake doughnuts are delicious! Instead of oil or butter for fat and moisture, I used yogurt – you can use any kind of yogurt, and sour cream will work as well. It's only 2 Tablespoons for the whole batch, but the doughnuts are unbelievably moist thanks to the milk, eggs, peanut butter, and touch of brown sugar in the batter. If you want to keep things as healthy as possible, you can simply leave off any frosting or spread preserves or peanut butter on your doughnuts. Despite how healthy these are, I can't emphasize what a tasty and sweet breakfast they made! The doughnuts made a perfect afternoon snack, too!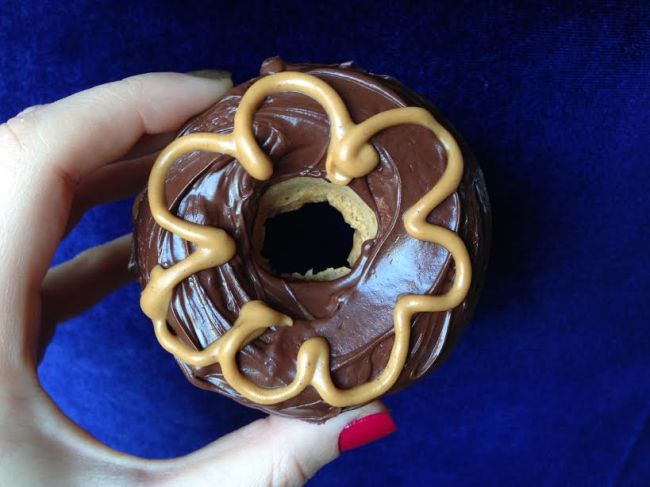 healthy baked oat-and-peanut-butter doughnuts
yields 6-8 doughnuts; yield will vary if made in a muffin tin (expect 6)
ingredients
½ cup whole wheat or all-purpose flour
½ cup + 2 Tablespoons oat flour
scant ¼ cup brown sugar
1 teaspoon baking powder
½ teaspoon salt
2 large eggs
¼ cup melted peanut butter (heat in microwave-safe container for about 1 minute)
2 Tablespoons yogurt or sour cream
½ cup 2% fat milk
2 teaspoons vanilla extract
½ cup chocolate chips (if desired)
directions
1. Preheat oven to 350°. Coat doughnut pan (or muffin tin) with non-stick cooking spray and set aside.
2. In a mixing bowl, whisk together the flour, oat flour, brown sugar, baking powder, and salt until no brown sugar lumps remain. You may need to use your hands to break up any larger lumps.
3. In a smaller bowl, whisk together the eggs, peanut butter, yogurt/sour cream, milk, and vanilla extract until thoroughly combined.
4. Pour the wet ingredients into the bowl of dry ingredients and mix just until incorporated (mixture will still be slightly lumpy).
5. Divide the batter evenly among the doughnut wells (¾ of the way full). Fill ⅔ of the way full if baking as muffins. Bake doughnuts for 15 minutes, muffins for 18. Let sit in doughnut/muffin pan for a few minutes before turning over to cool completely on a wire rack.
6. Frost, if desired, once doughnuts are completely cooled. Simply melt the chocolate chips in a wide-mouthed and somewhat shallow bowl, dip in the tops of the doughnuts, and spread with a spoon or knife to help smooth it out. Decorate with sprinkles, peanut butter, or chocolate chips, and enjoy!
R
Advertisement
Share this:
Like this:
Related