Let's take another minute to re-read the title of this post. However good you imagine these bites of heaven would taste, triple that amazingness, and you might begin to get an idea of how unreal these things are.
Think about it. Three amazing layers: a delicious, crumbly graham cracker crust, topped with creamy chocolate cheesecake filling, and slathered with a thick frosting that tastes exactly like raw cookie dough. I know, I know. The graham cracker crust is just melted butter, graham cracker crumbs, and a hit of sugar. That's it! The cheesecake filling is just incredible – cream cheese whipped with sugar, melted chocolate, and the usual cheesecake suspects. And the frosting? Oh, my. The frosting.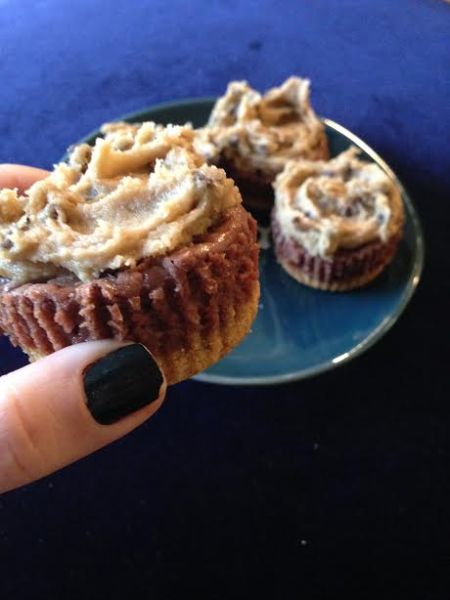 I don't think there has ever been a time that I've baked anything without tasting the raw dough or batter. It's a problem. A real problem. I can hear my mother's voice scolding me, and although there is a very real chance that I will get sick from salmonella poisoning, I am willing to take that risk. There is nothing better than raw cookie dough. There, I said it.
With this frosting, I am able to eat a bowlful and not worry about whether I am going to get sick. I mean…I should probably worry that I'm ingesting an entire stick of butter and copious amounts of sugar, but that's neither here nor there. I am telling you: this eggless cookie dough is perfection. Smothering already-delicious chocolate cheesecake with it? Now that's the stuff dreams are made of.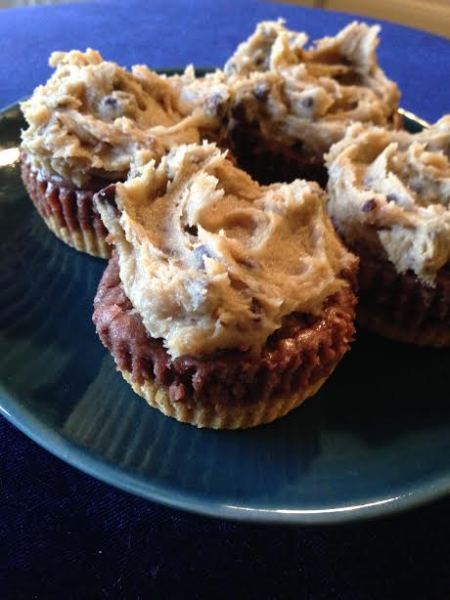 mini chocolate cheesecakes with cookie dough frosting
makes 18
ingredients
for graham cracker crust:
1 cup graham cracker crumbs
3 Tablespoons unsalted butter, melted
2 Tablespoons granulated sugar
for chocolate cheesecake filling:
2 8-ounce blocks cream cheese, softened
1 cup granulated sugar
1 cup semi-sweet chocolate chips/chunks, melted
3 eggs
2 teaspoons vanilla extract
pinch of salt
for cookie dough frosting:
½ cup unsalted butter, softened
¾ cup brown sugar (I used dark; light would be perfect)
2 teaspoons vanilla extract
1 ¼ cup all-purpose flour
¼ cup and 2 Tablespoons of milk (any kind works)
pinch of salt
chocolate chips, if desired
directions:
1. Preheat oven to 350°. Line 16 standard muffin cups with paper liners and set aside.
2. In a small bowl, mix together the graham cracker crumbs, melted butter, and sugar. Divide evenly among the prepared muffin cups. Press into bottom (I found it easiest to use my thumbs).
3. In a large bowl, whisk together the cream cheese and sugar until smooth. Add melted chocolate and whisk thoroughly. Whisk in the eggs, vanilla extract, and salt until the mixture appears well-incorporated and silky. Fill muffin cups (that already have the crust laid down) until they appear ¾ of the way full. Bake for 20-25 minutes, until the cheesecake appears set and no longer jiggles. Let cool completely before frosting! (Side note: I was able to frost the cheesecakes once they had reached room temperature with no problem; next time, I might put them in the fridge for a few hours and then frost. Either way!)
4. While they cool, prepare the frosting. Using an electric mixer fitted with a paddle attachment, beat together the butter and sugar until fluffy. Add the vanilla extract, continuing to beat. Slowly add in the flour–the mixture will appear crumbly at this point, even when well-mixed. Add in ¼ cup of the milk and salt and mix well; I found I needed the extra couple Tablespoons of milk to make the frosting as smooth as I wanted. Fold in chocolate chips, if desired.
Frost cheesecakes and enjoy! Remove paper liners when thoroughly cooled (at least 3 hours in the fridge). Leftovers keep well in an airtight container in the fridge.
R
Advertisement
Share this:
Like this:
Related