Introducing the cutest treats ever made on Long Bake the Queen. And the easiest.
No, seriously – I am embarrassed to post this as a recipe because these decadent Oreo truffles are the ridiculously easy to make. Two ingredients, no-bake, and all you need is a food processor (or a Ziploc bag and a rolling pin!) and your hands!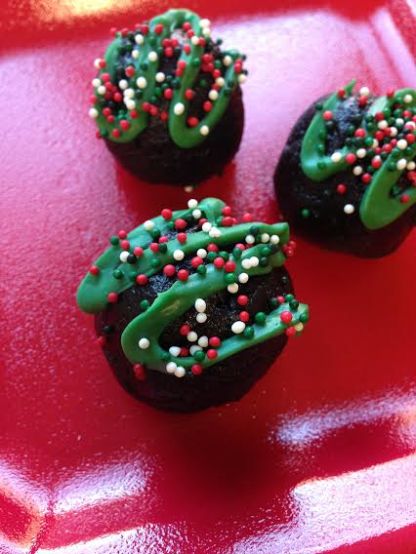 I usually make truffles with a ganache base – heavy cream, melted chocolate – and add a bunch of flavors and textures to my liking. But these have been popping up all over the internet and looked just too good to be true. Let me tell you, I may just find myself thinking and rethinking the whole situation before I go back to making ganache-base truffles. These Oreo truffles are fudgy, chocolate-y, and super satisfying. I'm talking stuck-to-the-roof-of-your-mouth-ooey-gooey satisfying.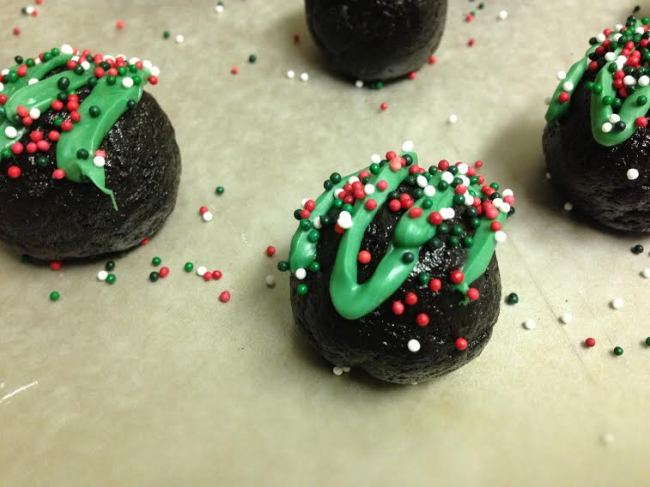 Freshly decorated with Christmas sprinkles!
All you do is take:
1. One package of Oreos. (I used classic, not Double-Stuf)
2. Most of one 8-ounce block of cream cheese, softened to room temperature. (I say most of because I am cream cheese-aversive, so I probably used around 6 ounces.)
And whirl the Oreos around your food processor in two batches until totally demolished. And then, in a stand mixer, whip together all the Oreo crumbs and the cream cheese.
And then, roll the mixture into balls. That's it! Feel free to decorate as you choose – roll them into sprinkles, dip them into melted chocolate, or drizzle them with dyed melted chocolate as I did! (Pop them in the freezer while you melt the chocolate to help the chocolate set faster.) Depending on how big you make the truffles, your yield will vary. I made 14.
Keep them stored in the fridge…if they last that long. Long no-bake the queen! And happy holidays, everyone!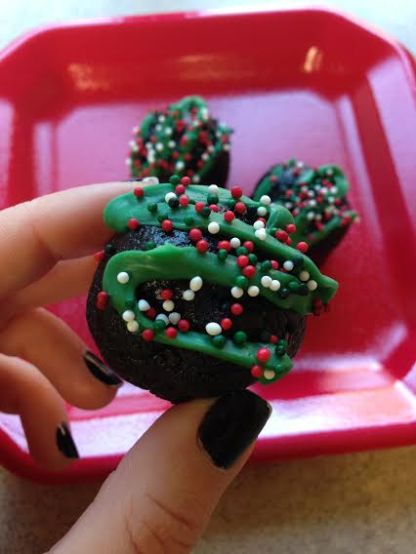 Advertisement
Share this:
Like this:
Related