Yup. This right here will become one of those holiday cookies everyone will request every year until the end of time. What's not to love? Two soft and chewy, intensely fudgy cookies sandwich a thick layer of fluffy vanilla frosting that has been spiked with candy cane dust.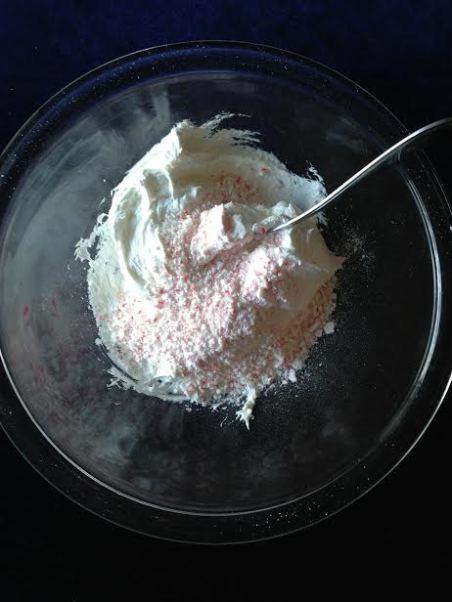 That bowl up there? Take out all the stress of your day on helpless candy canes. Pink dust = happiness and promises of Santa. But, first things first. I used this base recipe for the cookie part of this sandwich. Any time I want to make a chocolate cookie, this is the recipe I use. Melted chocolate and cocoa powder make for super fudgy and rich cookies. They are slightly chewy around the edges and extra soft, just the way I like my cookies. This time, I replaced the peanut butter chips and Dove peanut butter chocolates with mini chocolate chips. They become part of the cookie and add an extra layer of chocolatey goodness.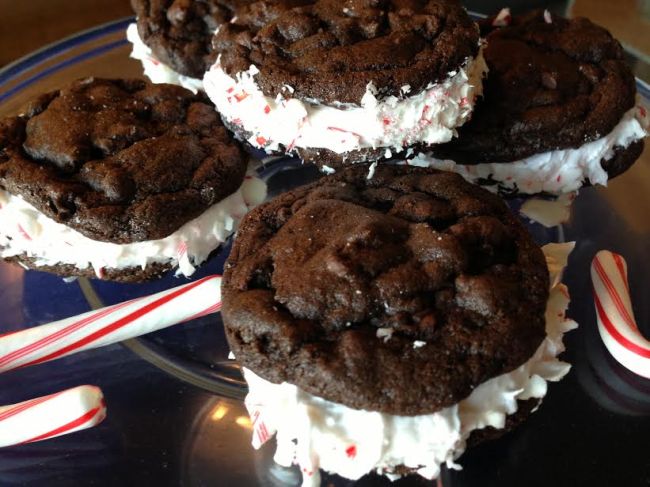 And what better thing to pair with chocolate than peppermint? Well…maybe peanut butter…but peppermint comes in an extremely close second. I crushed up some mini candy canes into a fine powder and whipped it into a classic, fluffy cooked white frosting, and I then rolled each cookie sandwich in candy cane chunks. (You can make or use any white or vanilla frosting.) These look like whoopie pies but have a totally different taste and texture to them. You will love these holiday treats – and feel free to be creative with them! If candy canes and peppermint aren't your thing, make some caramel frosting and roll the sandwiches in butterscotch pieces. (But I do feel compelled to sell you on this chocolate-peppermint thing. So perfect for the holidays!)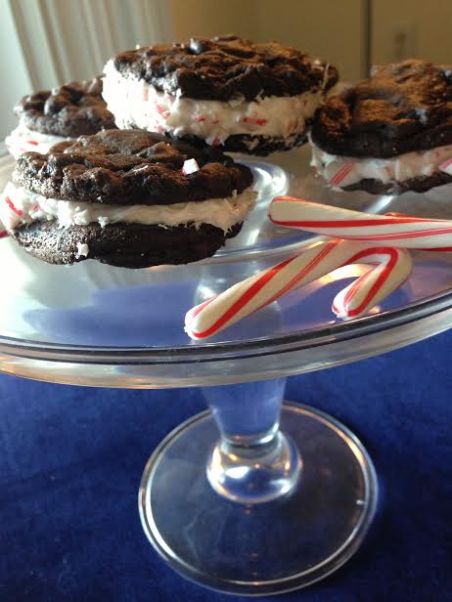 candy cane-filled chocolate cookie sandwiches
ingredients
for cookies (makes 12-14 cookies)
8 ounces semi-sweet chocolate, chopped
1 cup + 1 Tablespoon all-purpose flour
¼ cup unsweetened cocoa powder
1 teaspoon baking powder
¼ teaspoon salt
5 tablespoons unsalted butter, softened
2 eggs
1 teaspoon vanilla extract
¼ cup granulated sugar
¾ cup brown sugar
for frosting
1 cup white sugar
⅓ cup water
¼ teaspoon cream of tartar
2 egg whites
1 teaspoon vanilla extract
about 8 mini candy canes, ground into a fine dust (I used a rolling pin, but you may use a food processor)
additional candy canes, coarsely chopped, for decoration
directions
1. Preheat oven to 350°.
2. Melt the chopped chocolate in the microwave or over a double-boiler until  smooth and set aside.
3. In a medium bowl, whisk or sift together the flour, cocoa powder, baking powder, and salt. Set aside.
4. In a small bowl, beat the eggs and vanilla extract with a fork, and set aside.
4. In the bowl of an electric mixer, cream the butter and both sugars together. Add the egg/vanilla mixture and beat until combined.
5. Add the melted chocolate and beat until combined, then add the dry ingredients and mix just until it's all pulled together.
6. Drop uniform balls of cookie dough onto baking sheets lined with parchment paper and bake for 10-12 minutes. Leave the cookies on the baking sheets for a couple minutes, then transfer them to a wire rack to cool completely.
7. While the cookies cool, make the frosting. In a medium saucepan, stir together the sugar, water, and cream of tartar and cook over medium-high heat until the mixture is bubbly.
8. In a mixing bowl, whip the egg whites with the vanilla until soft peaks form. Continue beating the egg whites while slowly adding the liquid mixture. Beat until soft peaks form, about 10 minutes. Fold in the candy cane powder.
9. Make cookie sandwiches, and enjoy!
R
Advertisement
Share this:
Like this:
Related