We had a holiday potluck party yesterday at my internship. Think, dozens of mental health care providers surrounded by obscene amounts of delicious food, Christmas carols, and lots of sugar. I mean, how were we supposed to go off and see clients when all I wanted to do was relish in my food coma? Everything was so delicious, and everyone took the time to bring something special to the party. I made these gingerbread cupcakes. And let me say, they are intense.
This recipe is not for the faint of heart. The molasses flavor is very strong, and there are lots of spices in the batter, making this version of gingerbread suitable for only the brave-palated and sophisticated grown-ups. Look at that cupcake! I didn't want non-molasses fans to think they were chocolate and take a bite. Delicious. So decadent. And the frosting was the perfect pairing – simple, sweet, vanilla cream frosting that I peaked on top to look like snow. It was so light and sweet and added a wonderful vanilla taste to every bite. (A word of caution: I never use blackstrap molasses. For anything. That s*** may as well be pumped from the diesel tank at the gas station. Good old dark unsulphured molasses will do the trick here.)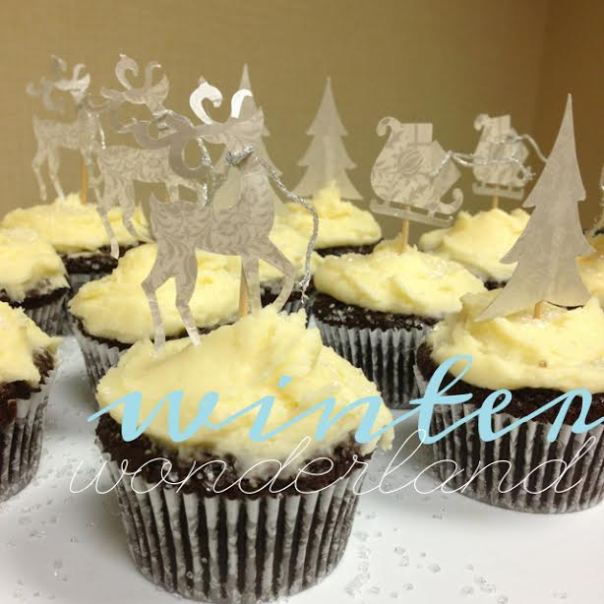 If you're looking for an interesting and absolutely delicious cupcake to make for the holidays, this recipe is your friend. If you want something more familiar, check out my other holiday baking recipes and stay tuned for more classic flavor combinations and treats! (Peppermint – here we come!)
dark molasses gingerbread cupcakes
yields 12
ingredients
for cupcakes
½ cup unsalted butter, softened to room temperature
½ cup dark brown sugar
1 egg
½ cup milk
½ cup unsulphured molasses
1 ⅓ cups all-purpose flour
½ teaspoon baking soda
½ teaspoon baking powder
pinch of salt
1 teaspoon cinnamon
½ teaspoon ginger
½ teaspoon nutmeg
for frosting
1 cup unsalted butter, softened
4 ½ cups confectioner's sugar
¼ cup heavy cream
1 teaspoon vanilla extract
directions
1. Preheat oven to 350°. Line a standard size muffin tin with paper liners and set aside.
2.
Advertisement
Share this:
Like this:
Related