I hope everyone is basking in post-Thanksgiving glory. Family, friends, laughter, and great food – what's not to love? Today's recipe will only make any food babies you have more impressive. If you've been reading long enough, you may know that I am collaborating with Bacio di Roma, a little Italian panini/gelato cafe in Baton Rouge's LSU area. Twice a week, I will be dropping off homemade baked goodies for them to sell there. This classic cheesecake smothered in a salted caramel sauce and chopped pecans was the perfect start to Thanksgiving week, and my first official order. (Yay!) He asked for a plain cheesecake, but I couldn't bring myself to deliver a naked little cheesecake. Thankfully, he lets me have complete creative control!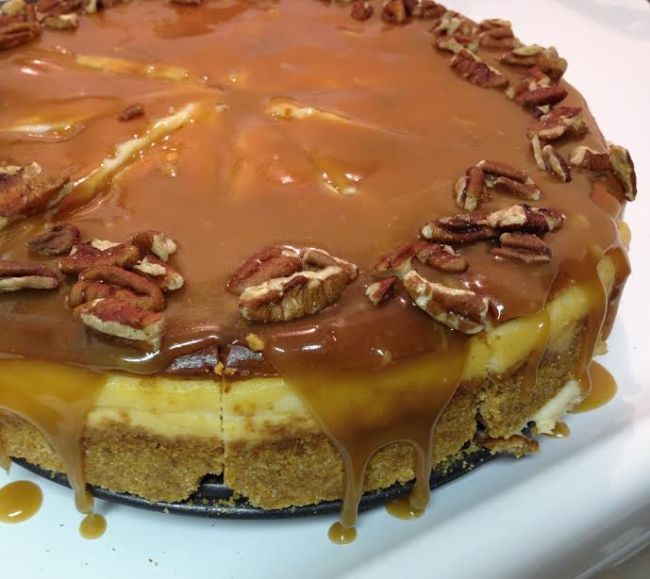 You will have to excuse these iPhone shots taken late at night. But no matter how bad the picture quality is, there is no way you can miss the crumbly graham cracker crust, thick, creamy cheesecake layer, and the buttery-brown-sugar homemade caramel flecked with sea salt. Come. On. This was a winner. I started with my very basic but always successful cheesecake recipe – I am a fan of cheesecakes on the sweeter side, and this one doesn't disappoint. It is also incredibly creamy and fluffy without being dense or heavy. This cheesecake will just melt in your mouth. To avoid cracks, I don't use a bain marie. I just put a lasagna pan or something half-full of water on the bottom rack of the oven and put the springform pan on the second shelf above that. So much easier, and the steam still does its job! And the sauce? Forget fancy candy thermometers and sweating over the stovetop in a panic that you're going to burn the caramel. This salted caramel sauce takes simple ingredients you probably already have in your kitchen, a watchful eye, and some stirring.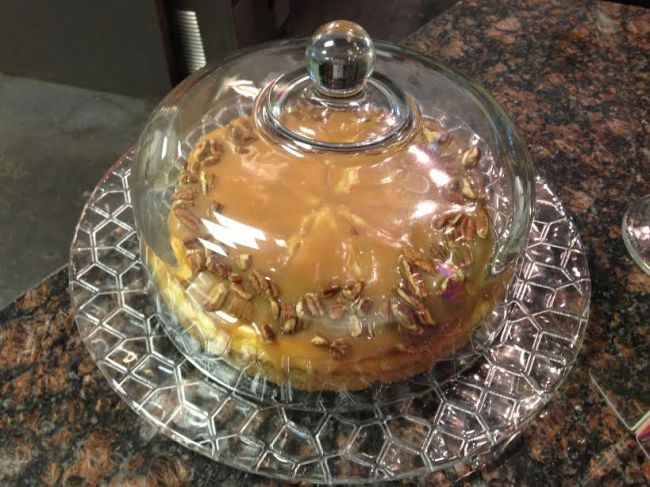 On display at Bacio di Roma. Proud and nervous mama.
My new friend and coworker Garrett, whom I adore, bought the first slice to make it official. We all shared it, and I can honestly say it was just so good. The caramel is rich and creamy without being overly sweet, and the cheesecake layer perfectly contrasted the slight crunch and crumble of the golden crust underneath. Make this cheesecake over the coming holiday season – your pants will never forgive you, but you won't mind at all.
classic cheesecake with salted caramel sauce
yields one 9-inch cheesecake (8-10 slices)
ingredients
for the cheesecake:
1 ½ cups graham cracker crumbs (if you only have sheets, crush about 10 of them)
⅓ cup melted unsalted butter
⅓ cup granulated sugar
3 8 oz. packages of cream cheese, softened
scant 2 cups granulated sugar (depending on your taste, you may use anywhere between 1 and 2 cups – no more, no less)
1 cup sour cream, at room temperature
2 teaspoons vanilla extract
3 eggs
for the salted caramel sauce:
½ cup granulated sugar
3 Tablespoons unsalted butter, cut into 3 pieces
¼ cup heavy cream
sea salt
directions:
1. Preheat oven to 350°. In a bowl, combine the graham cracker crumbs, melted butter, and ⅓ cup sugar. Press into a 9-inch springform pan, allowing the crust to go up about one inch of the sides. Bake for 9 minutes and cool completely on a wire rack.
2. Meanwhile, in a stand mixer with the paddle attachment, beat together the cream cheese and sugar until smooth and creamy. Add in the sour cream and vanilla, beating well. Slowly add in the eggs, one at a time, and beat just until blended.
3. Pour the cheesecake batter over the crust and bake for about one hour, until the center just jiggles (don't open the oven door until about the 50 minute mark – and remember, scroll back up to see what I do instead of a water bath!).
4. Allow cheesecake to cool completely at room temperature and then put it in the refrigerator for at least 4 hours, preferably overnight. I often release it from the springform before I put it in the fridge.
5. For the salted caramel sauce, heat up the sugar in a saucepan over medium heat, stirring it constantly with a rubber spatula. Eventually, it will start to clump up, and then melt down into a honey-colored liquid. Don't let it get too dark or burn!
6. As soon as the sugar has melted, carefully add the butter – it will bubble and splatter! Stir it in until it's all melted.
7. Then, also very slowly, pour in the heavy cream and let the mixture come to a boil.
8. Remove from heat and stir in a pinch of sea salt. Taste once it's cooled slightly and add more salt if you like. Allow to cool before using.
You can keep the caramel on the side (store it in a jar in the refrigerator), or just pour it on top of your cooled cheesecake, and it will keep, covered, in the refrigerator. Enjoy!
R
Advertisement
Share this:
Like this:
Related