I mean…I could have made more pumpkin things. But, I figured taking a break and showing some love to other classic fall flavors wouldn't be a bad idea. Just in case any of you wonderful readers out there don't like pumpkin…which is an issue…but, we can work on that. 🙂 Anyway, is there anything more classic than cranberry-and-orange something or other?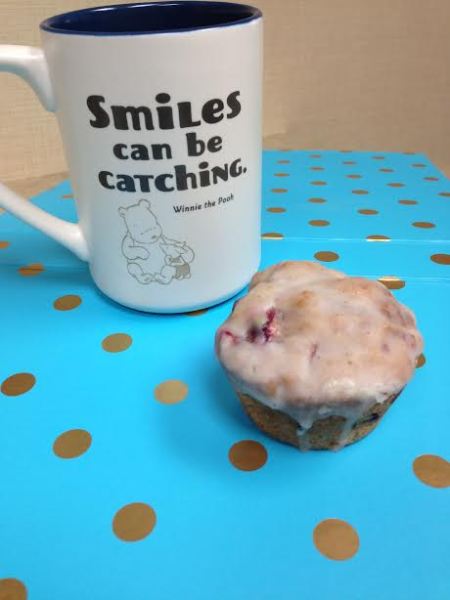 These incredibly soft muffins are packed with flavor. I only wish I thought to take a picture of one with a bite taken out of it before they were positively inhaled by us all. Every bite is full of the tangy flavor of fresh cranberries (no dried ones here!), the divine zest of orange (peel and juice), and the holiday hug that is known as cinnamon and allspice. And this is even before I dipped them in glaze! The glaze is simple and sweet, and the muffins are perfect without it, but there's just something about glaze that makes a girl happy. A few coworkers popped their breakfast muffins into the microwave for 10 seconds and got the fresh, gooey glaze feeling back!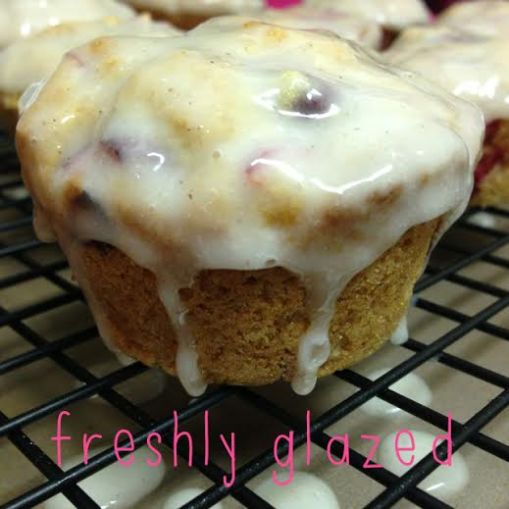 These muffins are also relatively healthy. Sure, they've got a good amount of sugar in them, but there is no butter in this recipe whatsoever. Fresh orange juice and a bit of canola oil are all these bad boys need for amazingly soft and fluffy insides. (I will say – while mixing, the batter may seem about as thick as cookie dough. This is fine, this is normal, your muffins will be more than ok!) The recipe is pretty flexible, too. Next time, I might add toasted pecans to the batter. And if you only have dried cranberries on hand, throw them in! Whatever you do, just make these. They are perfect with a nice cup of tea on a chilly morning.
cranberry-orange muffins with spiced vanilla glaze
(makes 12 muffins)
ingredients
1 ½ cups all-purpose flour
½ cup whole wheat flour (if you don't have any or don't want to use whole wheat, use 2 cups all-purpose)
1 scant cup granulated sugar
1 ½ teaspoons baking powder
½ teaspoon baking soda
1 teaspoon Kosher salt
½ teaspoon cinnamon
¼ teaspoon allspice
zest of one large orange
juice of one large orange (should be around ¾ cup, so top off with some more if needed)
¼ cup canola oil
1 egg
1 cup coarsely chopped fresh cranberries (I threw mine into the food processor for 5 seconds!)
directions
1. Preheat oven to 400°. Spray a standard-size muffin pan with nonstick spray, or line with paper cups (I went with the spray route); set aside.
2. In a large bowl, whisk together the flour(s), sugar, baking powder, baking soda, salt, cinnamon, and allspice. Set aside.
3. In a small bowl, whisk together the orange zest, juice, oil, and egg until well-mixed. Stir this mixture into the large bowl of dry ingredients with a wooden spoon, just until everything is combined. Fold in the fresh cranberries.
4. Divide the (very thick) batter evenly among the muffin cups (an ice-cream scoop did the trick for me). Bake for 15 minutes, or as soon as a toothpick comes out clean.
5. Allow to cool for a couple minutes in the pan, and then, using a butter knife to help release them around the edges if needed, take out the muffins and allow them to cool completely on a wire rack. If you're not planning to glaze them, you can certainly enjoy them warm!
For the glaze, I just whisked together about a cup and a half of powdered sugar, a few Tablespoons of milk (I just poured it right in, slowly, and added very carefully), half a teaspoon of vanilla extract, and a couple dashes each of cinnamon and allspice. Once the muffins were totally cooled, I dipped the tops in and swirled them around. I let them sit on a wire rack to let the excess drip off and allow the glaze to set at room temperature. Store these muffins in an airtight container! Enjoy!
R
Advertisement
Share this:
Like this:
Related