No words can describe just how cute these little cupcakes are – but as a blogger, I can certainly try to articulate their adorableness.
Last night, I hosted a free dessert sampling session at a little cafe by LSU campus called Bacio di Roma. Owned by Italians, the paninis and gelato there are the real deal – a warm sandwich with gooey mozzarella and pesto, followed by a cup of chocolate lavender and basil gelato? Heaven.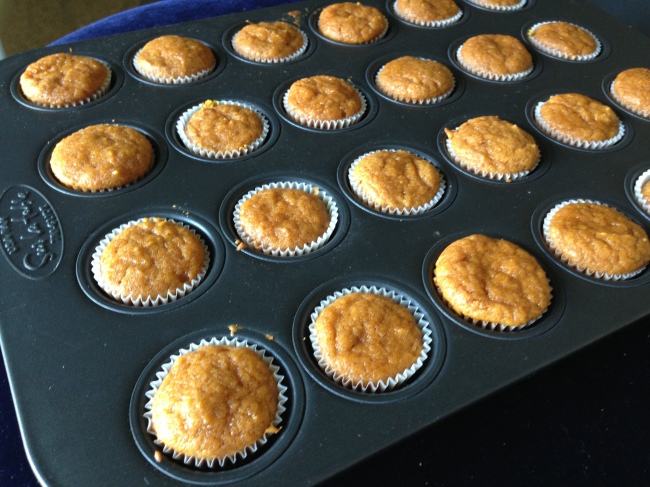 Anyway, we are collaborating, and I will soon hopefully be their official off-site baker, dropping off treats at the start of each week for them to sell and taking special orders. This free sampling event was the owner's idea so that he could try some of my baked goods and so that customers would get a heads up about the sugar rush headed their way! I made my almost-famous white chocolate, pretzel, and macadamia nut cookies, fudge brownies with a mint white chocolate ganache, a Nutella cheesecake (recipe soon!), and these little pumpkin spice cupcakes topped with cinnamon cream cheese frosting.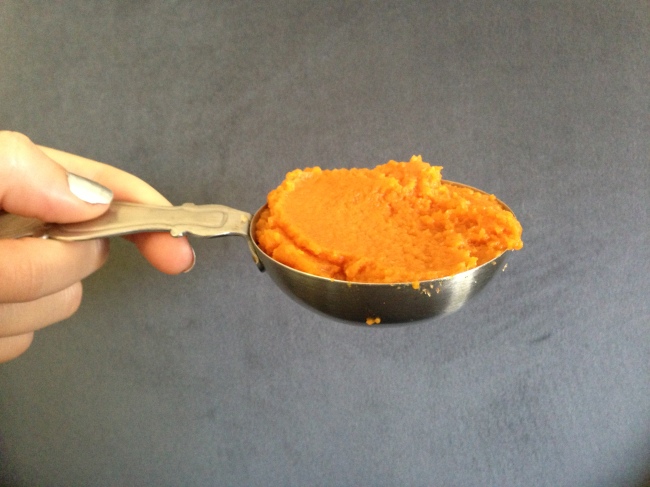 I am so not over pumpkin things. I mean, come on, people, it's November – I've only just begun obsessing over it! From risotto to pancakes and chili to muffins, pumpkin has got to be one of the most versatile ingredients ever. Pumpkin adds incredible moisture and beautiful color to these itty bitty cupcakes. Adding a little applesauce ups the moisture factor by a hundred – I am telling you, these muffins are hashtag-crazy-good.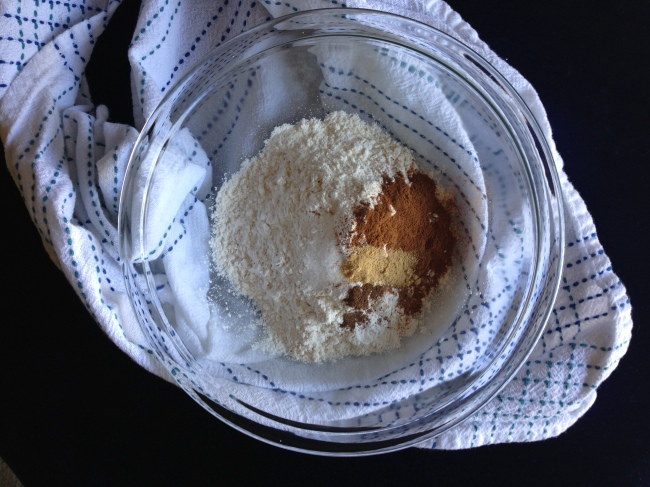 Just look at all those warm spices, too – I used cinnamon, ginger, and allspice in this batch. Normally, I would add nutmeg, but I had run out – I just added extra cinnamon instead ; ) You can definitely taste all the yummy ingredients in these little two-bite (or…let's be honest…one-bite) cupcakes. Topped with a sweet cream cheese frosting spiked with another dash of cinnamon? Hello, November.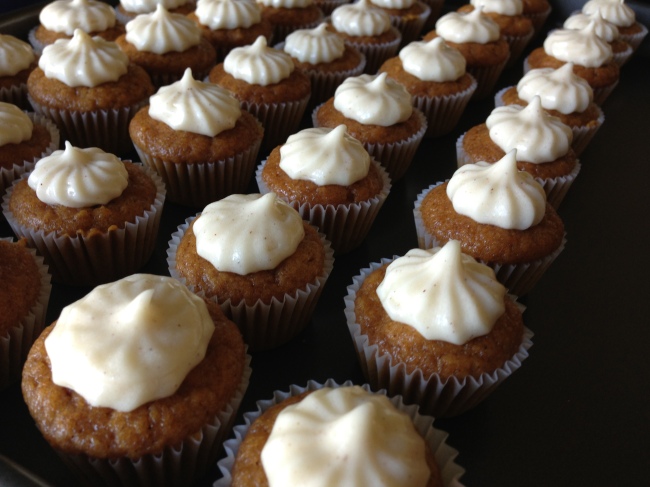 All it takes it tossing together some dry ingredients, blending together some wet ingredients (melted butter – no waiting for it to soften! – and applesauce and pumpkin!), and mixing them up. 15 minutes, and you have dozens of bite-size cupcakes in the oven. The best part is, they take 12 minutes to bake, and even less time to cool – so you can top them with the delicious frosting you whipped up while they were in the oven. You will love these, I promise!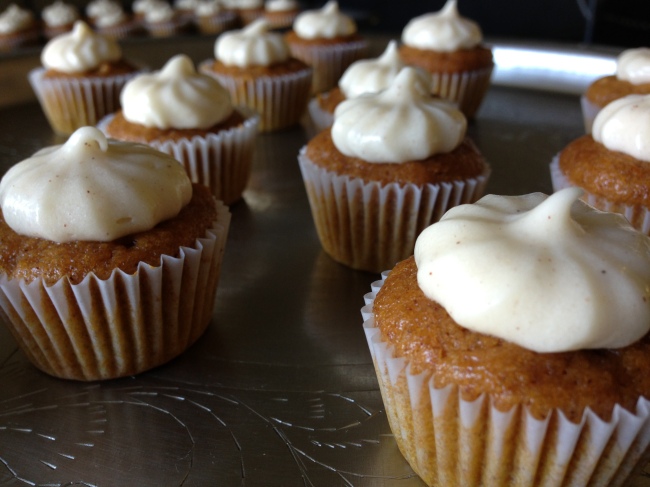 mini pumpkin cupcakes with cinnamon cream cheese frosting
(cupcake batter and frosting recipes adapted from cooking classy)
yields 3 and ½ dozen mini cupcakes
ingredients
cupcakes
1 cup all-purpose flour
1 teaspoon baking powder
½ teaspoon baking soda
¼ teaspoon salt
1 ½ teaspoons cinnamon
¼ teaspoon ginger
¼ teaspoon allspice
½ cup packed brown sugar
⅓ cup granulated sugar
⅓ cup unsalted butter, melted and cooled slightly
⅓ cup room-temperature applesauce
1 egg and 1 egg yolk
1 teaspoon vanilla extract
¾ cup and 2 Tablespoons pumpkin puree (not pumpkin pie mix!)
2 ½ Tablespoons milk
frosting
4 ounces cream cheese, room temperature
¼ cup butter, room temperature
2 cups powdered sugar
1 teaspoon vanilla extract
cinnamon to taste (I used about ½ teaspoon)
directions
1. Preheat oven to 350°. Line a mini muffin tin with paper liners and set aside.
2. In a bowl, toss together the flour, baking powder, baking soda, salt, cinnamon, ginger, and allspice. Set aside.
3. In a separate large bowl, using an electric mixer on medium speed, beat together the brown sugar, granulated sugar, melted butter, and applesauce until smooth. Add in the egg, egg yolk, and vanilla, beating until smooth. Add the pumpkin puree and milk, also beating until incorporated.
4. Slowly add in the dry ingredients you mixed together in step 2. Mix just until combined.
5. Fill the paper-lined muffin tin (fill each little well about ⅔rds of the way – I used a Tablespoon-size cookie scoop).
6. Bake for 12-14 minutes, until a toothpick inserted into the center of the cupcakes comes out clean.
7. While baking, use an electric mixer to beat together the cream cheese and butter until creamy. Add in the powdered sugar, one cup at a time, beating until the mixture is smooth. Add in the vanilla extract and cinnamon, beating until mixed.
8. Allow the cupcakes to cool completely on a wire rack – frost, and enjoy!
R
Advertisement
Share this:
Like this:
Related