As I sit here snacking (aka eating peanut butter right out of the jar with a spoon…a jar to which I added a palmful of chocolate chips), I'm dreaming about these white chocolate brownies. I want another one, but alas…all gone. And for good reason – they were delicious.
I made these based off of the way I normally make my favorite brownies but used white chocolate instead of the regular stuff and reduced the amount of sugar. I am a newfound lover of white chocolate in baking – these cookies and this quickbread are some of the yummiest things to have come out of my kitchen. While I still can't manage to get myself to eat white chocolate in its pure bar or candy form, I find that it adds such delicate and interesting flavors to baked goods. That being said, I figured – why not make white chocolate brownies? Or…whities? The jury is still out on that awkward one.
And while birthday cake flavored anything is on my favorites list, I found these Oreos to be a little too strong and sweet on their own, so I knew I had to find a way to use them up. Baked into brownies? Hello. They get soft and melty, and their sweetness helps flavor the whole pan of delicious white chocolatey batter. A batter that, by the way, bakes up into a thick, fudgy texture. These brownies tasted so. Good. When they were still warm. And they were still really soft and wonderful the next day – just make sure you cover them up in an airtight container.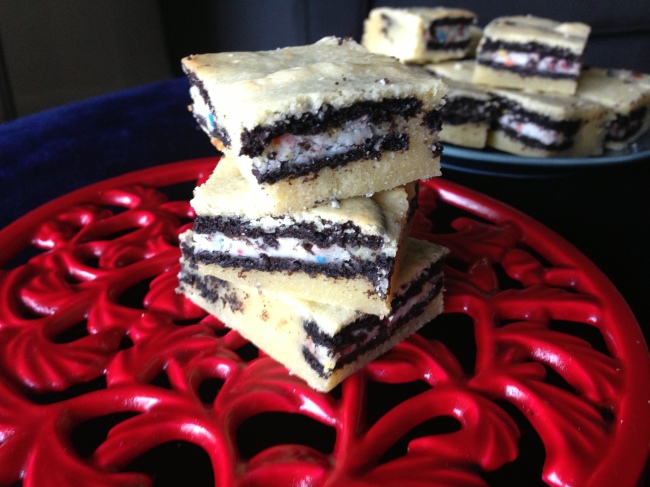 oreo-stuffed white chocolate brownies
yields 16 2×2 inch brownies
ingredients
4 ounces white chocolate, chopped
½ cup (1 stick) unsalted butter, cut into tablespoon-size pieces
⅓ cup granulated sugar
2 eggs
1 teaspoon vanilla extract
pinch of salt
⅔ cup all-purpose flour
14-16 Oreos (any kind should do!)
directions
1. Preheat oven to 350°. Line an 8×8 inch baking pan with aluminum foil, leaving some overhang for easy lifting later, and coat the foil with nonstick baking spray. Set aside.
2. Melt the white chocolate and butter together in a heatproof bowl placed over a saucepan with some simmering water in it. (You could also do this pretty quickly in the microwave at 30 second-intervals, but stir frequently!) Once smooth, remove bowl from heat and whisk in the sugar, eggs, vanilla extract and salt. Add flour and stir in with a wooden spoon until everything is incorporated.
3. Pour between a third and a half of the batter into your prepared baking pan and spread evenly. Place Oreos on top of the batter in one layer. Pour the rest of the brownie batter on top, spreading as neeeded. The Oreos will still peek through the batter, and that's ok!
4. Bake for 25 minutes, or until a toothpick comes out clean from the middle. Cool on a wire rack and dig in!
R
Advertisement
Share this:
Like this:
Related