Raise your hand if you've ever had and loved a slice of cookie cake. And have you ever noticed how a big, triangular slab of cookie tastes ten times as good as a regular cookie – even though they are made out of exactly the same dough? Now you can enjoy the iconic cookie cake at home and know exactly what it's made out of! There is just something so fun and special about cookie cakes, and this recipe won't disappoint.
I took my favorite cookie dough recipe (America's Test Kitchen is just genius), made a couple tweaks, and simply plopped the bowlful of dreamy, creamy dough into a pie dish. Bam. Cookie pie. AKA one really massive cookie that is just begging to be inhaled. This cookie dough will make the chewiest, thickest, and most incredible cookie cake you've ever had – in minutes! And guess what – no mixer required!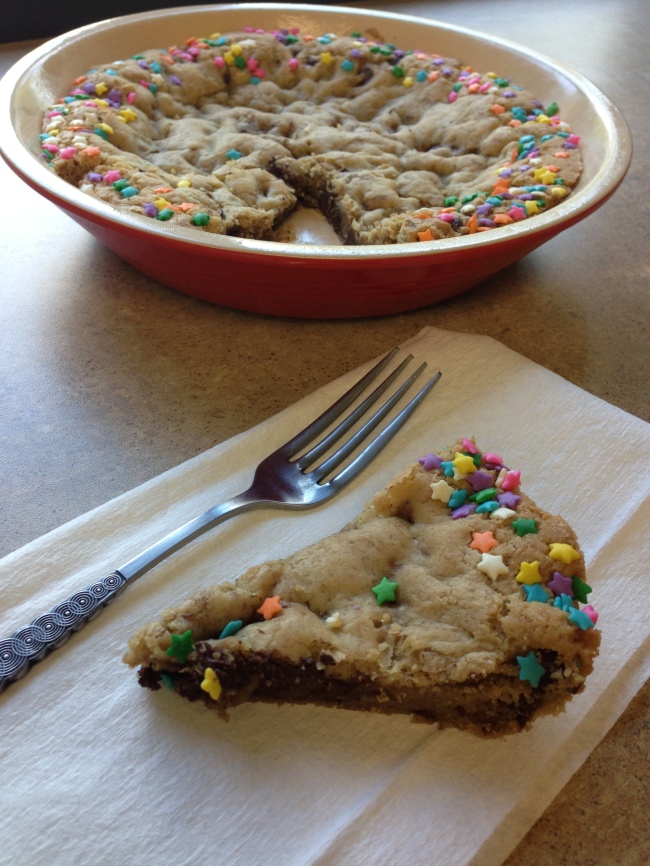 You know how annoying it is to wait for butter to soften to room temperature? With this recipe, you get to melt it. That's right, you heard me – melt (and then cool) your butter. So easy, and ups the chew-factor by a gazillion percent. If you're not into chewy cookies but still want a soft texture, you can absolutely use room-temperature butter and cream it into your sugar as you normally would. I've tried this both ways, and because it's a cookie and not a cake, you are fine with either! If you go for the melted butter route, then please chill your dough for at least two hours; for room-temperature dough, 20-30 minutes will be fine. I also always put some cornstarch into my cookie cakes, but that is optional (and not in the original recipe).
Also, ATK did the work and discovered that an extra egg yolk works wonders for chewy textures. Do it.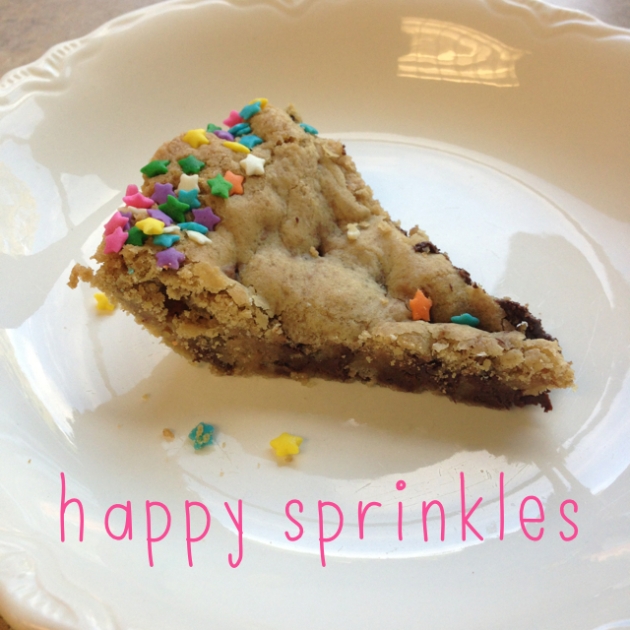 You can certainly decorate your completely cooled cookie cake with frosting, but I grabbed a bottle of sprinkles that was collecting dust in the pantry and decorated the edge of the cookie cake before putting the pie pan in the oven to make things a little cuter and happier. I am generally the pickiest person when it comes to sprinkles and their texture, but these guys? We can be friends fo shizzle. This cookie cake disappeared within minutes and got rave reviews.
chocolate chip cookie cake
yields one 8-9 inch cookie cake
ingredients
2 ¼ cups all-purpose flour
½ teaspoon baking soda
½ teaspoon salt
¾ cup (1 ½ sticks) unsalted butter, melted and cooled
¾ cup brown sugar, loosely packed
½ cup granulated sugar
1 egg and 1 egg yolk
2 teaspoons vanilla extract
1 cup chocolate chips
directions
1. Preheat oven to 350° and spray an 8 or 9-inch pie pan with nonstick spray. Set aside.
2. In a large bowl, whisk together the flour, baking soda, and salt. Set aside.
3. In a medium bowl, whisk together the butter, brown sugar, and granulated sugar until smooth. Add in the egg and egg yolk, whisking until combined, and then whisk in the vanilla extract. Pour this mixture into the bowl of dry ingredients and mix well with a wooden spoon. Fold in chocolate chips.
4. Refrigerate dough for at least 2 hours (if you went with softened rather than melted butter, as discussed above, 20-30 minutes should be enough). Turn out dough into pie pan and bake for 20-22 minutes. Cool in pan on wire rack.
Note: If you want to decorate with sprinkles, do so before baking. For frosting decorations, allow cookie cake to cool completely.
Enjoy!
R
Advertisement
Share this:
Like this:
Related