Halloween is upon us, ladies and gentlemen! While I am a complete sissy when it comes to scary things (haunted houses and horror movies? Just say no!), I love the costumes and decorations, and of course, the candy that are associated with Halloween! I knew what I wanted to bake and Halloween-ify over a week ago, so I am really excited to share these cute little whoopie pies with you!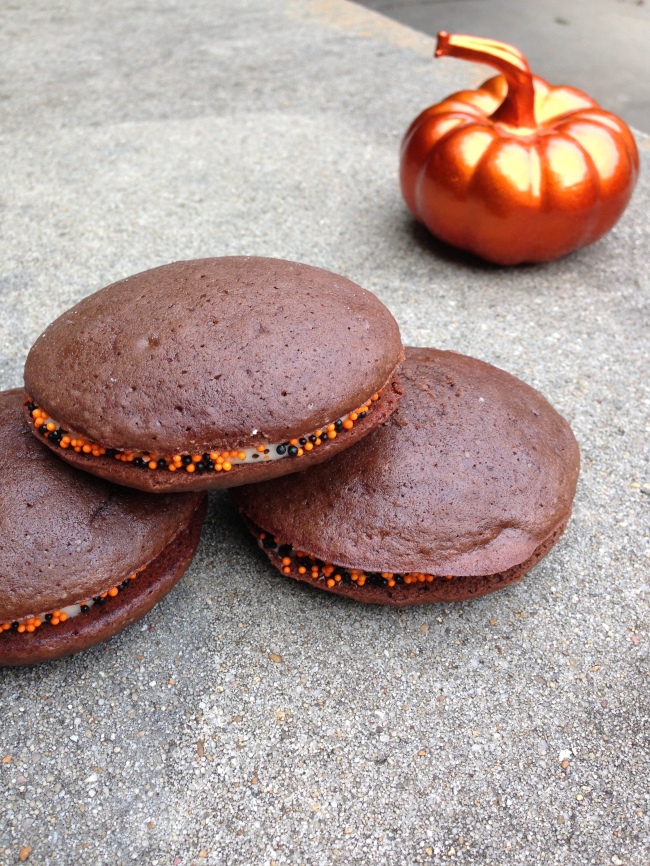 Whoopie pies are a classic American dessert and snack. The origins are usually traced back to Pennsylvania Amish tradition, but the New England area in general loves their whoopie pies! If I were Maine, I'd be fighting for my right to claim these, too – how can you resist two soft, chocolatey mini-cakes and a thick, sweet layer of frosting? You may be used to marshmallow fluff frosting in your whoopie pies, but I decided to take the cream cheese buttercream route. With Halloween sprinkles of course!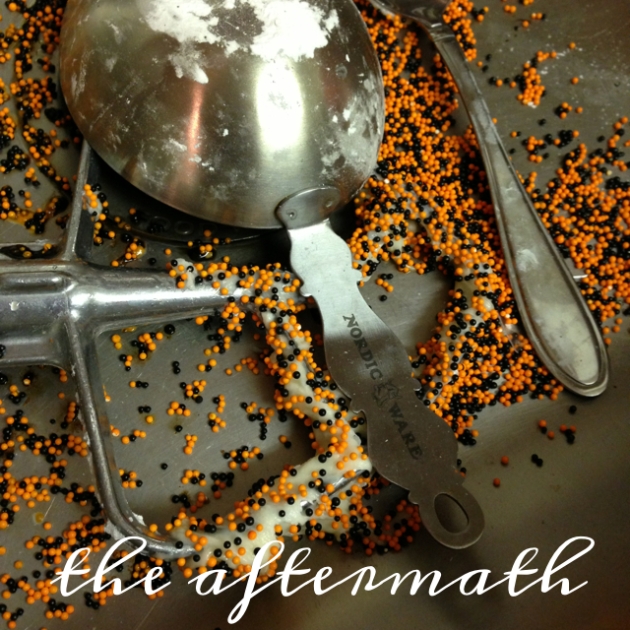 Speaking of sprinkles – I'm sure I'll be finding runaway orange nonpareils through the New Year. I made quite the mess!
These whoopie pies were a hit! The cake layer was thick, very soft, and full of chocolate flavor, and the frosting was the perfect compliment. You can't eat one of these and not smile! They are just such a fun treat to make and have – and they are definitely easy to make. I made these sweet little guys with no whoopie pie mold or pan! If that makes you nervous, don't be! As long as you use an ice cream or cookie dough scoop, or even a measuring tablespoon, things should be ok. Leave a couple inches between each scoop, too, since each cookie will expand quite a bit. Things won't be perfect, but hey, they're homemade and freehand and utterly delicious! Make these for your coworkers and feel like a kid on Halloween again, or make some for your own family and let the kids help with the sprinkles – fun and tasty treats (no tricks) for all!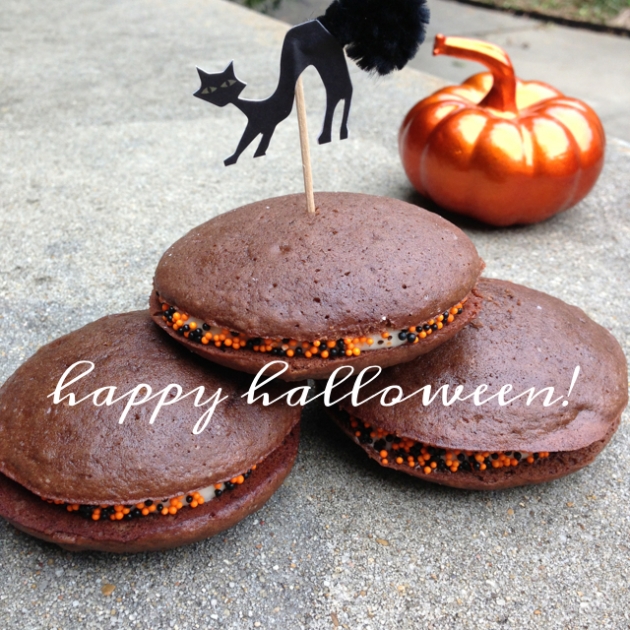 whoopie pie recipe
(cake recipe adapted barely from taste of home; frosting recipe my own)
makes approximately one dozen sandwiches 
ingredients
for cookie/cake layers
½ cup unsweetened cocoa powder
½ cup hot water
2 ⅔ cups all-purpose flour
1 teaspoon baking powder
1 teaspoon baking soda
¼ teaspoon salt
½ cup unsalted butter, softened
1 ½ cups granulated sugar
2 eggs
1 teaspoon vanilla
½ cup milk
for cream cheese buttercream
¼ cup (half a stick) unsalted butter, softened
8 ounces cream cheese, softened
4 cups confectioner's sugar
1 teaspoon vanilla extract
directions
1. Preheat oven, with racks in middle, to 350°. Spray baking sheets with nonstick spray.
2. In a small bowl, mix the cocoa powder and hot water. Set aside and let cool.
3. In a medium bowl, combine the flour, baking powder, baking soda, and salt. Set aside.
4. Using the paddle attachment of an electric mixer, beat the butter and sugar until light and fluffy. Add in the eggs, vanilla, and the cocoa/water mixture and beat until combined.
5. Slowly add the dry ingredients, alternating with the milk, until everything is combined.
6. Drop batter in heaping tablespoons onto baking sheets, leaving a few inches between each cookie.
7. Bake for 10-12 minutes, or until the tops are pretty firm to the touch and appear set/done. Let them cool for a few minutes on the baking sheets, and transfer to a wire rack to cool completely.
8. While they bake and cool, prepare the frosting by beating the butter and cream cheese together until smooth and creamy. Add the powdered sugar one cupful at a time, while beating continuously. Add the vanilla extract.
9. Assemble the whoopie pies by piping or spreading a couple tablespoons of frosting onto one cookie and topping with a second. Feel free to add sprinkles on the sides or leave them plain! Store in an airtight container in the refrigerator if not eating immediately; bring to room temperature before you dig in!
Note: My whoopie pies were pretty large, a little bigger than my palm. You can make smaller ones, but do adjust the baking time and keep your eye on them!
Happy Halloween and enjoy!
R
Advertisement
Share this:
Like this:
Related